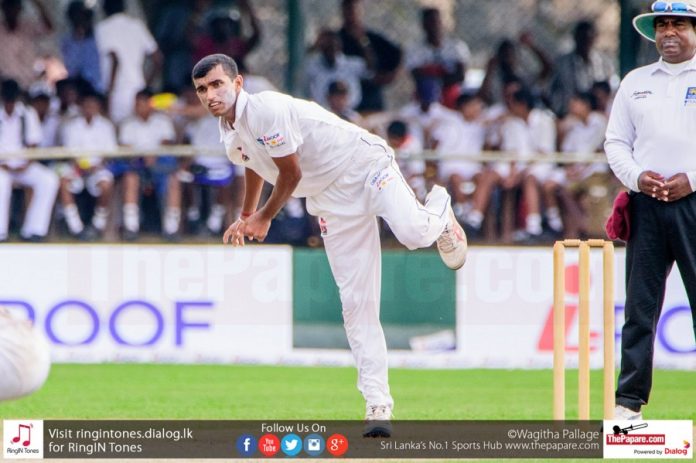 The 113th 'Lover's Quarrel' ended in a draw as Richmond College took major honours in their annual cricket encounter against Mahinda College at Galle International Cricket Stadium today.  
Mahinda College resumed day two on 70 runs for 3 wickets and a batting collapse saw them bundled out for 118 runs. Navod Paranavithana (27) and Hansika Welihinda (26) top scored for Mahinda College. Left arm spinner Dilum Sudheera and off spinner Sandun Mendis were brilliant with the ball for Richmondites as they picked up 5 wickets each.
Richmond College commenced their second innings 52 runs ahead and posted 150 runs for 5 wickets before they declared the innings. Thaveesha Abishek stroked an unbeaten 71 runs which came off 79 balls and included 8 fours. Sri Lanka capped right arm seamer Nipun Malinga picked up 2 wickets for Mahinda College.
Chasing a target of 203 runs to win, Mahinda College lost inform batsman Navod Paranavithana in the very first ball in the innings without troubling the scorers. Number three batsman Vinura Dulsara was then dismissed for just 2 runs putting Mahinda batters under some pressure at 6 runs for 2 wickets. However, play was not possible for too long  after as the umpires called stumps on day two around 4.30 pm.
At stumps, Mahinda College was 20 runs for 2 wickets. Both wickets were taken by Richmond left arm spinner Avindu Theekshana who bowled 7 overs including 4 maidens and gave away only 5 runs.
Match Drawn
Richmond College's 1st Innings
Batting
R
B
Kamindu Mendis
c Vinura Dulsara b Prameeth Thevarapperuma
4
13
Dhananjaya Lakshan
c Prameeth Thevarapperuma b Kavindu Ediriweera
31
69
Adithya Siriwardena
b Navod Paranavithana
10
27
Thaveesha Abishek
st. by Vinura Dulsara b Pasan Pethangoda
9
53
Duveen Kalanasuriya
c Subanu Rajapaksha b Navod Paranavithana
42
72
Dilum Sudeera
lbw by Pasan Pethangoda
25
81
Avindu Theekshana
c Prameeth Thevarapperuma b Pasan Pethangoda
22
32
Sandun Mendis
c Navod Paranavithana b Pasan Pethangoda
4
7
Vimud Sapnaka
b Navod Paranavithana
1
6
Vishmitha Wijesiri
c Kavindu Ediriweera b Pasan Pethangoda
8
14
Amshi de Silva
not out
2
6
| Bowling | O | M | R | W | E |
| --- | --- | --- | --- | --- | --- |
| Nipun Malinga | 8 | 0 | 14 | 0 | 1.75 |
| Pasan Pethangoda | 12.4 | 1 | 46 | 5 | 3.71 |
| Prameeth Thevarapper | 5 | 1 | 12 | 1 | 2.40 |
| Navod Paranavithana | 15 | 7 | 20 | 3 | 1.33 |
| Subanu Rajapaksha | 8 | 2 | 22 | 0 | 2.75 |
| Kavindu Ediriweera | 12 | 0 | 39 | 1 | 3.25 |
| Kevin Kotthigoda | 2 | 0 | 9 | 0 | 4.50 |
Total
170/10 (62.3 overs)
Fall of Wickets:
1-07, 2-27, 3-58, 4-60, 5-116, 6-134, 7-146, 8-160, 9-160, 10-170
Mahinda College's 1st Innings
Batting
R
B
Navod Paranavithana
b Sandun Mendis
27
58
Hansika Welihinda
lbw by Dilum Sudeera
26
79
Vinura Dulsara
c Avindu Theekshana b Dilum Sudeera
9
53
Kevin Kotthigoda
c Sandun Mendis b Dilum Sudeera
6
3
Kavindu Ediriweera
lbw by Sandun Mendis
4
23
Nipun Malinga
st. by Sammu Vimud Sapnaka b Sandun Mendis
13
17
Ashen Kandambi
c Dhananjaya Lakshan b Dilum Sudeera
1
14
Reshan Kavinda
st. by Sammu Vimud Sapnaka b Sandun Mendis
11
22
Pasan Pethangoda
c Sammu Vimud Sapnaka b Dilum Sudeera
9
38
Prameeth Thevarapper
c & b Sandun Mendis
2
10
Subanu Rajapaksha
not out
2
6
| Bowling | O | M | R | W | E |
| --- | --- | --- | --- | --- | --- |
| Dhananjaya Lakshan | 5 | 1 | 21 | 0 | 4.20 |
| Amshi de Silva | 5 | 0 | 15 | 0 | 3.00 |
| Sandun Mendis | 19 | 6 | 38 | 5 | 2.00 |
| Dilum Sudeera | 20.4 | 9 | 29 | 5 | 1.42 |
| Avindu Theekshana | 4 | 1 | 9 | 0 | 2.25 |
Total
118/10 (53.4 overs)
Fall of Wickets:
1-40, 2-57, 3-63, 4-80, 5-80, 6-90, 7-99, 8-106, 9-114, 10-118