Record breaking is not easy. To topple an already over-the-top achievement takes grit, determination, dedication and months of preparation. For some, seeing their names on the records and hearing a stadium full of spectators' cheer for them is a lifetime achievement.
Whether one gains a record title as an individual or a team, ThePapare.com takes pride in celebrating all their achievements. Here we have some of the top talent who shone a little brighter than the rest, at the recently concluded 45th All Island Schools Swimming Championship 2018.
Vandani Fernando (Kaluthara Balika Vidyalaya) – 2 New Meet Records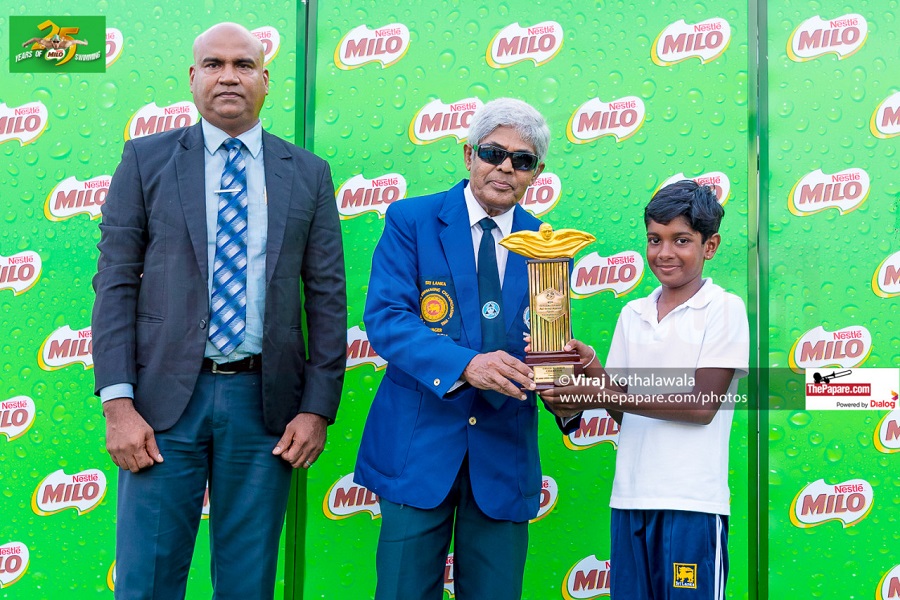 The 8-year-old triple record breaker hails from Kaluthara Balika Vidyalaya who excelled in the Under 9 50m Backstroke and Freestyle events. She swam a 41.39seconds in the Back, beating the previously held record of 42.09s set by Methya Weerakkody in 2013. In the Free, the previous record was set in 2010 by Devindya Jayawardana at 35.80 seconds. Vandani smashed this by nearly a whole second, finishing the final with a time of 34.82 seconds.
M M Ekneligoda (Ananda College) – 3 New Meet Records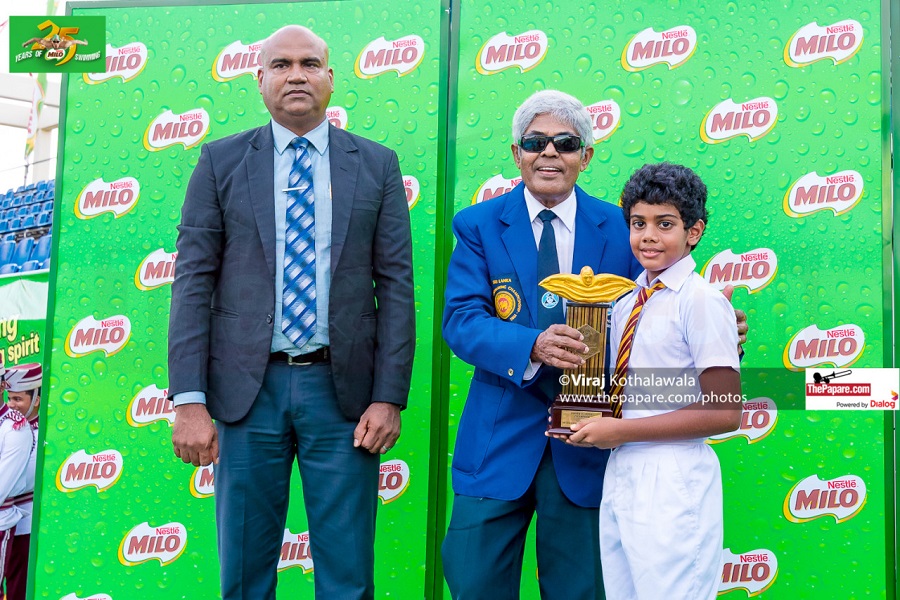 Another 8-year-old swimmer, this time from Ananda College Colombo, broke not one, not two but three meet records in the Boys Under 9 age group. He swam the 50m Backstroke in 38.11 seconds demolishing Shevinda De Silva's record of 39.65 seconds set in 2010.
The 200m IM was a walk in the park for young Ekneligoda as he finished two whole seconds faster than the previous record time of 3:06.98 set by M Hulangamuwa 13 years ago. Ekneligoda's final lap was timed at 3:04.27 minutes. His final record came in the 100m Free when he clocked 1:15.23 minutes as opposed to the record of 1:16.92 set back in 2010.
Damiru Wickramathunga (Lyceum International Wattala)– 2 New Meet Records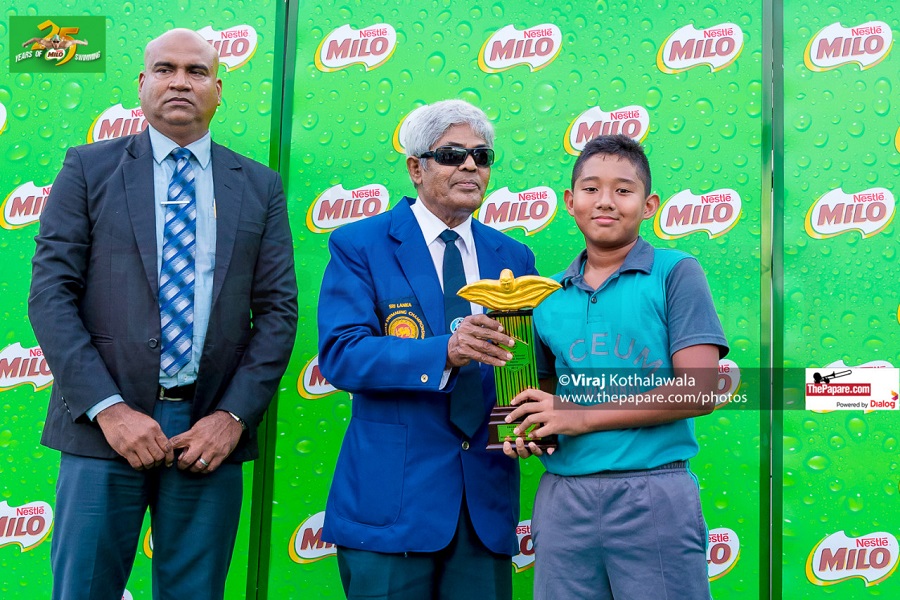 Lyceum's Damiru Wickramathunga registered two records to his name in the Under 11 100m & 50m Breaststroke events. He swam a 1:26.57 minutes in the 100m Breast, he bettered the record set last year at 1:27.30. In the 50m, he swam a flat 40.00 seconds as opposed to M. A Induruwa's 2008 record of 41.34.
Although he wasn't able to break the record, Damiru also took home first place in the Boys' U-11 200m Individual Medley with a time of 3:00.35 minutes.
Nabhashie Perera (Sirimavo Bandaranaike Balika Vidyalaya) – 3 New Meet Records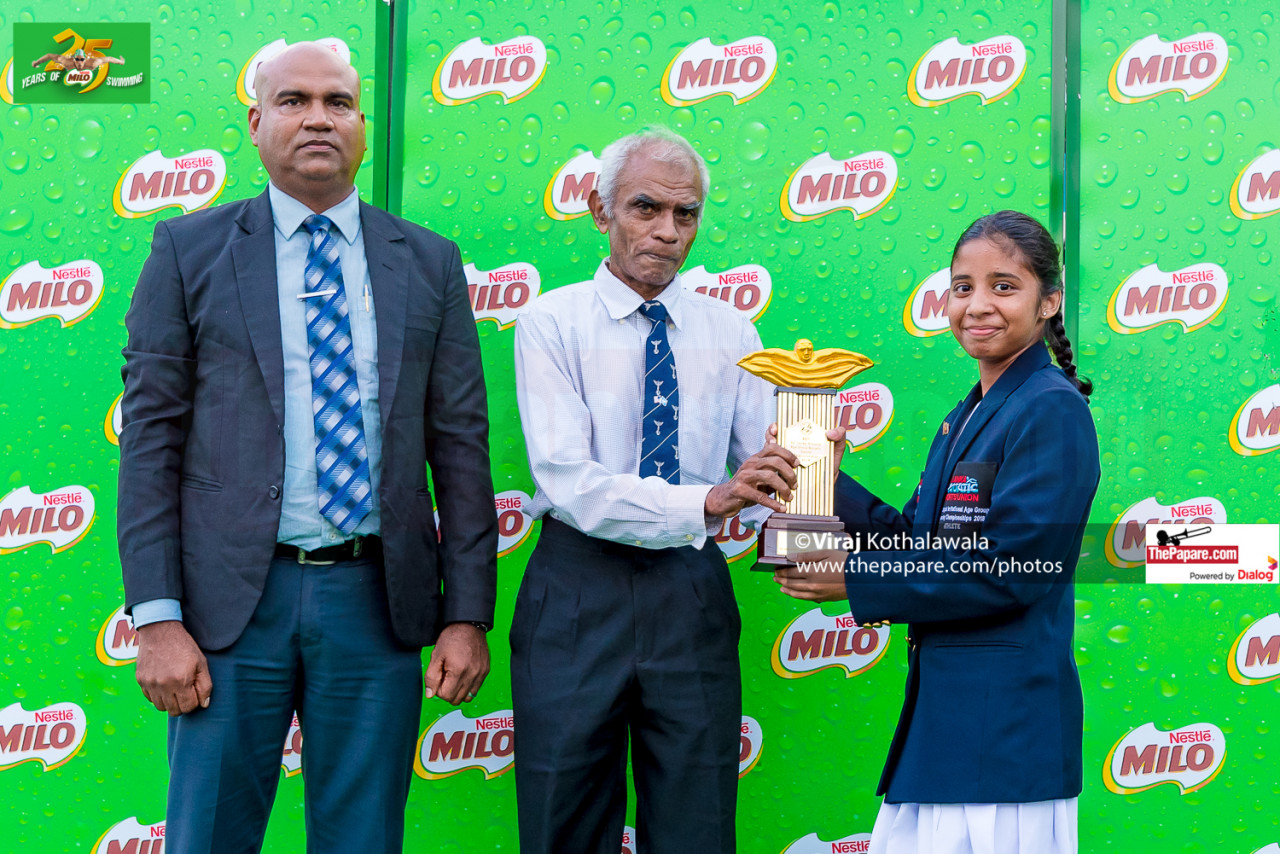 Nabhashie Perera is also one of the few who walked away with three records to her name, besting her competitors in the butterfly and individual medleys. Establishing these exact records two years ago in the under 11 category, Nabhashie stamped her authority in the under 13 category this time. She finished the 50m Fly in 30.03seconds besting the record by the Kimiko Raheem set back in 2012 at 31.15secs.
She swam the 100m Fly in 1:11.32 minutes, ousting a 14-year old record of 1:12.37. Her final win came in the 200m Individual Medley, swimming 4 laps in 2:42.77 minutes demolishing her second 14-year old record of 2:45.08 minutes.
Chris Pavithra (Lyceum International Nugegoda) – 3 New Meet Records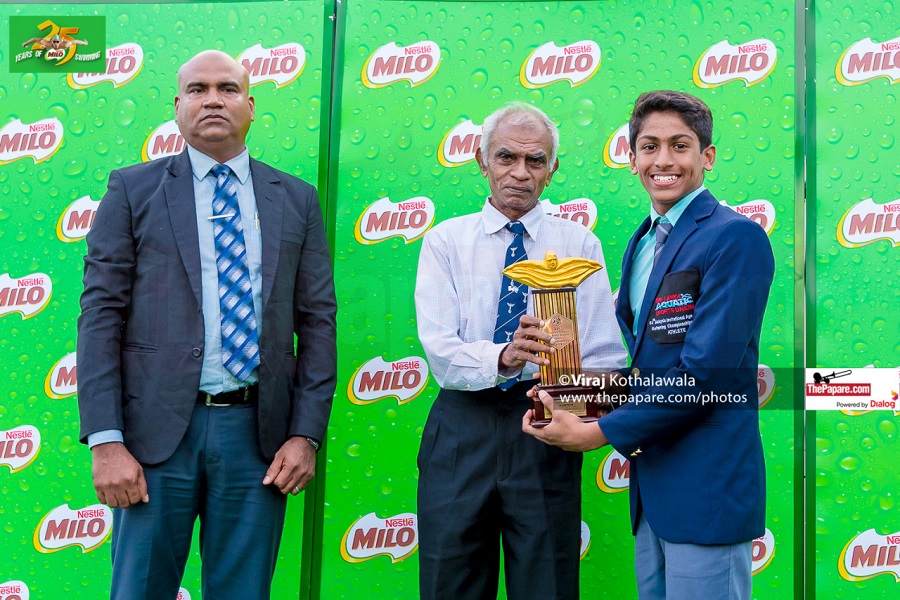 The only individual champion from Lyceum Nugegoda, Chris Pavithra dominated the breaststroke and freestyle events in the boys' under 13 category. The 100m Breast record was set at 1:19.19 minutes in 2003. Chris finished with a massive gap of almost 5 seconds, finishing at 1:14.28 minutes to win the event.
He swam the 50m breast 2 + seconds faster than the record which was clocked at 36.10 seconds at last year's meet. His final timing was a 34.00 flat. The final hurdle was the 100m freestyle. He outswam C. Dharmapriya's record set back in 2012 By 80 miliseconds, with a final timing of 1:00.09 minutes.
Ganga Senevirathne (Visakha Vidyalaya) – 2 New Meet Records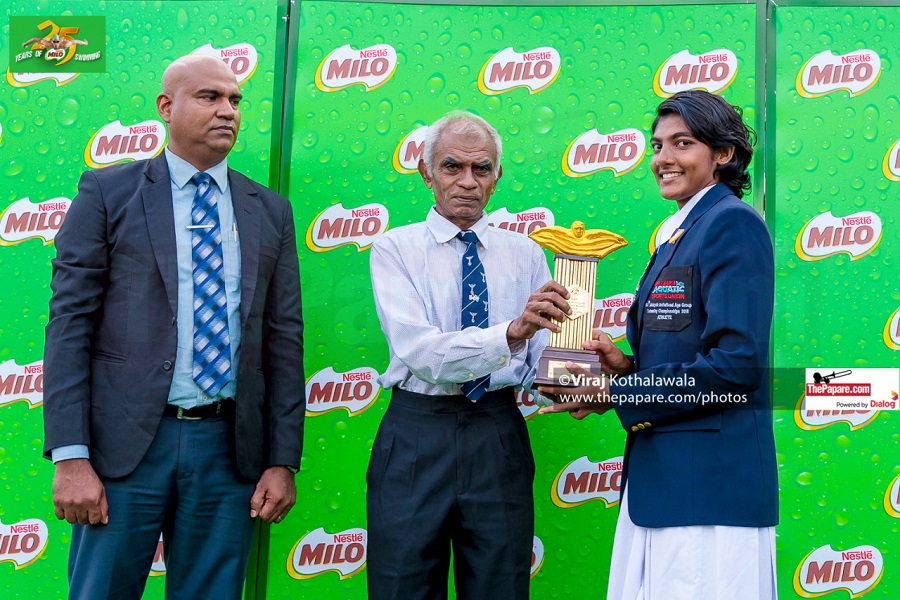 Two by number, but boy, were they big. 14-year old Ganga Senevirathne managed to topple not one but two of Olympian Kimiko Raheem's records in the back and free 100m events. A versatile swimmer, Ganga broke both records in the first two days of the meet, the first being the U-15 200m Backstroke.
Her final time was clocked at 2:36.80 minutes to Raheem's 2014 record of 2:37.37 minutes. The U-15 100m Freestyle was a closer call but still an accomplishment. Raheem's 1:03.89 minutes was a toughie to beat, but Ganga clocked in at 1:03.51 minutes with an incredible surge.
Ramudi Samarakoon (Visakha Vidyalaya) – 3 New Meet Records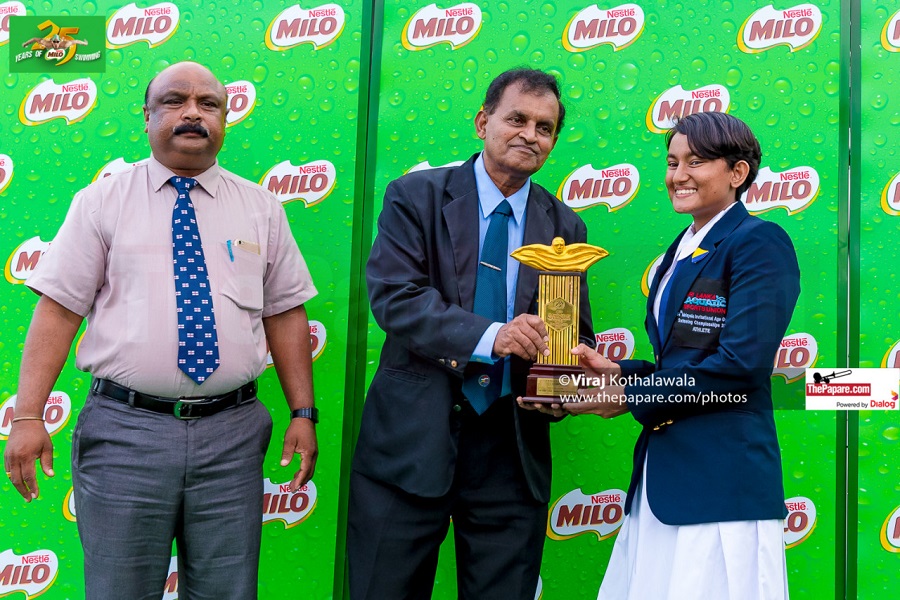 Ramudi Samarakoon has been impeccable throughout the meet, earning mother Visakha 45 points with her individual performances and 3 records in the U-17 Breaststroke. She clocked 36.53seconds in the 50m Breaststroke to top Monali Weerakkody's 2017 record of 36.61secs.
The 100m and 200m Breaststroke came much easier for Ramudi as she beat them comfortably. She clocked 1:20.27 minutes in the 100m and finished 2:56.17 minutes in the 200m beating out records from 2017 and 2016 respectively.
Sandev Senarathne (Ananda College) – 1 New Meet Records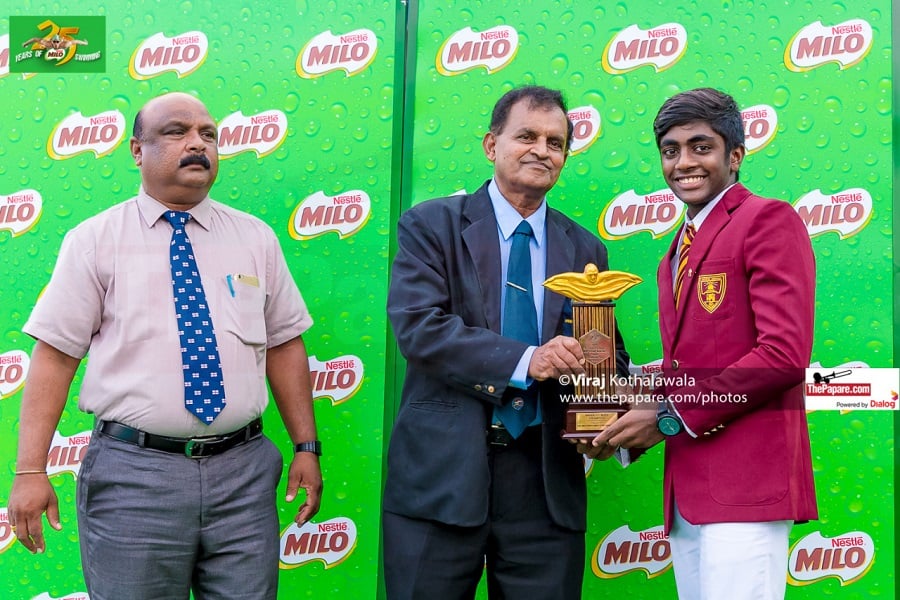 Sandev's Senarathne's only record came in the U-17 100m Butterfly with a time of 58.91seconds. The 59.79 secs he beat was set in 2016 by Ushan Gunarathna. Although this is Sandev's only record, he clinched gold in the 50m and 200m fly missing the record marks by slight margins.
Azquiya Usuph (British School Colombo) – 2 New Meet Records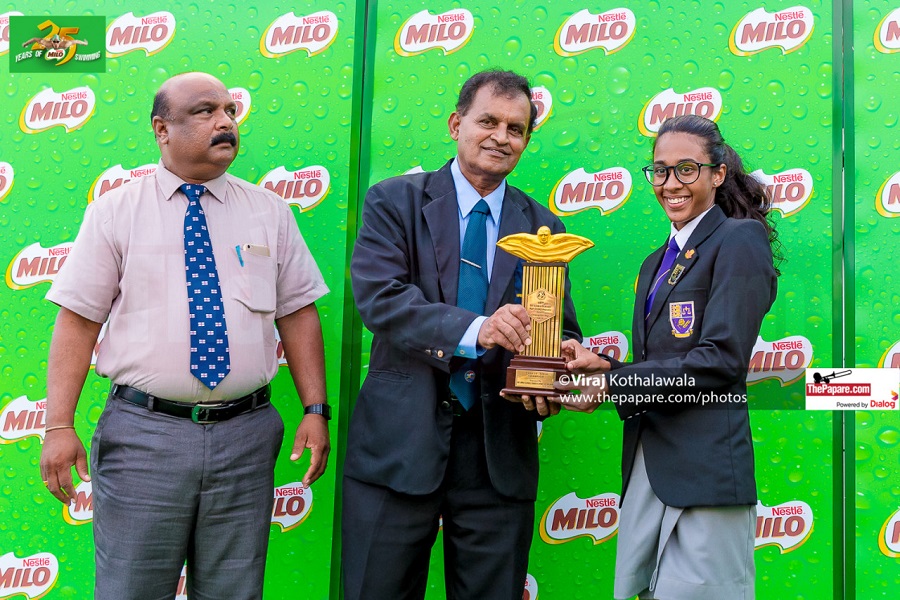 Another sole performer of British School Colombo, Azquiya Usuph started this years' championship with a bang, setting 2 new meet records on the opening day. She claimed the U-19 200m IM record by clocking 2:43.83 minutes toppling a 2-year old record of 2:45.87 minutes.
He second for the meet came in the 200m Backstroke when she swam a 2:39.99 minutes in the finals, destroying Ishani Senanayake's record from 2013 by almost 4 whole seconds (2:43.95mins)
K. C Dalpathadu (Ananda College) – 1 New Meet Records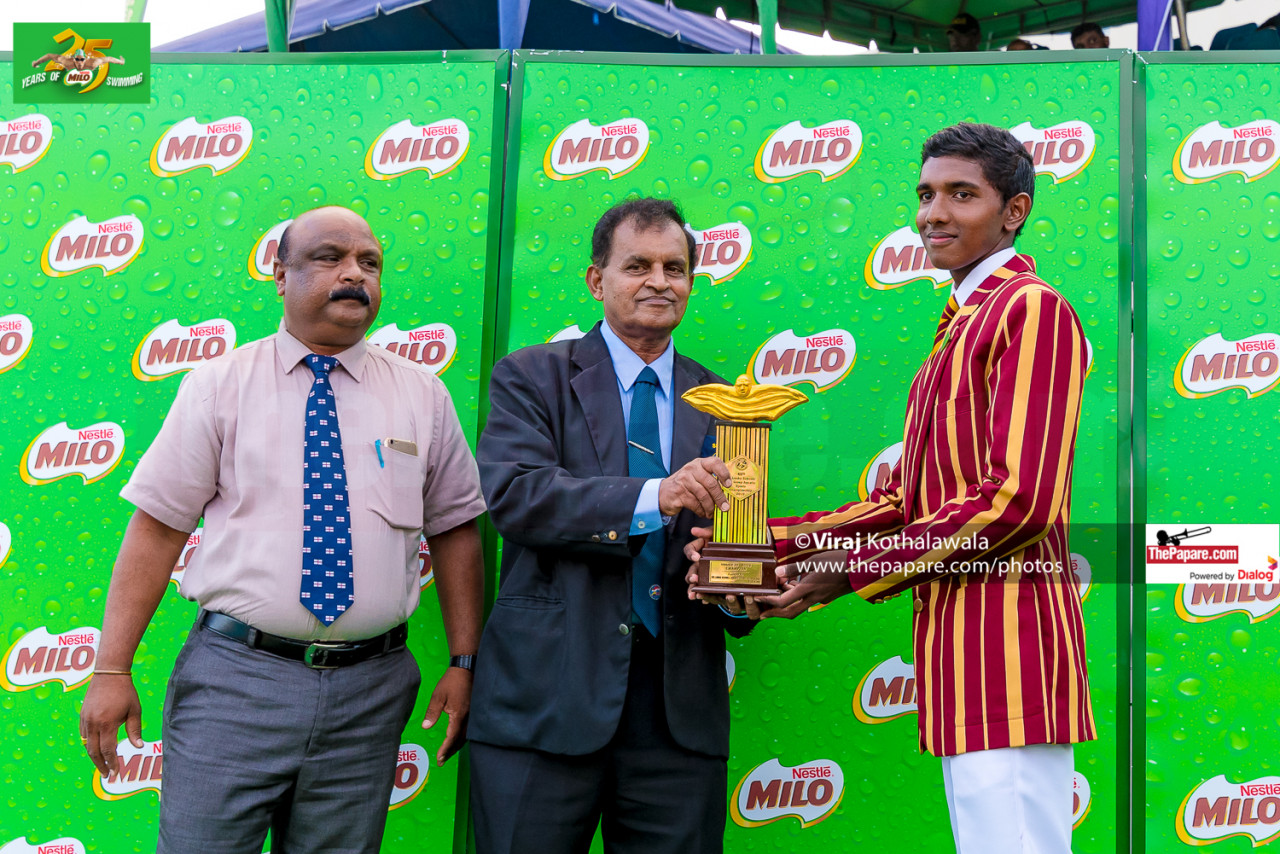 1 of the 8 Anandians to set records at the 2018 Championship, K. C Dalpathadu snatched the Under 19 Individual award, while setting a new meet record in the U-19 Breaststroke with a time of 1:11.30 minutes. The previous record of this event was 1:11.52 minutes, set by Yahiya Jaffer back in the 2015 meet.
Dalpadathu also won gold in the 50m and 200m breast events, unfortunately, did not have the juice to push them to record breaking times. He was also a part of the Boys 4X100m Freestyle relay team who finished 6th this year.
>>Click here for all things Aquatics<<