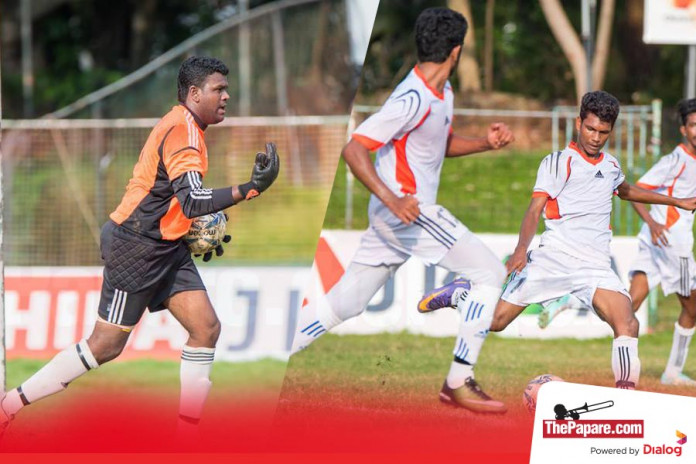 Ratnam SC managed a narrow 1-0 victory over Singing Fish SC to ease through to the finals in the second leg of the Premier League Division II semi-finals fixture played at the City Football Complex.
Coming into the match after a 2-0 away victory, Ratnam SC was the favourites to reach the finals, but given that Singing Fish SC's ability in the attack it was more than a relaxed game for the home team.
Ratnam SC was able to stamp their authority in the early exchanges, but Singing Fish turned the tables after 10 minutes creating attacking opportunities time after time.
The pace of the Singing Fish attack caused some troubles to the Ratnam defence but goalkeeper Shehan Silveira and center back Mohamed Rimaz weathered the stormed expertly by communicating between each other and organizing the defence line.
Ratnam SC registered a vital 2-0 away victory against Singing Fish SC in the first leg of the Premier League…
Ratnam SC managed to score a goal against the run of play in the 24th minute. Mohamed Aaqil slotted the ball past the diving goalkeeper capitalizing on a wonderful through ball from Sasanka.
Menacing Gnanaprathap was kept at bay by the Ratnam SC custodian as he had to save two headers from the youngster.
Singing Fish tried their best to score a goal through Gnanaprathap and Shanthan before the half but all the efforts were safely negotiated by a well-focused Ratnam SC.
Half Time – Ratnam SC 1-0 Singing Fish SC
Facing a steep task to score 3 goals in 45 minutes, Singing Fish continued from where they left off before the half time.
Despite all the attacking chances created, the sharpness in front of goal went missing as they struggled to find the target.
Things started to heat up as Singing Fish SC players committed fouls in desperation in order to win back the ball. As a result, referee awarded Jayaratnam a yellow card to keep things under control.
Ratnam SC was happy to sit back and defend the 3 goal cushion and counter attacked whenever the opportunity arrived.
The 2nd leg of the first semi-final of the Premier League Division II tournament between Geli Oya SC and Great…
Ratnam SC's Amduranga almost doubled the lead but Singing Fish SC's goalkeeper Pirathiban made a terrific save to keep the visitors' hopes alive. Jerinson of Singing Fish SC received the second yellow of the match when he was late on a tackle.
While Singing Fish SC tried their best the clock ticked towards full time. In the end, Ratnam SC won the game and they entered into finals with a 3-0 aggregate win setting up a finals clash with Geli Oya FC.
Full Time – Ratnam SC 1-0 Singing Fish SC (3-0 on aggregate)
ThePapare.com Player of the Match – Shehan Silveira (Ratnam SC)
Talking with ThePapare.com the winning coach of Ratnam SC, Fazul Rahman;
"We were poor compared to first leg at Jaffna. I am not satisfied. Hopefully, we will play better against Geli Oya. We see our finals opponents as just another team. We are ready to face them"
Losing Coach Udayanan;
"Ratnam SC was good today. They managed to stop us and took their chances pretty well. Their goalkeeper was outstanding today. We should have finished our chances, but I am not satisfied with the grounds, it is not in a position to hold the match"
Goal Scorers

Ratnam SC – Mohamed Aaqil 24'

Bookings

Yellow Cards

Singing Fish SC- Jayaratnam 56', Jerinson 70'