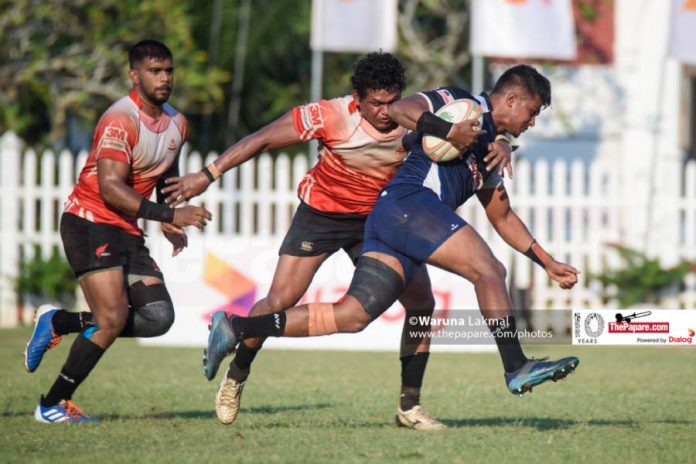 The Police SC started off the new year with a comfortable win against CH&FC, beating them by 36 points to 22 at the Police Park in the 5th week match of the Dialog Rugby League today.

Two exciting back lines went head to head and it was a high scoring fast moving game as expected. The hosts, Police SC opened the scoring with a try from Emosi Vunivosa. He took the ball from the ruck and ran through to score. (PSC 5 – CH&FC 0)
CH&FC managed to draw back the deficit with a try from Sajith Saranga who dragged himself over the try line to tie the scores. Hirusha Sampath missed out on the conversion. (PSC 5 – CH&FC 5)
After dominating the first 20 minutes, Police SC lost their way in the 2nd quarter. Janith Chanaka was sent to the sin bin, which gave CH&FC the upper hand in the game. The visitors managed to create inroads but their indiscipline was their downfall. 
However, CH&FC finally broke through after countless phases by the forwards. It was Prasad Madushanka who made the final break to find the try line. 
Half time: Police SC 5 (1T) – CH&FC 10 (2T) 
The second half started off with a bang. Second half replacement Janith Chandimal scored a converted try to put his team ahead once again. Initially, Sachith Silva broke through from the wings and unselfishly off loaded to Chandimal who went to score under the post. He managed to convert his own try. (PSC 12- CH&FC 10)
A few minutes later, Emosi Vunivosa found his way over to extend the lead and secure the bonus point for the cops. Chandimal added the extras. Matters went from bad to worse for the visitors when Manoj Sarathchandra was sin binned for a dangerous tackle. 
This advantage was not used by the cops, but they did however go on to score their fifth try in the 64th minute. Skipper Iroshan Silva collaborated with his brother Sachith Silva to work his over. (PSC 24- CH&FC 10)
A few minutes later, Sathya Ranthunga managed to draw back the deficit through try which was converted by Sudam Sooriyarachchi. They could have made a game out of it but the Cops immediately hit back and sealed the game with a try by Janith Chanaka. Sachith Silva added the extras. (PSC 31- CH&FC 17)
Towards the latter part of the game Vunivosa received a yellow card and that paved way for a conciliation try for CH&FC by Dushmantha Priyadharshana. (PSC 31- CH&FC 22)
At the brink of the final whistle, Iroshan Silva found the whitewash again for his second try, which gave them a confidence-boosting win over CH&FC. 
Full time: Police SC 36(6T, 3C) – CH&FC (4T, 1C)
Dialog 'ViU' Player of the match: Iroshan Silva (Police SC)
Point scorers for Police SC: Iroshan Silva 2T, Janith Chandimal 1T 1C, Emosi Vunivosa 2T, Janith Chanaka 1T, Sachith Silva 2C

Cautions for Police SC: Janith Chanaka, Emosi Vunivosa 

Point scorers for CH&FC: Sathya Ranthunga 1T, Prasad Madushanka 1T, Sajith Saranga 1T, Dushmantha Priyadharshana 1T, Sudam Sooriyarachchi 1C 

Cautions for CH&FC: Matheesha Sarathchandra