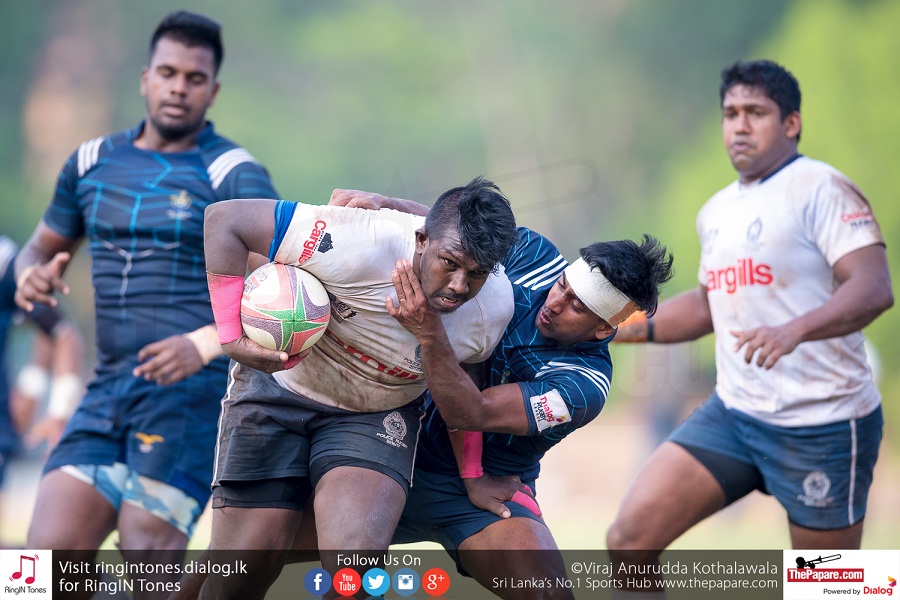 Police SC came back from behind to claim a much needed win by 28 points to 19 in their 6th week match of the Dialog Rugby League at Police Park grounds. 
Both teams came into this match after heavy losses in the last week. It was the hosts who opened up the scoring with Sachith Silva slotting an easy penalty in front of the post, 40m out. They followed it up by a try from Romesh Acharige. Credit should be given to some quick thinking by Kasun Suranga to take the quick tap and go closer to the try line in the lead up to the try. Sachith missed out on the conversion. (Police SC 8 – Airforce SC 0)
Police dominated the first quarter of the game but some indiscipline in the field let the game slip away from their grasp. They kept conceding penalties and Air Force made full use of it. Charith Seneviratne slotted in two back to back penalties to draw back the deficit. Air Force made inroads to their attacking half but failed to convert those chances to tries. (Police SC 8 – Air Force SC 6)
Photos: Police SC vs Air Force SC – Dialog Rugby League 2018/19 | #Match 20
The second try of the game came from a moment of brilliance from Vageesha Weerasinghe. Sachith Silva's box kick was bouncing away from play but a flying hand from Vageesha kept the ball in play for Sujan Kodithuwakku to gather and run all the way for their second try of the game. Unfortunately Sachith missed out on the conversion yet again. (Police SC 13 – Air Force SC 6)
Minutes before the half time Charith Seneviratne managed to slot in another penalty to shift the momentum to their side.
Half Time: Police SC 13 (2T, 1P) – Airforce SC 9 (3P)
It were the Airmen who came out strong in the 2nd half. They managed to find the whitewash for the first time in the game with Thilina Bandara using his long limbs to reach the try line under the post. Charith added the extras to take the lead in the game. (Police SC 13 – Air Force SC 16)
Cops found a way to get back the lead with their third try of the game. It was their speedster Sujan who touched down after relentless pressure from Police and some rear guard defence from Air Force. Sachith missed out on the conversion for the third time. They couldn't hold on to the lead for much longer as Charith Seneviratne slotted in his fourth penalty in the game to get back a slender lead of just 1 point going into the final 10 minutes. (Police SC 18 – Air Force SC 19)
The time was running out but the possession in the final ten minutes was dominated by the home side. They broke through the defences with Suranga Kasun barging in only to end up knocking-on the ball on top of the try line. This could have been a costly miss but the hosts somehow found a way to keep another try to get back the lead. Yohan Pieris claimed the try and he made sure to convert it by himself. (Police SC 25 – Air Force SC 19)
Air Force looked down and out but they managed to put together few attacking phases. Unfortunately none of them were converted to points and just 5 minutes before the whistle Yohan added 3 more points to seal the game for Police
Full Time: Police SC 28 (4T, 2P, 1C) – Air Force SC 19 (1T, 4P, 1C)
ThePapare.com's Player of the match: Sujan Kodithuwakku (Police SC)
Point Scorers for Police: Sujan Kodithuwakku 2T, Yohan Pieris 1T 1P 1C, Romesh Acharige 1T,
Point scorers for Air Force: Thilina Bandara 1T, Charith Seneviratne 4P 1C