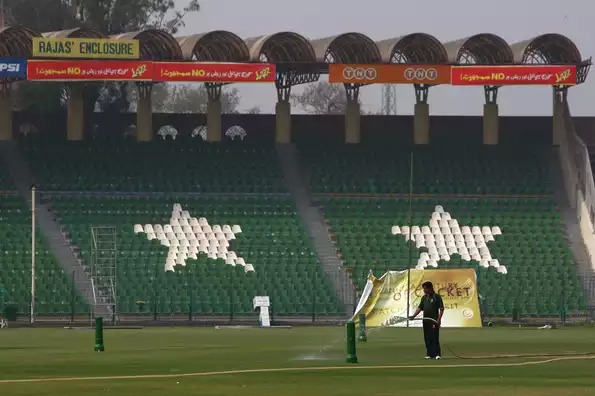 The Pakistan Cricket Board (PCB) has offered Cricket Sri Lanka (SLC) Karachi and Lahore as venues for a two-match Test series, which will be a part of the ICC Test Championship, and is scheduled for later this year. The offer was extended by top-most PCB officials -Chairman Ehsan Mani and Managing Director Wasim Khan – on the sidelines of the recent meeting Asian Cricket Council meeting in Singapore.
Along with proposing the two venues, the PCB has also extended an invitation to the officials of the Sri Lankan board to access the security situation, a PCB spokesperson told Cricbuzz, while adding that the Pakistani officials were now waiting for their Sri Lankan counterparts to confirm the date of their arrival in the country.
The PCB, over the last few years, has stepped up its efforts for the return of top-flight cricket in the country. It has seen them host PSL matches (as many as eight this year with all the foreign players participating), an ICC World XI (2017) and West Indies (2018), for three-match T20I series, and Sri Lanka (2017) for a one-off T20I.
Having a top nation over for Tests will provide the much-needed boost to their efforts. And, if Sri Lanka agree to tour Pakistan it will see the latter host Test cricket after a gap of a little over a decade.
It was in March 2009 when the touring Sri Lankan team was attacked by gunmen on their way to the Gaddafi Stadium in Lahore on the third morning of the second of the two Tests. That attack effectively put international cricket on halt in the country.
Though Pakistan had Zimbabwe over in 2015 and hosted the final of the 2017 edition of the PSL in Lahore – which turned out to be a stepping stone for the return of international cricket in the country – top boards have shown unwillingness to travel to Pakistan. Recently, Pakistan were in talks with New Zealand and Australia. Though both of the boards showed interest, they later backed out.
In such a backdrop, the Sri Lankan team's tour is bound to add to the credence of Pakistan being a safe destination for international cricket and will play a key role in convincing other Test nations to tour Pakistan.