Steeple Chaser Parami Wasanthi Maristella won Sri Lanka's maiden medal at the Youth Olympic games winning Bronze in the Women's 2000m steeplechase at the 3rd Youth Olympic Games 2018 currently held in Buenos Aires in Argentina.
Apart from being the first Youth Olympic medal for the Island, Parami's Bronze is the first Global medal for Sri Lanka since Susanthika Jayasinghe's World Championship victory in 2007.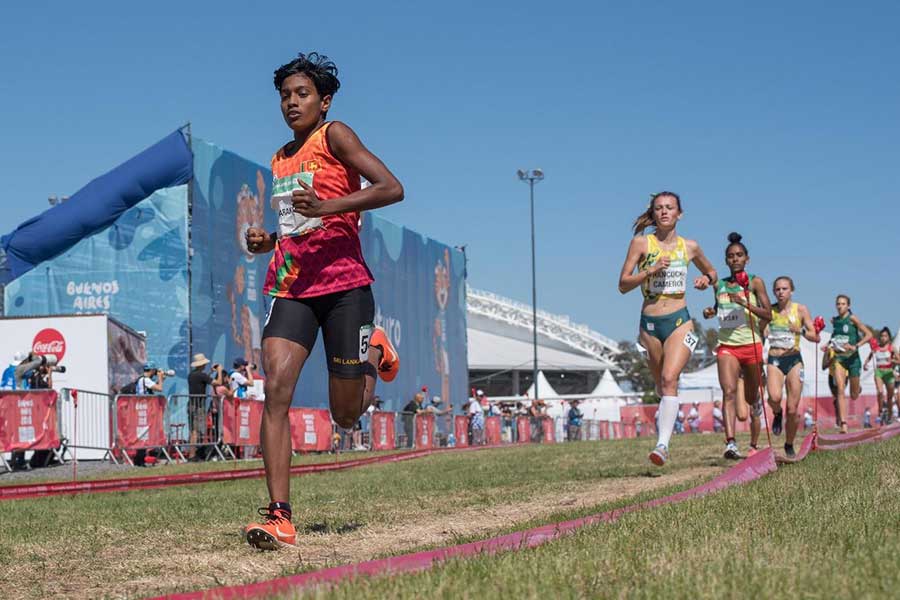 Parami was placed third in the first stage of the Women's 2000m steeple chase competition clocking a new personal best time of 6:33.06mins and put herself in a position to become the first Sri Lankan to win a Youth Olympic medal.
Sri Lanka's prime hope to win the country's first Youth Olympic….
Competing in the second stage of the competition, which was a 4km cross-country run, Parami was placed 17th overall clocking 13:47mins. From the participants of the 2000m steeplechase, Parami was placed third with Fancy Chereno of Kenya in the first place (12.51min), Esteh Yego of Uganda in second (13:13min) and Mekides Abebe of Ethiopia in third (13:21).
Fancy Cherono of Kenya won the Gold medal having been placed 1st in both Stage 01 & 02. Mekides Abebe of Ethiopia who was placed 2nd in Stage 01 and 3rd in Stage 02 won the Silver medal with Sri Lanka's Parami Wasanthi winning Bronze being placed 3rd in Stage 01 and 4th in Stage 02.

The Junior Asian Champion in the Women's 3000m, at the Junior Asian Athletic Championship which was held in Gifu, Japan this year,  Parami Wasanthi of Kuliyapitiya Central College hails from a poor fishing family living in a fishing village named Abakandawila In Chilaw district. Parami shared her story with ThePapare.com after her victory at the Asian Junior Athletic Championship where she explains how her father supports her sporting endeavors despite the financial shortcomings in a heart-stopping revelation.
This year the winners of the 2000m steeplechase at the YOG was decided after two stages where all athletes will have to compete in a 2000m steeplechase and a 4km cross-country run. The athletes will be awarded points according to their positions, with the top placed athletes getting the lowest points. The Athletes with the lowest aggregate from the 2000m steeple chase and the 4km cross country were adjudged the winners.
We at ThePapare.com congratulate the young superstar on her magnificent achievement and urge the responsible authorities to nurture and protect this brilliant young talent so we may celebrate more international success from this world beater.