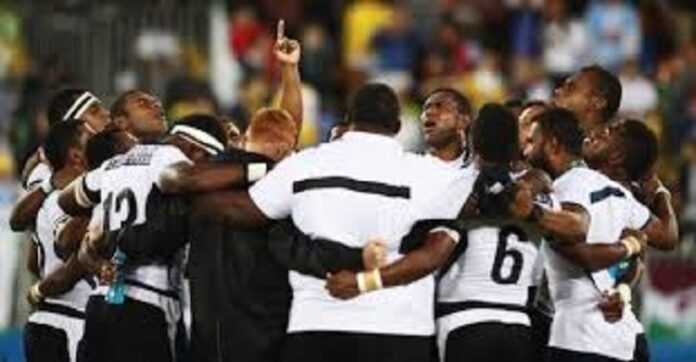 With 25 days until the Olympic Games, the rugby sevens pools for both men's and women's tournaments have been announced for Tokyo 2020.
After making its return to the Olympic stage at Rio 2016, Olympic rugby is once again ready to take centre stage.
Since hosting the 2019 Rugby World Cup, the sport has taken Japan by storm with high anticipation around the Olympic Rugby Sevens tournament at the Tokyo 2020 Games in 2021.
And with one month until the men's final, the Tokyo 2020 Olympic Rugby tournament is taking shape with the 12 men's and 12 women's teams placed in three pools of four teams.
They were allocated according to rankings based upon performances in the World Rugby Sevens Series and other World Rugby sanctioned tournaments over the past two years.
"These will certainly be unique Olympic Games and we have been working very closely with the IOC, Tokyo 2020 and all other stakeholders towards delivering a safe, secure and highly impactful rugby sevens competition in Tokyo," said Alan Gilpin, World Rugby Chief Executive.
"With the pools decided, we can now countdown the days and look forward to what promises to be another memorable edition of Olympic Rugby Sevens."
There are set to be many tantalising, mouth-watering and edge of your seat encounters to look forward to – so let's dive into what will unfold at Tokyo 2020.

Men's Tournament
What could be more spicy then Australia and New Zealand in the same pool? Well try, three of the top four placed teams from Rio 2016 altogether.
The men's tournament is any one's game.
Australia and New Zealand have faced each other a handful of times over the past six weeks, and the Trans-Tasman rivalry is only set to continue at Tokyo 2020. New Zealand will surely head into these Games among the favourites being the Rugby World Cup Sevens and World Series champions but Australia will be looking to go better than their eighth place finish at Rio.
They are placed in Pool A alongside Argentina, who finished sixth at Rio 2016 and Olympic debutants Republic of Korea. While Korea have met all three of their pool opponents, they last faced Argentina at the Los Angeles Sevens in 2020, losing 45-19.
Reigning Olympic champions Fiji will have an early re-match of the Rio 2016 gold medal final with Great Britain alongside them in Pool B with host nation Japan pushing them for a top two finish. Newcomers Canada, making their Olympic debut, will round off a tough Pool.
Fiji can be confident in their record against Japan – they've never lost to them in a World Rugby sevens event. However, Canada did beat Fiji in their last meeting en route to their bronze at the last World Rugby Sevens Series event played before the COVID-19 pandemic.
Meanwhile Rio 2016 bronze medallist South Africa are alongside 2019 World Rugby Sevens Series runners-up in Pool C. They are joined by Kenya and Olympic debutants Ireland, who beat France at the World Rugby Sevens Repechage in Monaco earlier this month.
This is the only pool in the men's tournament where none of the teams have faced each other at the Olympic Games before.

Women's competition
Unlike the men's tournament, the three medallists in the women's competition from Rio 2016 are split across the three pools.
Rugby World Cup Sevens and World Series title holders New Zealand, who are expected to be medal favourites when action gets underway will face ROC, Great Britain and Kenya in Pool A. On their way to their Rio 2016 silver medal, New Zealand beat both Kenya and Great Britain.
ROC, who secured their Olympic debut via this month's Repechage, ended New Zealand's record-equalling 37-match winning streak in the World Series with a 17-all draw in April 2019.
Pool B is the only pool without an Olympic debutant (including the men's tournament). Rio 2016 bronze medallist Canada were placed alongside France, Fiji and Brazil. This pool is full of opportunities to place in the top two and qualify for the quarter-finals at Tokyo 2020.
Canada overcame both Brazil and France at the last Games. For France, who qualified via the Repechage, have never lost to Brazil. The South American side, who qualified in the South American qualifier, have lost seven in a row against Fiji, the most recent a 31-0 at the Sydney Sevens in February 2020.
Olympic debutants People's Republic of China will have a tough take on their hands in Pool C with Rio 2016 gold medallist Australia and the ever-strong Team USA. Australia and the U.S. were in the same pool at Rio 2016, with that match ending in a draw – the only match the team in green and gold didn't win and the only draw in Olympic Rugby history. The pool also features host nation Japan.