An event was organized at the SSC with the participation of Sri Lanka Rugby Football Union (SLRFU) officials, Captains & officials of the 08 A division clubs and the media to welcome 2016/17 Dialog Club Rugby League and to celebrate Dialog Axiata's partnership with local rugby.
Dialog A Division Club Rugby league is a mere week away from kickoff when Police SC will host Navy SC at Police park on 4th of November at the opening game in what promises to be an exciting season.  Dialog continues its partnership for the 05th consecutive year, powering the league and the knock out tournaments.
Addressing the gathering, Chairman of the Sri Lanka Rugby Football Union (SLRFU) Mr. Asanga Seneviratne commended Dialog for the support they have lent in uplifting Sri Lankan Rugby in the wake of 2016/17 Dialog Rugby league. He was full of praise for title sponsors Dialog and stated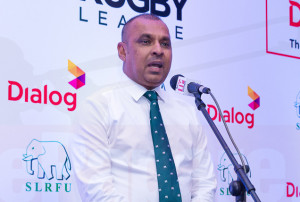 "I thank them from the bottom of my heart for the support they have extended to our national team; as you know 7s has been a wonderful experience for all of us , we are No 2 in Asia and we qualified for Hong Kong 7s, (a) World series qualifier for the first time. None of this would have been possible without Dialog .Dialog supports other sports as well and it's a premier company that supports sports in this country. What we need to keep in mind is because of the support system for Rugby in this country we have nearly  100 schools taking part in the sport, the top league in the schools has 10 teams you have a player bank of 200 to 250 players of quality coming out each year . It is just a matter of getting the right talent, coaches and management in place."
As an initiative to uplift the game of rugby and felicitate the development of the game, ThePapare.com powered by Dialog, will partner with the SLRFU and the Referee's Union to introduce Television Match Official (TMO) to Club Rugby in the 2016/17season .  
Mr. Mangala Hettiarachi – Head of Business- Global and Content services, Global Business – Dialog Axiata PLC, explained the thinking behind the introduction of TMO to the Dialog league,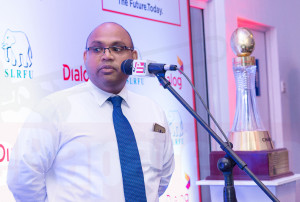 "Dialog's journey with rugby continues , Asanga alluded to the fact that more schools are playing rugby and more good players are coming into the clubs and our national teams are doing pretty well , we want to keep investing in rugby, and as one such concept we thought the time was right to introduce Television Match Official or TMO. So we made a proposal to SLRFU and the referee's union and I am very proud to say that both these unions were very keen and picked up on this and said that they are very supportive of this. As a result we will kick off a pilot of TMO on the 04th of November in the opening game and will be available at one game each week. These games will be telecast live on Dialog TV channel #01, on the mobile app MYTV and our internet platform  www.thepapare.com. I invite all of you to witness TMO being introduced to club rugby in Sri Lanka. We believe this will increase quality of play and also will make Sri Lanka more competitive in the future "
Mr. Hettiarachi thanked SLRFU, the Referee's Union and everyone involved in the decision to go through with TMO and asserted that Dialog was very proud to be introducing this new technology to Sri Lankan club rugby circuit.