Novak Djokovic and his wife Jelena have tested positive for Corona virus after the controversial Adria Tour. Djokovic is the 4th player to go down this road in the pro circuit. While Djokovic and his wife have been infected, their son Stefan and daughter Tara have not contracted the virus.
Wimbledon cancelled due to coronavirus – where does that leave tennis in 2020?
This has been a result of a tournament which the Serbian star organized – The Adria Tour in Zadar, Croatia. With Croatia easing lockdown measures before the event, players were not obliged to observe social distancing rules and were seen embracing at the net at the end of their matches.
Pictures on the tournament's social media site from Friday showed Bulgaria's Dimitrov playing basketball with Djokovic, Alexander Zverev and Marin Cilic, while he also put his arm around Coric before their match. All except Cilic and Zverev have tested positive with the COVID-19 virus. 
Zverev, Cilic and Andrey Rublev, who also played, have tested negative. However, it was suggested that they all go into self-isolation for up to 14 days.
A statement from Djokovic said: "The moment we arrived in Belgrade we went to be tested. My result is positive, just as Jelena's, while the results of our children are negative.
Everything we did in the past month, we did with a pure heart and sincere intentions. Our tournament meant to unite and share a message of solidarity and compassion throughout the region."
First Pro Tennis player tests Positive for Covid-19
The Tour has been designed to help both established and up and coming tennis players from South-Eastern Europe to gain access to some competitive tennis, while the various tours are on hold due to the COVID-19 situation.
The organizers of the Adria Tour say Sunday's final in Zadar was cancelled "as a precaution and to protect the health of all participants and visitors".
A statement read: "At all times, we have strictly followed the epidemiological measures in place with the countries where the Adria Tour was organized."
The Wimbledon has already been called off for the year, while the US Open is scheduled to be held without spectators from the 31st of August to the 13th of September, despite some players voicing concerns about travelling to New York. It is safe to say security measures will be heightened for this event, especially after the Adria incident.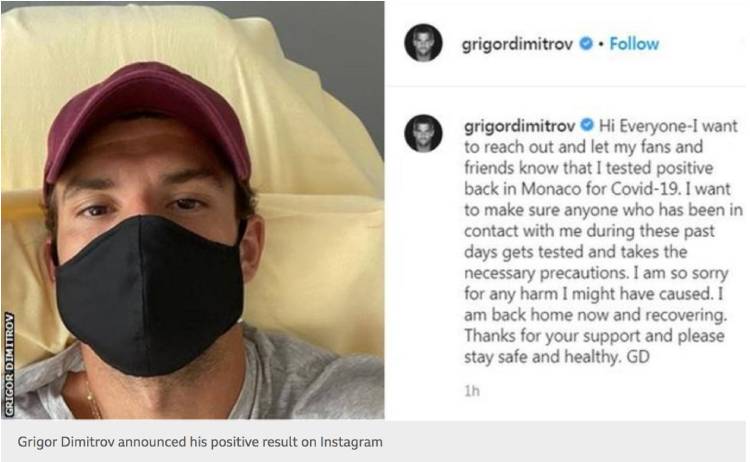 >>Click Here For More Tennis News<<