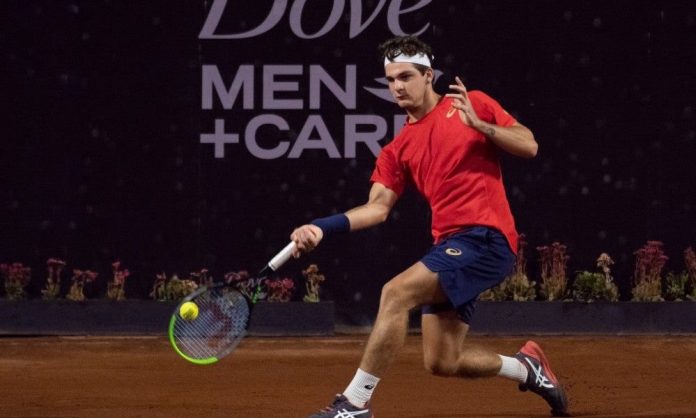 Budding Brazilian star Thiago Seyboth Wild, who clinched his first ATP title three weeks ago, is the first tennis player to announce that he has tested positive for coronavirus. The 20-year-old revealed that he has been in self-isolation for the past week and is recovering from the illness.
Seyboth Wild ranked No. 114 in the world, said on Twitter that he has been taking care of himself. He also explained that he is following the doctor's instructions to recover from COVID-19.
 "I've been taking care of myself": Thiago Seyboth Wild
In the past two weeks, there have been many professional athletes and coaches across various sports to have tested positive for coronavirus. Seyboth becomes the latest athlete and one of the youngest of all to have contracted with COVID-19.
"Hey guys. I just wanted to let you know that I've contracted the COVID-19 but I've self-isolated myself for the past week. And I've been taking care of myself and following the doctor's instructions," Seyboth said in a video.
Stay safe pic.twitter.com/rshLHLOTqY

— Thiago Seyboth Wild (@thiagoswild) March 25, 2020
"This is a reminder for you all to stay at home. Take care of the people you love and help us all to not spread this disease. Stay home, and stay safe," he added.
On the contrary, Brazilian President Jair Bolsonaro claimed he "wouldn't feel anything" if infected with coronavirus as he is "an athlete". Furthermore, he urged against the lockdowns and work stoppages after his country's two biggest cities went into shutdown in a preventive measure against COVID-19.
He also dismissed coronavirus as a media hysteria. However, the number of deaths in Brazil had risen to 46 with more than 2,200 cases. Consequently, Bolsonaro might change his perspective on the disease that it would not affect the young athletes with compatriot Seyboth Wild as an example.
Seyboth Wild recently won his first title at the Santiago Open earlier this month. He defeated second-seeded Casper Ruud 7-5, 4-6, 6-3 in the finals. With the tour shut due to the coronavirus threat over the world, Wild has time to recover from the infection and join the tour when it resumes. We hope a prompt recovery for Wild.
>>Click here for more Tennis News<<