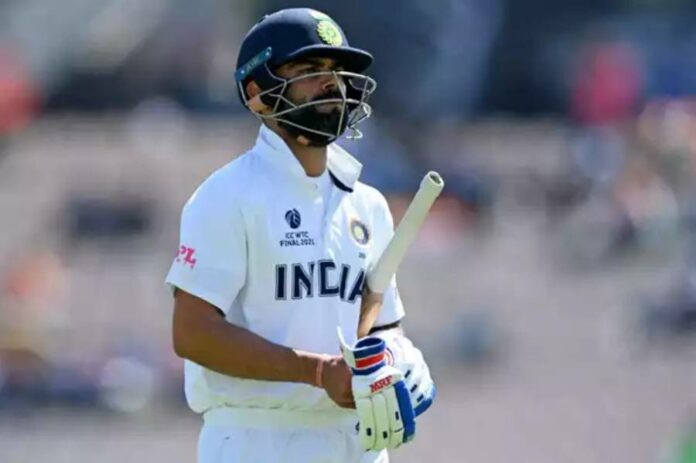 Virat Kohli added his voice to the chorus of calls asking for future World Test Championships to be multi-game affairs. The India captain echoed thoughts of his head coach Ravi Shastri and former skipper Sachin Tendulkar after his side were defeated in the inaugural final of this format. It was India's second loss in a major tournament final under Kohli but he clarified that his opinion was not based on the outcome but that a one-off game to decide the best team from a tournament played over a two-year phase was not and may not give an authentic portrayal of the character of the two finalist teams or allow a narrative to build over the series.

Read More : ICC to stick with percentage of points system for World Test Championship
"Well, look, firstly, I'm not in absolute agreement of deciding the best Test side in the world over the course of one game, to be very honest," Kohli said. "If it is a Test series, it has to be a test of character over three Tests, which team has the ability to come back into the series or totally blow away the other team. It can't just be a pressure applied over two days of good cricket and then you suddenly are not a good Test side anymore. I don't believe in that."
India finished the protracted league stage of the tournament as table toppers with 520 points across six series, five of which they won. Incidentally, two of their recent series wins, against Australia and England, were achieved after going a game down. Kohli reasoned that a series allowed narratives to ebb and flow, for teams to come back or double down on their advantage to establish superiority.
"I just believe that it[final] should be done over the course of three matches so that you as a side prepare accordingly and you have a chance to, as I said, either drive home the advantage or really test the other team out if you haven't had a good first game.
"I think it has to be a hard grind and something that definitely needs to be worked on in the future to really — at the end of three matches, there's effort, there's ups and downs, there's situations changing throughout the course of the series, a chance to rectify the things that you've done wrong in the first game and then really see who's the better side over the course of a three-match series or something will be a good measure of how things really are, so we are not too bothered by this result because we understand, as I said, as a Test side what we've done over the last three, four years, not just over the last 18 months but over the last three, four years. So this is not a measure of who we are as a team and the ability and the potential we have had for so many years now."
Kohli referenced the quality of the rain-affected game in Southampton to questions about the appetite levels for a three-match final amidst other bilateral commitments. "I mean, if you saw the way the game went with whatever time we got on the field, as well, why wouldn't you want to see two more Tests of the same teams battling it out and eventually being the winners of the World Test Championship? I think historically all the great series that you've seen in Test cricket, you remember them over a period of three matches or five matches perhaps, but two teams going against each other and those series become memorable.
"I think this definitely has to be brought in. I'm not saying this because we're not on the winning side, but just for Test cricket and for this saga to be absolutely memorable, I think it has to happen over a period of three games minimum so that you have a series to remember because there are going to be ups and downs through and through with two quality sides going at each other knowing that there's so much on the line."
Read : Details of WTC prize money announced
Incidentally, the ICC, which has announced a single-match Test Championship final until the end of the 2024-31 cycle, has already acknowledged the merits of a series but said it wasn't logistically feasible. "The reality of the international cricket schedule is we are just not going to have [a situation where] blocking out a month or so for all the teams in the tournament for the final is realistic," said ICC's acting CEO Geoff Allardice. "That's why the one-match final was decided upon. Why it is quite exciting is because it brings something new. Here we are – we've got a one-off Test match to decide the best team in the world over this two-year cycle."
Winning captain Kane Williamson offered a contrarian view to Kohli and Shastri, talking up the 'unique' and 'fickle' dynamics of a one-off final. "I suppose the exciting part of finals is that anything can happen," he said. ""We know how fickle cricket is and we've seen it in other competitions, in other World Cups and in all other bits and pieces. The one-off factor does bring a unique dynamic, which does make it exciting and all these sorts of things, and on any given day anything can happen. We've been on all different sides of that statement. "I suppose there's arguments for both sides, and I guess the challenge would be scheduling and that series amongst a lot of cricket that's already on, but no doubt the more cricket that you have perhaps within a series, the more you do find out and the more it does reveal itself, but in the same way it was a really exciting match. The first time that there's been this competition on and both teams were fully geared for the game, and it was a brilliant game of cricket."