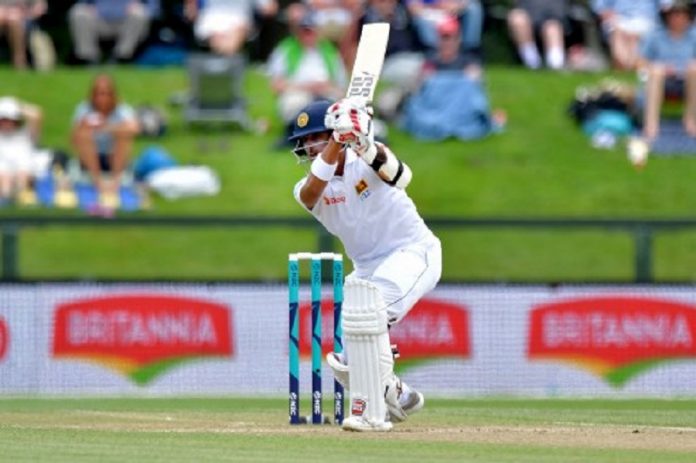 Sri Lanka put on a modest batting display on day 4 to take the Test for the 4th day losing just 4 wickets on the day as they chase 660 runs set by hosts New Zealand. The 2nd Test of the 2-match series is being played at the Hagley Oval in Christchurch.

Sri Lanka's pair of overnight batsmen, captain Dinesh Chandimal and Kusal Mendis started day 4 excellently as the duo batted through the first session remaining unbeaten.
Negotiating the early threats from the Kiwi seamers very well the two right handers, Mendis in particular, batted with ease towards the end of the morning session. In the course Mendis reached 1000 Test runs in 2018 becoming only the 2nd batsman after Virat Kohli to achieve the feat this year. Kusal Mendis reached his 8th Test fifty before lunch with an upish shot through covers straight to the fence.
Resuming their mammoth run-chase of 660, which is the 8th highest target set in the history of Test cricket, Sri Lanka lost Kusal Mendis courtesy a brilliant diving catch by 12th man Matt Henry fielding at extra cover. Mendis who fell for Neil Wagner just after his skipper Dinesh Chandimal reached his 17th Test fifty with a sweep off Ajaz Patel, had scored 67 runs with 10 boundaries.
Going towards tea Dinesh Chandimal and Angelo Mathews looked pretty comfortable on a wicket which seemed to have eased up a bit comparing to the adversity it imposed on batsmen on the first 2 days. Unfortunately for Sri Lanka, they had to deal with another major blow as Angelo Mathews hurt himself in the 66th over.
Sri Lanka's former skipper, Angelo Mathews hurt himself during the 4 th #NZvSL 2018 HUB day's play of the 2 nd Read: Memoirs…..
Mathews straight away went down holding his left groin after he picked up two twos off the first two deliveries bowled by Trent Boult. The Sri Lankan physio, who soon ran in to the field put a heavy strapping around Mathews' leg to make him fine enough to resume. With discomfort, Mathews hobbled on towards tea facing 15 off the remaining 16 deliveries before the break. Mathews who didn't come out to bat after the break was taken off for scans.
It was Roshen Silva who walked in with Dinesh Chandimal to resume Sri Lanka's resistance after tea with Mathews retiring hurt for 22 runs. Neil Wagner once again struck claiming his 2nd wicket as he hurried up Chandimal with a quick short ball which the Lankan skipper only could lob to the short leg fielder, Henry Nicholls. Chandimal was dismissed for 56 runs which took 228 deliveries including 5 boundaries.
Wicket keeper Niroshan Dickwella and Roshen Silva couldn't hold on long enough as they were dismissed for 19 and 18 respectively after the second new ball was introduced. Dickwella inside edged a short and wide delivery on to the stumps throwing his hands without any foot movement while Roshen Silva did the same thing to edge it to the wicket keeper. Dickwella was Southee's second wicket while Roshen became Wagner's third wicket which also was wicket keeper BJ Watling's 200th catch in Test cricket.
Centuries from Tom Latham and Henry Nicholls put New Zealand in line for a defining victory over Sri Lanka Friday…..
From 208/6, Sri Lanka's bowling spearheads, Dilruwan Perera and Suranga Lakmal saw through the remaining overs cautiously. Dilruwan scored 22 off the 60 balls he faced while Lakmal had scored 16 off 22 deliveries. Both the batsmen had stroked 3 boundaries each.
Sri Lanka will expect the duo to resist further tomorrow with the hope that Angelo Mathews' scans will show positive results and allow him to bat tomorrow. On the other hand New Zealand will be looking to remove the 4 (if Mathews bats, otherwise 3) remaining wickets and wrap up the series.
Full Scorecard
178/10 & 585/4
(153 overs)
104/10 & 236/10
(106.2 overs)
NZ won by 423 runs
New Zealand 's 1st Innings
Batting
R
B
Jeet Raval
c D Chandimal b S Lakmal
6
24
Tom Latham
c K Mendis b S Lakmal
10
30
Kane Williamson
c N Dickwella b S Lakmal
2
18
Ross Taylor
(runout) L Kumara
27
46
Henry Nicholls
b S Lakmal
1
10
BJ Watling
c D Perera b L Kumara
46
90
C de Grandhomme
c D Chameera b L Kumara
1
5
Tim Southee
c D Gunathilaka b D Perera
68
65
Neil Wagner
c K Mendis b S Lakmal
0
7
Ajaz Patel
c S Lakmal b L Kumara
2
5
Trent Boult
not out
1
1
Extras
14 (b 6, lb 7, nb 1)
Fall of Wickets:
1-16 (J Raval, 8.3 ov), 2-17 (T Latham, 10.1 ov), 3-22 (K Williamson, 14.2 ov), 4-36 (H Nicholls, 18.5 ov), 5-57 (R Taylor, 25.3 ov), 6-64 (de Grandhomme, 27.1 ov), 7-172 (T Southee, 47.2 ov), 8-175 (N Wagner, 48.4 ov), 9-177 (BJ Watling, 49.2 ov), 10-178 (A Patel, 49.6 ov)
| Bowling | O | M | R | W | E |
| --- | --- | --- | --- | --- | --- |
| Suranga Lakmal | 19 | 5 | 54 | 5 | 2.84 |
| Lahiru Kumara | 14 | 4 | 49 | 3 | 3.50 |
| Angelo Mathews | 4 | 1 | 6 | 0 | 1.50 |
| Dushmantha Chameera | 8 | 1 | 43 | 0 | 5.38 |
| Dilruwan Perera | 5 | 1 | 13 | 1 | 2.60 |
Sri Lanka's 1st Innings
Batting
R
B
Danushka Gunathilaka
c J Raval b T Southee
8
31
Dimuth Karunarathne
c K Williamson b T Southee
7
9
Dinesh Chandimal
c BJ Watling b T Southee
6
9
Kusal Mendis
c BJ Watling b de Grandhomme
15
32
Angelo Mathews
not out
33
88
Roshen Silva
c T Southee b T Boult
21
63
Niroshan Dickwella
c T Southee b T Boult
4
3
Dilruwan Perera
lbw by T Boult
0
4
Suranga Lakmal
lbw by T Boult
0
1
Dushmantha Chameera
lbw by T Boult
0
2
Lahiru Kumara
lbw by T Boult
0
4
Fall of Wickets:
1-10 (D Karunarathne, 5.2 ov), 2-20 (D Chandimal, 7.2 ov), 3-21 (D Gunathilaka, 9.4 ov), 4-51 (K Mendis, 17.1 ov), 5-94 (R Silva, 36.4 ov), 6-100 (N Dickwella, 38.1 ov), 7-100 (D Perera, 38.5 ov), 8-100 (S Lakmal, 38.6 ov), 9-104 (D Chameera, 40.2 ov), 10-104 (L Kumara, 40.6 ov)
| Bowling | O | M | R | W | E |
| --- | --- | --- | --- | --- | --- |
| Trent Boult | 15 | 8 | 30 | 6 | 2.00 |
| Tim Southee | 15 | 5 | 35 | 3 | 2.33 |
| Colin de Grandhomme | 6 | 0 | 19 | 1 | 3.17 |
| Neil Wagner | 5 | 0 | 10 | 0 | 2.00 |
New Zealand 's 2nd Innings
Batting
R
B
Jeet Raval
c K Mendis b D Perera
74
162
Tom Latham
c N Dickwella b D Chameera
176
370
Kane Williamson
c K Mendis b L Kumara
48
75
Ross Taylor
lbw by L Kumara
40
44
Henry Nicholls
not out
162
225
de Grandhomme
not out
71
45
Extras
14 (b 5, lb 3, w 3, nb 3)
Fall of Wickets:
1-121 (J Raval, 47.6 ov), 2-189 (K Williamson, 70.1 ov), 3-247 (R Taylor, 83.1 ov), 4-461 (T Latham, 138.3 ov)
| Bowling | O | M | R | W | E |
| --- | --- | --- | --- | --- | --- |
| Suranga Lakmal | 30 | 6 | 96 | 0 | 3.20 |
| Lahiru Kumara | 32 | 6 | 134 | 2 | 4.19 |
| Dushmantha Chameera | 30 | 5 | 147 | 1 | 4.90 |
| Dilruwan Perera | 41 | 3 | 149 | 1 | 3.63 |
| Danushka Gunathilaka | 16 | 2 | 45 | 0 | 2.81 |
| Dimuth Karunarathne | 4 | 2 | 6 | 0 | 1.50 |
Sri Lanka's 2nd Innings
Batting
R
B
Danushka Gunathilaka
c BJ Watling b T Southee
4
7
Dimuth Karunarathne
c BJ Watling b T Boult
0
2
Dinesh Chandimal
c H Nicholls b N Wagner
56
228
Kusal Mendis
c M Henry b N Wagner
67
147
Angelo Mathews
not out
22
54
Roshen Silva
c BJ Watling b N Wagner
18
73
Niroshan Dickwella
b T Southee
19
31
Dilruwan Perera
c K Williamson b N Wagner
22
62
Suranga Lakmal
b T Boult
18
25
Dushmantha Chameera
lbw by T Boult
3
8
Lahiru Kumara
not out
0
1
Extras
7 (b 4, lb 2, w 1)
Total
236/10 (106.2 overs)
Fall of Wickets:
1-1 (D Karunarathne, 0.6 ov), 2-9 (D Gunathilaka, 1.5 ov), 3-126 (K Mendis, 54.5 ov), 4-158 (D Chandimal, 76.2 ov), 5-181 (N Dickwella, 85.1 ov), 6-208 (R Silva, 95.4 ov), 7-233 (S Lakmal, 104.3 ov), 8-233 (D Perera, 105.2 ov). 9-236 (D Chameera, 106.2 ov)
| Bowling | O | M | R | W | E |
| --- | --- | --- | --- | --- | --- |
| Trent Boult | 28.2 | 11 | 77 | 3 | 2.73 |
| Tim Southee | 27 | 13 | 61 | 2 | 2.26 |
| Colin de Grandhomme | 10 | 1 | 23 | 0 | 2.30 |
| Neil Wagner | 29 | 10 | 48 | 4 | 1.66 |
| Ajaz Patel | 12 | 9 | 21 | 0 | 1.75 |