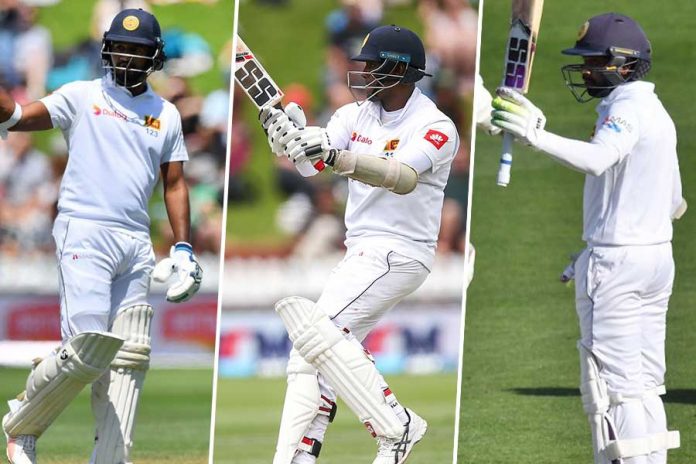 Sri Lanka came back strongly after losing 3 wickets in the first two overs with the help of brilliant half-centuries by Dimuth Karunaratne, Angelo Mathews and Niroshan Dickwella on the first day of the first Test against New Zealand, today at the Basin Reserve in Wellington. Sri Lanka was 275/9 at stumps.
The Test series began on a very unhealthy note for Sri Lanka as they were put in to bat on a green surface by Kiwi skipper Kane Williamson after he won the toss. Sri Lanka opting to go with Danushka Gunathilaka as Dimuth Karunaratne's opening partner lost him early, which was the first of 3 early blows.
Read: Sri Lanka's love affair with the Basin Reserve
Tim Southee, after trapping Gunathilaka with a beautiful late swinging delivery, dent Sri Lanka further with a another similar delivery to dismiss Dhananjaya de Silva caught behind. In the same over Kusal Mendis threw his wicket away leaving Sri Lanka reeling at 9/3 by the end of the 4th over.
Putting on a wonderful act of rescue opener Dimuth Karunaratne and Angelo Mathews added 133 runs for the 4th wicket. The fight back was despite some quality seam bowling from the New Zealand speedsters, in conditions ideal for fast bowling.
Karunaratne and Mathews gradually settling themselves started finding the needed mojo to prosper against the world-class seam attack. The experienced combo stroked some delightful shots as they kept Sri Lanka in the safe zone by lunch.
Karunaratne in fact had his moment of luck in the 20th over as he hit a rare loose delivery straight to the hands of the mid-wicket fielder when he was on 33, only to be called back as it was found to be an over-stepped delivery.
The post-lunch session was the best session for the tourists as they lost just 1 wicket and scored 94 runs in 29 overs. During this session of play both Karunaratne and Mathews reached their half-centuries.
1st Test Preview: Sri Lanka reeling from upheaval ahead of New Zealand Tests
Karunaratne scoring his 21st Test fifty hit 11 boundaries during his fighting knock and became the first victim of New Zealand's short-ball barrage. Neil Wagner renowned for his quality short ball stuff claimed his first wicket as Karunaratne (79) edged an attempted pull to wicket keeper BJ Watling.
Right after the tea break Sri Lanka's skipper Dinesh Chandimal became the second victim of the short ball as he miss-pulled a Tim Southee short ball to Ajaz Patel, who took his second catch for the day, fielding at deep mid-wicket.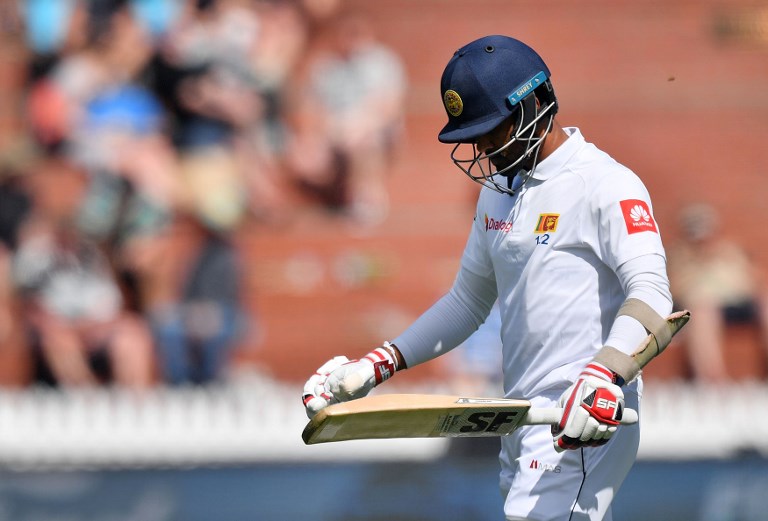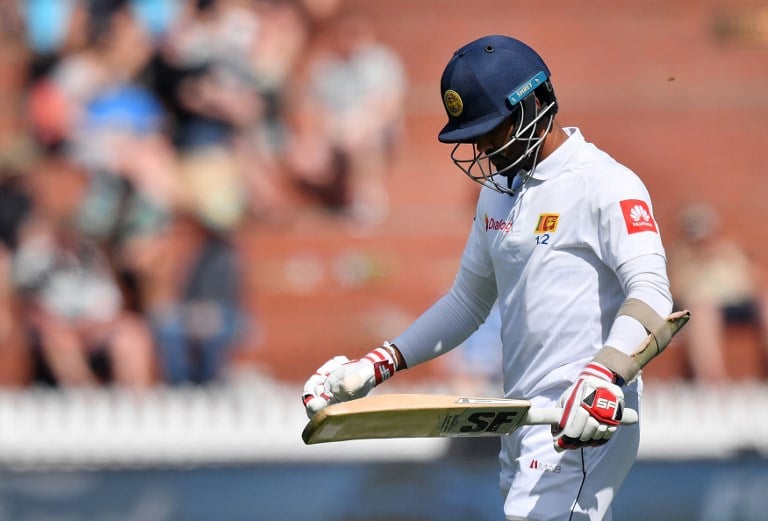 Sri Lanka once again found themselves in trouble as Mathews also edged a short ball straight to Watling becoming the 5th scalp of Tim Southee. Mathews' 33rd Test half-century worth 83 runs included 9 boundaries and a six, which came off a well hit hook to a Tren Boult short ball.
Sri Lanka's new limited overs vice-captain, Niroshan Dickwella then took responsibility and helped Sri Lanka reach 200 with a handy little 36-run partnership with Dilruwan Perera. Dilruwan was dismissed playing a very loose shot after a well-made 38-ball 16.
Dickwella on the other end kept impressing as he dealt the short ball barrage by the Kiwi pacers nicely and also together with the tail steered Sri Lanka towards a competitive first innings score.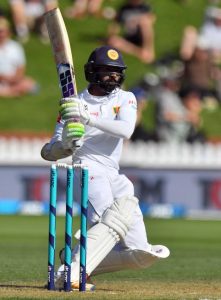 His partnership following Suranga Lakmal's dismissal, courtesy a brilliant catch by Henry Nicholls, frustrated the Kane Williamson and his men as the duo batted for 12.2 overs adding 35 stubborn runs.
Dickwella played a gem of an inning with 10 cheeky boundaries. The street-smart wicket keeper batsman reached his 10th Test half-century showing immense character and the leader in him.
Play was stopped soon as Kasun Rajitha nicked an around the wicket delivery by Trent Boult. Sri Lanka finished the day on 275 runs with Niroshan Dickwella unbeaten on 73.
Sri Lanka will be hoping to put the Kiwis further behind as they will back their pace triplet of Lakmal, Rajitha and Lahiru Kaumara who handed them a famous Test win in Barbados earlier this year.
Full Scorecard
282/10 & 287/3
(115 overs)
Sri Lanka's 1st Innings
Batting
R
B
Danushka Gunathilaka
lbw by T Southee
1
9
Dimuth Karunarathne
c BJ Watling b N Wagner
79
144
Dhananjaya de Silva
c BJ Watling b T Southee
1
7
Kusal Mendis
c A Patel b T Southee
2
4
Angelo Mathews
c BJ Watling b T Southee
83
153
Dinesh Chandimal
c A Patel b T Southee
6
34
Niroshan Dickwella
not out
80
101
Dilruwan Perera
c BJ Watling b de Grandhomme
16
38
Suranga Lakmal
c H Nicholls b N Wagner
3
12
Kasun Rajitha
c BJ Watling b T Boult
2
32
Lahiru Kumara
c de Grandhomme b T Southee
0
8
Fall of Wickets:
1-5 (D Gunathilaka, 1.6 ov), 2-7 (D De Silva, 3.2 ov), 3-9 (K Mendis, 3.6 ov), 4-142 (D Karunarathne, 46.3 ov), 5-167 (D Chandimal, 57.2 ov), 6-187 (A Mathews, 59.3 ov), 7-223 (D Perera, 69.5 ov), 8-240 (S Lakmal, 74.2 ov), 9-275 (K Rajitha, 86.6 ov), 10-282 (L Kumara, 89.6 ov)
| Bowling | O | M | R | W | E |
| --- | --- | --- | --- | --- | --- |
| Trent Boult | 27 | 6 | 83 | 1 | 3.07 |
| Tim Southee | 27 | 7 | 68 | 6 | 2.52 |
| Colin de Grandhomme | 13 | 2 | 35 | 1 | 2.69 |
| Neil Wagner | 20 | 2 | 75 | 2 | 3.75 |
| Ajaz Patel | 3 | 0 | 14 | 0 | 4.67 |
New Zealand 's 1st Innings
Batting
R
B
Jeet Raval
c N Dickwella b L Kumara
43
70
Tom Latham
not out
264
489
Kane Williamson
c K Rajitha b D De Silva
91
93
Ross Taylor
c D Karunarathne b L Kumara
50
88
Henry Nicholls
c K Rajitha b D Perera
50
101
BJ Watling
c N Dickwella b L Kumara
0
6
C de Grandhomme
c K Rajitha b D De Silva
49
53
Tim Southee
(runout) D Chandimal
6
14
Neil Wagner
c D De Silva b S Lakmal
0
6
Ajaz Patel
b D Perera
6
21
Trent Boult
c N Dickwella b L Kumara
11
6
Extras
8 (lb 5, w 1, nb 2)
Total
578/10 (157.3 overs)
Fall of Wickets:
1-59 (J Raval, 22.6 ov), 2-221 (K Williamson, 59.3 ov), 3-312 (R Taylor, 84.4 ov), 4-426 (H Nicholls, 122.5 ov), 5-426 (BJ Watling, 123.6 ov), 6-499 (de Grandhomme, 138.6 ov), 7-520 (T Southee, 144.6 ov), 8-520 (N Wagner, 145.6 ov), 9-549 (A Patel, 154.5 ov), 10-578 (T Boult, 157.3 ov)
| Bowling | O | M | R | W | E |
| --- | --- | --- | --- | --- | --- |
| Suranga Lakmal | 31 | 6 | 88 | 1 | 2.84 |
| Kasun Rajitha | 34 | 5 | 144 | 0 | 4.24 |
| Angelo Mathews | 4 | 3 | 1 | 0 | 0.25 |
| Dilruwan Perera | 40 | 1 | 156 | 2 | 3.90 |
| Lahiru Kumara | 31.3 | 2 | 127 | 4 | 4.06 |
| Dhananjaya de Silva | 15 | 0 | 54 | 2 | 3.60 |
| Danushka Gunathilaka | 2 | 1 | 3 | 0 | 1.50 |
Sri Lanka's 2nd Innings
Batting
R
B
Danushka Gunathilaka
lbw by T Boult
3
17
Dimuth Karunarathne
c T Boult b T Southee
10
13
Dhananjaya de Silva
b T Southee
0
5
Kusal Mendis
not out
141
335
Angelo Mathews
not out
120
323
Extras
13 (lb 2, w 8, nb 3)
Fall of Wickets:
1-5 (D Gunathilaka, 3.3 ov), 2-10 (D De Silva, 4.5 ov), 3-13 (D Karunarathne, 6.2 ov)
| Bowling | O | M | R | W | E |
| --- | --- | --- | --- | --- | --- |
| Tim Southee | 25 | 8 | 52 | 2 | 2.08 |
| Trent Boult | 25 | 4 | 62 | 1 | 2.48 |
| Neil Wagner | 23 | 4 | 100 | 0 | 4.35 |
| Colin de Grandhomme | 13 | 4 | 24 | 0 | 1.85 |
| Ajaz Patel | 28 | 10 | 46 | 0 | 1.64 |
| Jeet Raval | 1 | 0 | 1 | 0 | 1.00 |
New Zealand 's 2nd Innings