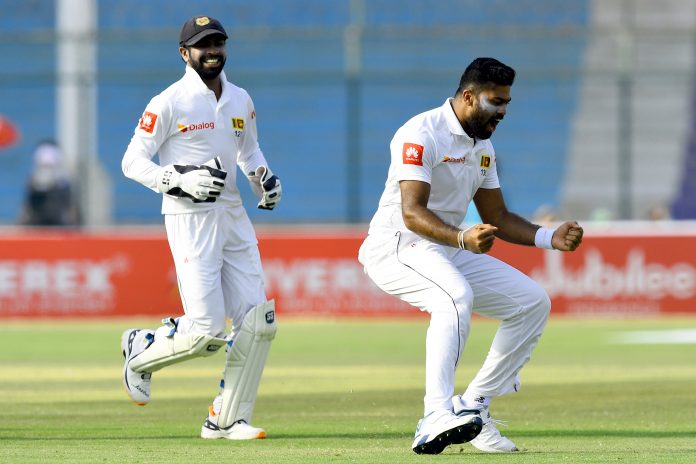 Fewer things are more exciting in cricket than a fast bowler who is sending down thunderbolts. Lahiru Kumara has been the latest sensation to consistently clock 150kmph. He generates raw pace. 
Kumara always had pace but now he has control too and that is what is making him deadly. During the first innings of the second Test in Karachi, he was on a hat-trick and nearly claimed a five-wicket haul. There is little doubt that we will hear more of Kumara. Just 22 years old, there is a good chance that Kumara could go onto become the fastest bowler in the world. 
Read More : The stirring promise of Lahiru Kumara
Kumara rose to prominence when the Sri Lanka Under-19s won a series in England. He was fast tracked into the senior side aged 19 and claimed a six-wicket haul in the first innings of the Cape Town Test in 2017. His victims included Hashim Amla, J.P. Duminy and Quinton De Kock. But since then, his progress has been held back. 
Early this year, after bowling impressive spells at the Gabba, he broke down, having hurt his hamstring and missed the Canberra Test. The injury ruled him out for several months as he missed the tour of South Africa, the World Cup and the home series against New Zealand. There had been self-inflicted damage before that as he was sent home on the eve of the Galle Test against England on disciplinary grounds. It was said that he had broken team curfew. Now that he has made a comeback, the team management will be hoping that he keeps bowling those probing spells on a consistent basis. 
Injuries have been the bane of many a Sri Lankan fast bowler. Never have the selectors been able to field their full strength side due to injuries. While former fast bowling great Chaminda Vaas has pointed out that excessive cricket is the main reason for bowlers to break down regularly, there are also other aspects to this long litany of injuries. 
Vaas himself during his stellar career that spanned for 17 years, missed just one tour. A back injury ruled him out of the tour of England in 1998 when Sri Lanka won their maiden Test match in England and won a tri-nation series involving South Africa and the hosts. The left-arm seamer gave a high priority to fitness and worked unbelievably hard to stay on top of his game. The manner in which he managed his career where he played over 100 Test matches and 300 ODIs is exemplary. His time was not just limited to Sri Lanka. He practiced his trade for more than a decade in county cricket, representing four different counties – Hampshire, Middlesex, Worcestershire and Northamptonshire. 
The other aspect is that we lack a system where our fast bowlers are properly managed. We need to take a leaf out of BCCI. India has managed their players so well, giving them well deserved breaks so that they can field full strength teams for important series. 
Sri Lanka's support staff usually have been excellent over the years but there had been gray areas in physiotherapy and that is partly one reason for so many injuries. Take the case of Dhammika Prasad. He had a breakthrough year in 2015 having taken 41 wickets at 24 in the calendar year. He was emerging as the leading fast bowler of the side when he suffered a back injury. There were serious errors in his rehabilitation and since 2015, he is yet to play any form of international cricket. 
Another growing trend in world cricket is premier fast bowlers are quitting Test cricket in order to prolong their careers and make most of the rewards in various T-20 leagues. Playing leagues has become more lucrative than playing the longer version of the game. Pakistan have suffered most with both Wahab Riaz and Mohammad Amir quitting Tests in quick succession. 
Read Also : From Rana to Dar; the remarkable rise of Pakistani umpires
What administrators can do to encourage players to remain in Test cricket is to obviously raise the match fees for the longer format of the game. The match fee of an Indian Test cricketer is three times more than that of a Sri Lankan. This can be an incentive for players not to stay out of Test cricket. The World Test Championship that was introduced early this year can be another incentive for players not to turn their backs on Test cricket. 
Administrators need to not only look after exciting talents like Lahiru Kumara but even those who spot their skills like Sampath Perera. 
Kumara learned the basics of cricket at Sri Sumangala Vidyalaya in Kandy under Ranjith Colombage. It was Sampath Perera who spotted his talent and offered him a scholarship to Trinity. 
Kumara is not the only player that Perera has produced and his cricket teams at Trinity rewrote history books. Exodus of the best talented or brain drain has been something that has affected the country massively and cricket is no different.