Mamba Out in style!
Kobe Bryant went out in style in his final NBA appearance, scoring 60 points in an unbelievable farewell victory. With sweat and confetti all over his gold uniform for the final time, he expressed humble thanks to his fans and family for their loving support over two decades. Bryant utterly dominated his final game Wednesday night, wrapping up 20 NBA seasons with one last offensive showcase in the Lakers' 101-96 victory over the Utah Jazz. He scored 23 points in the fourth quarter, posting his first 50-point game since February 2009 and rallying the Lakers from a 15-point deficit to win the final game of the worst season in franchise history. With the entire Staples Center crowd standing, Bryant made a 3-pointer with 59 seconds left. He hit another with 31 seconds to play, putting the Lakers ahead 97-96. He finished with an assist before checking out for good with 4.1 seconds left in just the Lakers' 17th win of the season. The Lakers snapped a six-game skid in their final outing, but their demanding fans could forget about the awful season for one night. Trey Lyles scored 18 points and Gordon Hayward had 17 for the Jazz, who were eliminated from playoff contention shortly before tipoff by Houston's win over the Sacramento Kings. The Jazz played defense, but Bryant's persistence wore them down. Utah has missed the playoffs in four straight seasons, their longest drought since 1980-83. … The Jazz rested Trey Burke, Derrick Favors and Alec Burks.
Rockets clinch playoff berth with 116-81 win over Kings.
After it looked as if they'd be heading home early just a week ago, the Houston Rockets are in the playoffs as a result of securing the final Western Conference playoff spot on the last day of the regular season. James Harden scored 38 points to lead the Rockets to an easy 116-81 victory over the Sacramento Kings on Wednesday night for the playoff spot. The Rockets never trailed and had a 64-44 lead at halftime. They won their last three games to sneak into the playoffs after losing three of the previous four to fall behind Utah and into ninth place in the West. Houston will meet top-seed Golden State in the first round of the playoffs. Ben McLemore had 24 points for the Kings in what was likely coach George Karl's final game with the team amidst reports that he could be fired as soon as Thursday. Sacramento was overmatched in this one from the start with Houston racing out to a 10-2 lead by the first media timeout. It wasn't surprising considering the Kings dressed just eight players, with DeMarcus Cousins, Rajon Rondo, Darren Collison, Rudy Gay and Caron Butler with the rest sitting out and Omri Casspi (strained right hamstring) and Marco Belinelli (sore right foot) missing the game with injuries. Houston led by 21 in the third quarter when Harden scored the next 10 points, with two 3-pointers, to push it to 88-57. Harden set career highs in points (29), assists (7.5) and rebounds (6.1) to join LeBron James, Michael Jordan and Oscar Robertson as the only players in NBA history to average at least 29 points, seven assists and six rebounds in a season.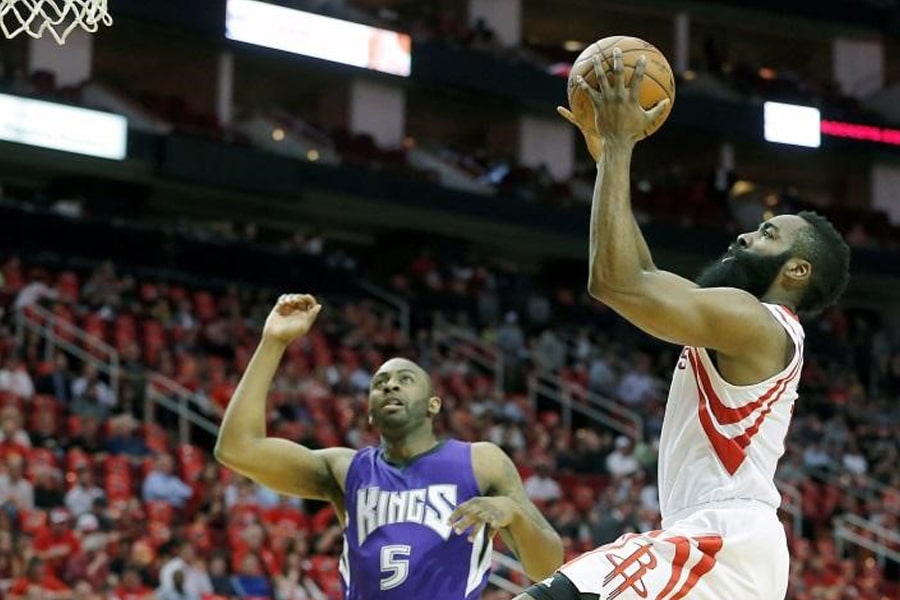 The Golden State Warriors have made history, by defeating the Memphis Grizzlies 125-104. 
Stephen Curry and the Golden State Warriors took their last shot at Michael Jordan and history and they swished it – for 73. Down to their final chance at the record, the Warriors became the first 73-win team Wednesday night by beating the Memphis Grizzlies 125-104, breaking what many considered an unmatchable mark set 20 years ago by Jordan's Chicago Bulls – oh, and Golden State coach Steve Kerr, too. Draymond Green had 11 points, nine rebounds and seven assists as defending champion Golden State (73-9) topped the Jordan-led 1995-96 Bulls who went 72-10. When the final buzzer sounded, Green bounded onto the floor and grabbed the game ball as confetti streamed down and "73 WINS" appeared on the scoreboard. Golden State not only won nearly every night with swagger and new focus on the offensive end but with a determination to be far better than during that special previous season. Already the Western Conference's No. 1 seed heading into this weekend's playoffs, Golden State had to get past the very Memphis team the Warriors squeaked by 100-99 four days earlier on the Grizzlies' home floor to keep themselves in position to make history. The Warriors whipped the Grizzlies 119-69 at home back on Nov. 2, with the 50-point win the third-largest margin of victory in franchise history. Kerr missed his team's 24-0 start and the first 43 games overall – Luke Walton led the Warriors to a 39-4 record in Kerr's absence – while dealing with complications following two back surgeries. The Warriors had their NBA-record 54-game home winning streak in the regular season snapped in an April 1 loss to Boston at the Oracle. Golden State finished 39-2 at home for the second straight year. Zach Randolph scored 24 points to lead Memphis, which lost its fourth in a row to end the season.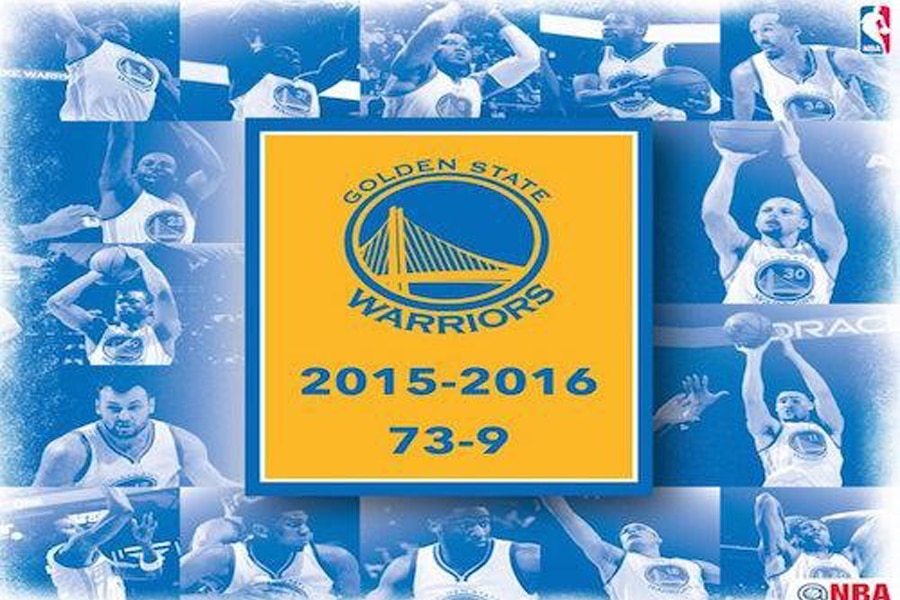 Curry hits his 400th triple of the season!
Reigning MVP Curry became the first player in NBA history to post 400 three-pointers in a season by knocking down 10 from long range on the way to 46 points and 402 total 3s. Golden State saved one last record for the closing day of the regular season, and did it for a roaring, sellout home crowd at the Oracle Arena. Yet these Warriors want nothing more than to build off their remarkable run so far and ride it to another title. Curry had seven 3-pointers by halftime, then hit No. 400 just 43 seconds into the third. Already the first player to make 300 3-pointers in a season, he knocked down six in the first quarter and three straight during one jaw-dropping stretch that included a 31-footer well behind the top of the arc. Curry shattered his own single-season record of 286 from a year ago. When he hit his 400th, the reigning MVP raised his arms and patted his chest in celebration. He made 10 of 19 3-pointers and shot 15 for 24 overall to go with six assists as fans chanted "M-V-P! M-V-P!" all evening. Klay Thompson added 16 points with four 3s of his own before Curry was rested in the fourth quarter.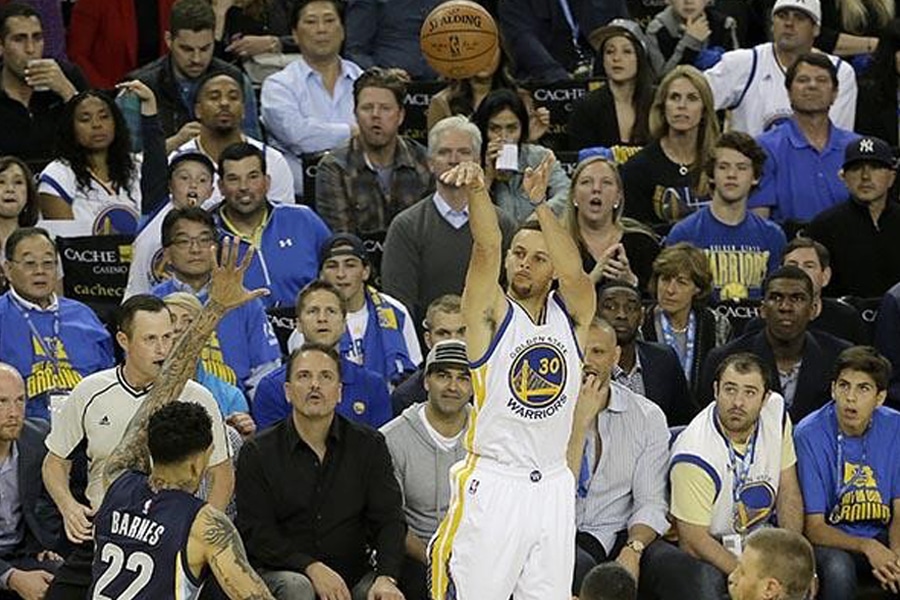 Warriors turn focus from record 73 wins to title repeat.
Stephen Curry and the Golden State Warriors had their chance to celebrate their record-setting regular season before turning their focus to even bigger goals. The 73 wins that put the Warriors in the record books and left the rest of the NBA chasing them all season are meaningless right now. "The regular season doesn't mean anything at this point," Curry said Friday. "We have two months to play our best basketball and compete and get it done."