Warriors lose at home for first time this season
Everybody expected Stephen Curry to make the 3 from way out with the clock winding down, just as he always does. Isaiah Thomas made a driving layup with 8.3 seconds left on the way to 22 points for Boston. He scored 18 of his points in the third quarter, when Curry got hot from 3-point land, making all six of his attempts. Shaun Livingston hit two free throws with 46.9 seconds left to get the Warriors within two at 105-103, then Draymond Green wrestled the ball away from Amir Johnson moments later for his sixth steal and Golden State called timeout. But Green lost the ball with 23.9 seconds left. On one of the most pivotal plays of the game, he wrestled the ball away from a Celtic player without fouling, jumped on it on the ground, somehow corralled it, and called a timeout. Of course, on the very next play he lost the ball and the Warriors never recovered, losing their first game at home this season.
LeBron James' 29 points lead Cavs past Hawks, 110-108 in OT
After leading by 21 points in the first half, the Cleveland Cavaliers were pushed past regulation by the Atlanta Hawks. James had 29 points to pass another Hall of Famer on the NBA's all-time scoring list and the Cavaliers recovered after blowing a big first-half lead to beat the Hawks 110-108 in overtime on Friday night. James also had 16 rebounds and nine assists, just missing a triple-double. With the game tied at 96 late in regulation, James missed an 18-foot jumper, and Atlanta's Kent Bazemore grabbed the rebound with 4.9 seconds remaining. The Hawks couldn't get off a shot. Iman Shumpert stole the ball from Teague as regulation ended. The Hawks fell to 0-5 in overtime games. "We have to work on our execution," Hawks coach Mike Budenholzer said. "We have to get better – all of us."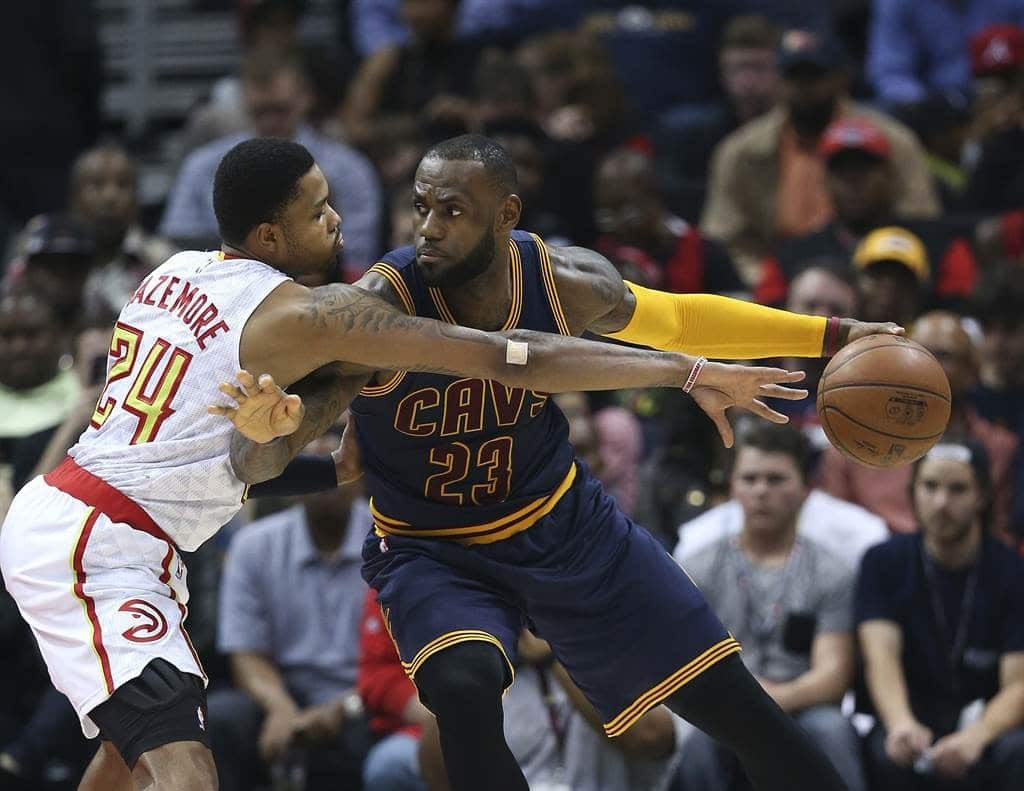 NBA fines Lakers' Randle $15K for improper behavior.
Los Angeles Lakers forward Julius Randle has been fined $15,000 for making an obscene gesture, it was announced today by Kiki Van De Weghe, Executive Vice President, Basketball Operations. Randle's actions occurred with 1.9 seconds remaining in overtime of the Lakers' 102-100 victory over the Miami Heat on March 30 at Staples Center.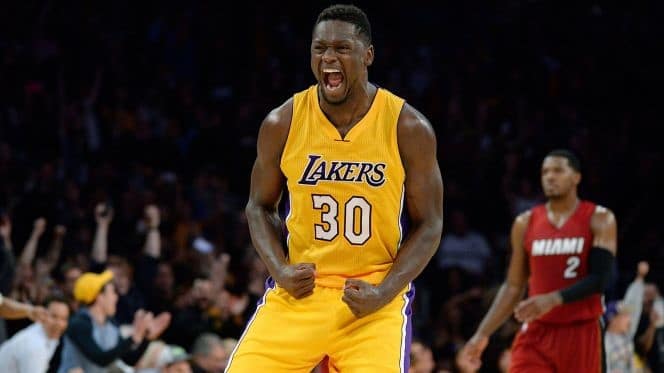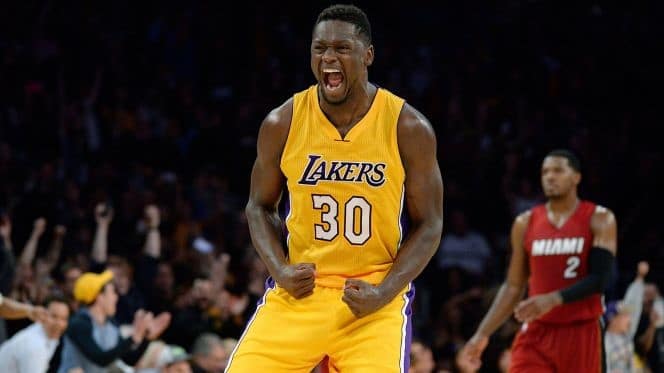 MVP or not, Oklahoma City's star point guard having a season for the ages.
Westbrook's season resonates with or without hardware. With six games left in this regular season, the Oklahoma City Thunder All-Star has already produced a transcendent season. He's the league-leader in triple-doubles with 16, the most a player has piled up in 25 years. He's averaging 23.8 points, 10.4 assists and 7.7 rebounds, making us all wonder if he might be able to average a triple-double for an entire season, a la Oscar Robertson. Russell Westbrook's a statistical marvel and yet some of his best work cannot be quantified. Kevin Durant led the Thunder with 31 points, his mind-boggling 60th straight game scoring 20 or more points. Steven Adams provided the final basket for the winning margin. But it was Westbrook who made the play that sealed the Thunder's 53rd win of the season on a night when he once again chased a triple-double, finishing with 26 points, 11 assists and eight rebounds.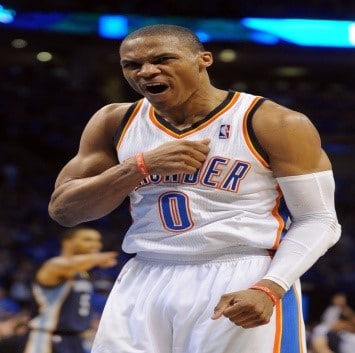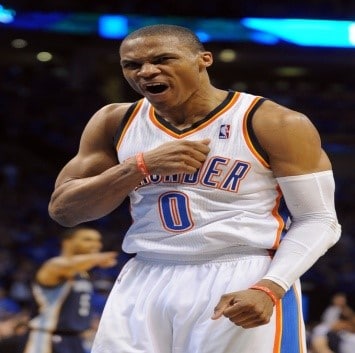 Mirotic scores 28 as Bulls edge Rockets 103-100
The Chicago Bulls overcame injuries and a nine-point fourth-quarter deficit to stun the Houston Rockets and improve their chances of sneaking into the playoffs. Nikola Mirotic scored 28 points and Jimmy Butler added 21 to lead the Bulls to a 103-100 road win Thursday night. In a pivotal game for two teams fighting for the final playoff spots in their respective conferences, the Bulls were fueled by a strong fourth quarter in which they outscored the Rockets 32-20. Chicago entered the fourth facing a nine-point deficit, but was able to overcome it thanks to hot shooting from Mirotic. James Harden led Houston with 24 points and eight assists, Patrick Beverley had a career-high 22 points, and Michael Beasley added 20 points and 11 rebounds off the bench. Doug McDermott handled the bulk of the minutes in Rose's absence, scoring 15 points and grabbing nine rebounds. The Bulls kept pace with the Rockets in the first half, thanks in large part to 21 first-half points from Mirotic. He dropped 14 second-quarter points on Houston, hitting four of five 3s. Doug McDermott handled the bulk of the minutes in Rose's absence, scoring 15 points and grabbing nine rebounds.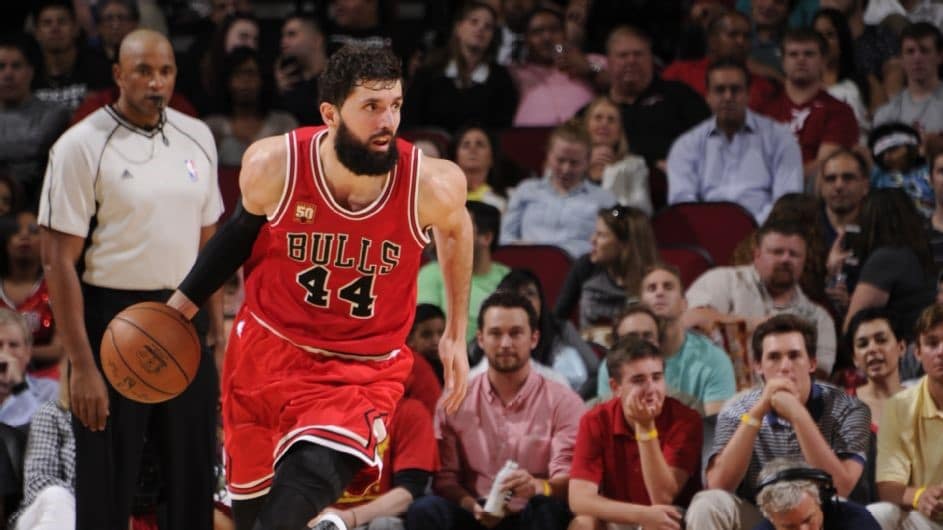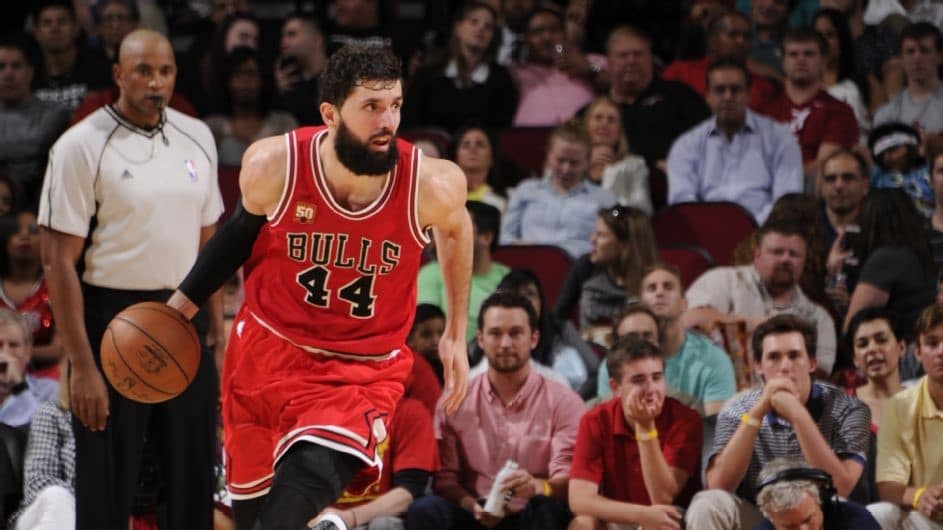 "The Bogut" contract situation is down the priority list.
Andrew Bogut hopes to extend his golden ride with Warriors Franchise. That's the easy part. Bogut wants to stay, wants to get a deal done before next season instead of trying to maximize his potential income in the summer of 2017, and coaches and management are a constant stream of praise about what he meant to the title nearly 10 months ago and has meant to 67-7 in the repeat bid. Bogut comes out and says it: He wants to be in the Bay Area, is willing to take less money now with an extension than when the rules would allow more leverage as a free agent in summer 2017.