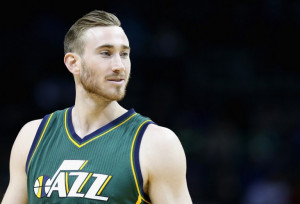 Hayward's big night lead Jazz over Heat
Jazz forward, Gordon Hayward, scored a season high 34 points and Utah beat the Miami Heat 98-83 to break a three game losing streak. After a passive first half, he came out to score 18 points in the third quarter, including nine in a row to give the Jazz a 68-60 lead, marking a considerable shift in momentum as Miami dominated majority of the first half's play.
Curry's eight 3s pushes Warriors past Kings
Stephen Curry made eight 3-pointers and scored 38 points, Draymond Green added 25 and the Warriors defeated the Sacramento Kings 128-116 on Saturday night for their sixth consecutive victory.
The Warriors (35-2) broke loose for 36 points in the third quarter and built a 12-point lead. Curry had 14 in the fourth to hold off the Kings and complete an unbeaten three-game road trip.
It should be noted, that although Sacramento is 80 miles northeast from Golden States home, Oakland; the sellout crowd of more than 17,000 people were cheering more for the Warriors. DeMarcus Cousins scored 33 and added 10 rebounds for the Kings.
Rockets hang on to beat Pacers in Overtime
Trevor Ariza, usually Houston's defensive powerhouse, scored a season-high 24 points and Corey Brewer hit the go-ahead 3-pointer in overtime to give Houston a 107-103 victory over the Indiana Pacers.
Lillard's late heroics bring about Portland's comeback over OKC
Damian Lillard scored 31 points, including five 3-pointers in the last 3:07, and the Portland Trail Blazers rallied to beat the Oklahoma City Thunder 115-110 on Sunday night.
With 3:19 remaining, Andre Roberson hit a buzzer-beating 3 to put Oklahoma City up 103-95. That started a 3-point shootout. Lillard hit three straight 3s, and Allen Crabbe drained another to cut the Thunder's lead to 108-107 with two minutes left.
Lillard wasn't done. He hit two more 3s to give Portland a three-point lead, and an offensive foul on Oklahoma City with a minute left brought fans to their feet. But it was Mason Plumlee's block for the Blazers with 30.9 seconds left, Lillard said, that made all the difference.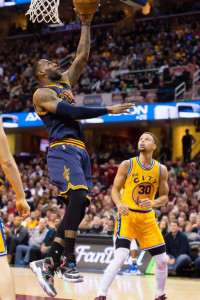 Cavs in thriller overtime win against the Mavericks.
The Cavaliers extended their winning streak to eight games with a 110-107 victory over the Dallas Mavericks on Tuesday night. LeBron James had 27 points, including a layup with a minute left in overtime that pushed the Cavs ahead 106-105. After an attempted 3 by Deron Williams rattled out for Dallas, Irving beat the shot clock with a 3-pointer from the top of the key after James passed up a shot and got the ball to Irving instead. Irving scored 22 points with some big 3-pointers.
Harden enters 10,000 club
James Harden scored 27 points and made 11 assists as the Rockets got their season-high fifth straight win, 107-104 over the Minnesota Timberwolves on Wednesday night.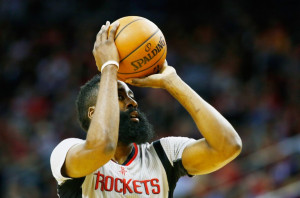 Harden reached the 10,000-point mark in his 492nd game. He knew he was close to the mark, but didn't realize exactly when he reached it and looked confused when the crowd cheered extra loud on the free throw where he reached it. A few minutes later the Rockets noted the achievement on the video boards and announced that he'd hit 10,000 points and he smiled and gestured to the crowd.
Hornets end 7 game losing streak; oust the Hawks 103-84
Kemba Walker scored 23 points, Cody Zeller added 19 points and 10 rebounds, and Jeremy Lin had 19 for the Hornets, who led by as many as 35 points at one point, as the Charlotte Hornets finally ended their losing streak, beating the Atlanta Hawks on Wednesday night.
Chalmers' 19 foot jumper with 0.8 seconds left, steals game away from the Pistons.
Mario Chalmers scored 25 points, including a leaning 19-foot jumper with less than a second left to give the Grizzlies a 103-101 victory over Detroit on Thursday night.
Rudy Gay hits last second game winner over the Jazz.
Although Utah Jazz were determined not to let DeMarcus Cousins, who had been phenomenal that night, touch the ball with the score tied and 4.1 seconds remaining on the clock, Rudy Gay hit the game-winner for the Kings.
Gay scored 24 points and hit the decisive shot with 0.9 seconds left to give the Sacramento Kings a 103-101 victory over the Jazz on Thursday. He also scored Sacramento's last eight points.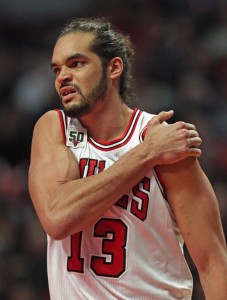 Injuries for the week – Joakim Noah dislocates shoulder in Bulls loss to the Mavericks
Chicago missed a key player in the second half in their 83-77 loss to the Mavs on Friday night, after losing forward Joakim Noah, who left in the second quarter and didn't return after dislocating his shoulder. Noah was in obvious pain after tangling with the Mavericks' JaVale McGeeunder at the basket. Noah had been playing in his fourth game after returning from a nine-game absence because of an injury to the same shoulder.