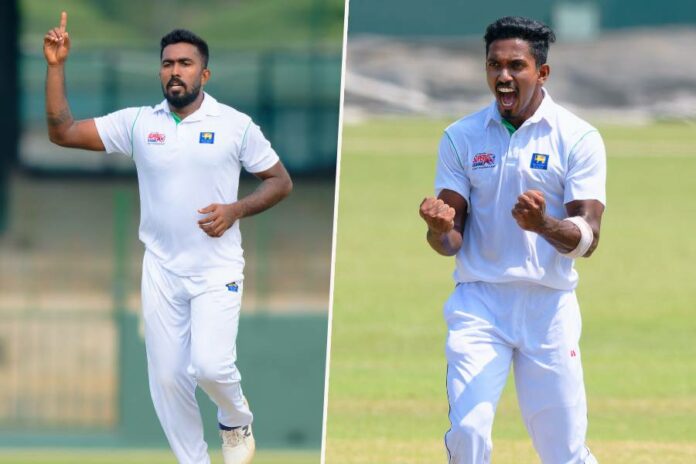 After the two games from week one ended inside three days, week two began with Jaffna taking the field for the first time in the tournament facing Dambulla who lost to Galle last week. In the other clash of the week, Kandy who beat Colombo during week one is facing Galle, the other team that registered a win last week.
In the Jaffna versus Dambulla encounter, Dambulla won the toss and elected to bowl first in seamer friendly conditions at the SSC grounds. The decision proved to be perfect for them Jaffna batters struggled big time facing the pace bowling duo of Vishwa Fernando and Asitha Fernando. Left arm pacer Vishwa took 5 for 14 and right arm pacer Asitha took 4 for 24 as Jaffna were bowled out for 62. In Jaffna's innings that went nowhere, none of the batters were able to go past 20 and only three were able to get double digit scores.
After stamping their authority with the ball in hand, Dambulla then came out to bat hoping to muster a healthy lead. But the Jaffna pacers had a good start as Yasiru Rodrigo with the help of Nipun Malinga removed the entire top order of the opposition as they were 4 wickets down for 22. But Minod Bhanuka played a captain's knock scoring an unbeaten 64 from 93 balls and he was equally well supported by Ranitha Liyanarachchi who made 51. The pair put together a 112 run stand for the 6th wicket before Liyanarachchi departed. At stumps on day 1, Dambulla were on 170 for the loss of 6 wickets as they were 108 runs ahead of Jaffna's first innings total.
In the other game between the two winners from last week, Galle won the toss and decided to field first. Kandy had a good first half while batting but unfortunately lost their last 6 wickets for the addition of only 45 runs. Centurions from last week Sandun Weerakkody and Ahan Wickramasinghe continued their fine form to this week as the pair made half centuries. Weerakkody top scored with 76 for them and the young gun Wickramasinghe made 62. In the end from being 245 for 4, Kandy were bundled out for 290. Asanka Manoj was the pick of the bowlers for Galle taking 4 for 31 to go with Kavishka Anjula and skipper Ramesh Mendis who took 2 wickets each.
Galle lost their opening Hashan Dumindu for a duck but Sangeeth Cooray and Lakshan Edirisinghe made sure they reached stumps on day 1 without suffering anymore damage as the scoreline read 53 for 1. Galle will begin day 2, 237 runs behind with 9 wickets remaining in their first innings.
Jaffna vs Dambulla

62/10 (26.5) & 349/10 (98.5)
213/10 (53.5) & 204/5 (56.1)


Batsmen
R
B
4s
6s
SR
Navod Paranavithana
lbw b Vishwa Fernando 
4
15
1
0
26.67
Ron Chandraguptha 
c Sanoj Darshika b Asitha Fernando 
7
11
1
0
63.64
Kasun Abeyratne
lbw b Vishwa Fernando 
16
32
1
0
50.00
Sukitha Manoj
b Asitha Fernando 
0
3
0
0
0.00
Madawa Warnapura
c Minod Bhanuka b Asitha Fernando 
0
2
0
0
0.00
Lahiru Madushanka
c Minod Bhanuka b Vishwa Fernando 
10
16
2
0
62.50
Dilum Sudeera 
b Vishwa Fernando 
3
30
0
0
10.00
Ravindu Fernando 
b Duvindu Tillakaratne
13
18
0
1
72.22
Yasiru Rodrigo
c Ashan Priyanjan (l b Vishwa Fernando 
5
20
1
0
25.00
Nipun Malinga
c Sanoj Darshika b Asitha Fernando 
0
12
0
0
0.00
Eshan Malinga
not out
0
2
0
0
0.00
| | |
| --- | --- |
| Extras | 4 (b 1 , lb 1 , nb 0, w 2, pen 0) |
| Total | 62/10 (26.5 Overs, RR: 2.31) |
| Bowling | O | M | R | W | Econ |
| --- | --- | --- | --- | --- | --- |
| Asitha Fernando  | 9.5 | 2 | 24 | 4 | 2.53 |
| Vishwa Fernando  | 10 | 5 | 14 | 5 | 1.40 |
| Ranitha Liyanarachchi | 4 | 0 | 18 | 0 | 4.50 |
| Duvindu Tillakaratne | 3 | 1 | 4 | 1 | 1.33 |


Batsmen
R
B
4s
6s
SR
Nimesh Gunasinghe
c Sukitha Manoj b Nipun Malinga
10
29
2
0
34.48
Leo Fransisco
c Sukitha Manoj b Yasiru Rodrigo
2
8
0
0
25.00
Dilan Jayalath
lbw b Yasiru Rodrigo
0
4
0
0
0.00
Ashan Priyanjan (l
c Sukitha Manoj b Yasiru Rodrigo
8
15
2
0
53.33
Minod Bhanuka
lbw b Eshan Malinga
67
104
7
0
64.42
Sanoj Darshika
c Madawa Warnapura b Lahiru Madushanka
18
14
4
0
128.57
Ranitha Liyanarachchi
c Ravindu Fernando  b Dilum Sudeera 
51
73
5
3
69.86
Lakshan Sandajan
c Kasun Abeyratne b Nipun Malinga
1
23
0
0
4.35
Duvindu Tillakaratne
c Lahiru Madushanka b Eshan Malinga
8
17
1
0
47.06
Vishwa Fernando 
not out
25
34
4
0
73.53
Asitha Fernando 
st Kasun Abeyratne b Dilum Sudeera 
7
8
0
0
87.50
| | |
| --- | --- |
| Extras | 16 (b 3 , lb 1 , nb 6, w 6, pen 0) |
| Total | 213/10 (53.5 Overs, RR: 3.96) |
| Bowling | O | M | R | W | Econ |
| --- | --- | --- | --- | --- | --- |
| Nipun Malinga | 12 | 3 | 39 | 2 | 3.25 |
| Yasiru Rodrigo | 11 | 1 | 52 | 3 | 4.73 |
| Lahiru Madushanka | 8 | 1 | 33 | 1 | 4.12 |
| Eshan Malinga | 11 | 1 | 39 | 2 | 3.55 |
| Ravindu Fernando  | 5 | 0 | 28 | 0 | 5.60 |
| Dilum Sudeera  | 6.5 | 2 | 18 | 2 | 2.77 |


Batsmen
R
B
4s
6s
SR
Navod Paranavithana
lbw b Ashan Priyanjan (l
64
105
8
0
60.95
Ron Chandraguptha 
c Minod Bhanuka b Asitha Fernando 
67
76
10
0
88.16
Kasun Abeyratne
run out (Ranitha Liyanarachchi)
8
9
1
0
88.89
Sukitha Manoj
c Anuk Fernando  b Duvindu Tillakaratne
15
55
0
1
27.27
Madawa Warnapura
c Dilan Jayalath b Ashan Priyanjan (l
46
128
3
0
35.94
Lahiru Madushanka
lbw b Asitha Fernando 
18
49
1
0
36.73
Ravindu Fernando 
c Vishwa Fernando  b Duvindu Tillakaratne
64
95
6
0
67.37
Nipun Malinga
c Dilan Jayalath b Duvindu Tillakaratne
38
28
5
2
135.71
Dilum Sudeera 
not out
6
37
0
0
16.22
Yasiru Rodrigo
c Minod Bhanuka b Asitha Fernando 
5
11
0
0
45.45
Eshan Malinga
c Minod Bhanuka b Asitha Fernando 
0
2
0
0
0.00
| | |
| --- | --- |
| Extras | 18 (b 12 , lb 3 , nb 2, w 1, pen 0) |
| Total | 349/10 (98.5 Overs, RR: 3.53) |
| Bowling | O | M | R | W | Econ |
| --- | --- | --- | --- | --- | --- |
| Asitha Fernando  | 20.5 | 1 | 63 | 4 | 3.07 |
| Vishwa Fernando  | 19 | 5 | 53 | 0 | 2.79 |
| Ashan Priyanjan (l | 20 | 2 | 76 | 2 | 3.80 |
| Lakshan Sandakan | 6 | 0 | 34 | 0 | 5.67 |
| Duvindu Tillakaratne | 24 | 3 | 72 | 2 | 3.00 |
| Ranitha Liyanarachchi | 8 | 2 | 28 | 0 | 3.50 |
| Sanoj Darshika | 1 | 0 | 8 | 0 | 8.00 |


Batsmen
R
B
4s
6s
SR
Nimesh Gunasinghe
run out (Kasun Abeyratne)
11
26
1
0
42.31
Leo Fransisco
lbw b Ravindu Fernando 
15
51
2
0
29.41
Dilan Jayalath
c Nipun Malinga b Dilum Sudeera 
34
65
3
0
52.31
Sanoj Darshika
not out
60
112
4
2
53.57
Minod Bhanuka
c Yasiru Rodrigo b Ravindu Fernando 
55
61
9
0
90.16
Ashan Priyanjan
b Dilum Sudeera 
12
13
2
0
92.31
Ranitha Liyanarachchi
not out
10
12
0
1
83.33
| | |
| --- | --- |
| Extras | 7 (b 2 , lb 0 , nb 3, w 2, pen 0) |
| Total | 204/5 (56.1 Overs, RR: 3.63) |
| Bowling | O | M | R | W | Econ |
| --- | --- | --- | --- | --- | --- |
| Nipun Malinga | 5 | 0 | 16 | 0 | 3.20 |
| Yasiru Rodrigo | 2 | 0 | 3 | 0 | 1.50 |
| Ravindu Fernando  | 16.1 | 2 | 73 | 2 | 4.53 |
| Dilum Sudeera  | 17 | 4 | 56 | 2 | 3.29 |
| Madawa Warnapura | 1 | 0 | 4 | 0 | 4.00 |
| Lahiru Madushanka | 4 | 2 | 6 | 0 | 1.50 |
| Navod Paranavithana | 5 | 1 | 15 | 0 | 3.00 |
| Eshan Malinga | 6 | 0 | 29 | 0 | 4.83 |
Kandy vs Galle

290/10 (65.5) & 198/10 (66.4)
365/10 (93.5) & 129/0 (23.3)


Batsmen
R
B
4s
6s
SR
Udayawansha Parakrama
c Ramesh Mendis b Asanka Manoj
49
81
7
0
60.49
Kasun Vidura Adikari
c Vishad Randika b Asanka Manoj
16
40
2
0
40.00
Sandun Weerakkody
c & b Ramesh Mendis
76
82
9
2
92.68
Ahan Wickramasinghe
c Angelo Mathews b Praveen Jayawickrama
62
60
2
5
103.33
Raveen Yasas
c Mohammad Shiraz b Asanka Manoj
10
28
1
0
35.71
Movin Subasingha
c Vishad Randika b Kavishka Anjula
30
41
7
0
73.17
Pulina Tharanga
run out (Sangeeth Cooray)
7
15
1
0
46.67
Wanuja Sahan
c Vishad Randika b Kavishka Anjula
12
25
0
1
48.00
Ashian Daniel
not out
3
13
0
0
23.08
Lasanda Rukmal
b Asanka Manoj
1
7
0
0
14.29
Nipun Ransika
lbw b Ramesh Mendis
12
9
0
0
133.33
| | |
| --- | --- |
| Extras | 12 (b 1 , lb 5 , nb 6, w 0, pen 0) |
| Total | 290/10 (65.5 Overs, RR: 4.41) |
| Bowling | O | M | R | W | Econ |
| --- | --- | --- | --- | --- | --- |
| Kavishka Anjula | 14 | 1 | 56 | 2 | 4.00 |
| Mohammad Shiraz | 11 | 0 | 59 | 0 | 5.36 |
| Asanka Manoj | 12 | 2 | 31 | 4 | 2.58 |
| Ramesh Mendis | 11.5 | 4 | 63 | 2 | 5.48 |
| Dhananjaya Lakshan | 3 | 0 | 19 | 0 | 6.33 |
| Praveen Jayawickrama | 14 | 1 | 56 | 1 | 4.00 |


Batsmen
R
B
4s
6s
SR
Hashan Dumindu
c Sandun Weerakkody b Nipun Ransika
0
6
0
0
0.00
Sangeeth Cooray
c Ahan Wickramasinghe b Sandun Weerakkody
132
207
12
2
63.77
Lakshan Edirisinghe
st Udayawansha Parakrama b Movin Subasingha
70
91
8
2
76.92
Angelo Mathews
c & b Wanuja Sahan
44
97
3
1
45.36
Dhananjaya Lakshan
c Raveen Yasas b Ashian Daniel
16
24
2
0
66.67
Vishad Randika
c Udayawansha Parakrama b Lasanda Rukmal
53
68
5
1
77.94
Ramesh Mendis
lbw b Nipun Ransika
10
14
1
0
71.43
Kavishka Anjula
b Nipun Ransika
0
1
0
0
0.00
Praveen Jayawickrama
c Sandun Weerakkody b Wanuja Sahan
8
23
1
0
34.78
Mohammad Shiraz
not out
15
16
3
0
93.75
Asanka Manoj
b Wanuja Sahan
2
22
0
0
9.09
| | |
| --- | --- |
| Extras | 15 (b 1 , lb 8 , nb 6, w 0, pen 0) |
| Total | 365/10 (93.5 Overs, RR: 3.89) |
| Bowling | O | M | R | W | Econ |
| --- | --- | --- | --- | --- | --- |
| Nipun Ransika | 15 | 1 | 85 | 3 | 5.67 |
| Lasanda Rukmal | 10 | 1 | 38 | 1 | 3.80 |
| Wanuja Sahan | 28.5 | 4 | 105 | 3 | 3.68 |
| Ashian Daniel | 25 | 4 | 83 | 1 | 3.32 |
| Movin Subasingha | 6 | 2 | 16 | 1 | 2.67 |
| Pulina Tharanga | 6 | 0 | 18 | 0 | 3.00 |
| Sandun Weerakkody | 3 | 1 | 11 | 1 | 3.67 |


Batsmen
R
B
4s
6s
SR
Udayawansha Parakrama
c Hashan Dumindu b Praveen Jayawickrama
6
24
0
0
25.00
Kasun Vidura Adikari
b Ramesh Mendis
28
64
3
0
43.75
Sandun Weerakkody
run out (Vishad Randika)
71
141
4
1
50.35
Ahan Wickramasinghe
lbw b Kavishka Anjula
2
4
0
0
50.00
Raveen Yasas
c Kavishka Anjula b Asanka Manoj
9
40
1
0
22.50
Movin Subasingha
b Praveen Jayawickrama
27
26
1
2
103.85
Pulina Tharanga
c Hashan Dumindu b Praveen Jayawickrama
1
19
0
0
5.26
Wanuja Sahan
c Kavishka Anjula b Mohammad Shiraz
33
44
6
0
75.00
Ashian Daniel
lbw b Mohammad Shiraz
7
33
0
0
21.21
Nipun Ransika
not out
0
5
0
0
0.00
Lasanda Rukmal
c Lakshan Edirisinghe b Mohammad Shiraz
0
1
0
0
0.00
| | |
| --- | --- |
| Extras | 14 (b 9 , lb 1 , nb 1, w 3, pen 0) |
| Total | 198/10 (66.4 Overs, RR: 2.97) |
| Bowling | O | M | R | W | Econ |
| --- | --- | --- | --- | --- | --- |
| Kavishka Anjula | 9 | 2 | 28 | 1 | 3.11 |
| Mohammad Shiraz | 9.4 | 2 | 26 | 3 | 2.77 |
| Ramesh Mendis | 24 | 4 | 52 | 1 | 2.17 |
| Praveen Jayawickrama | 11 | 4 | 20 | 3 | 1.82 |
| Asanka Manoj | 11 | 0 | 47 | 1 | 4.27 |
| Sangeeth Cooray | 2 | 0 | 15 | 0 | 7.50 |


Batsmen
R
B
4s
6s
SR
Hashan Dumindu
not out
54
69
3
3
78.26
Sangeeth Cooray
not out
75
72
8
3
104.17
| | |
| --- | --- |
| Extras | 0 (b 0 , lb 0 , nb 0, w 0, pen 0) |
| Total | 129/0 (23.3 Overs, RR: 5.49) |
| Bowling | O | M | R | W | Econ |
| --- | --- | --- | --- | --- | --- |
| Nipun Ransika | 2 | 0 | 19 | 0 | 9.50 |
| Ashian Daniel | 6.3 | 0 | 45 | 0 | 7.14 |
| Wanuja Sahan | 6 | 0 | 30 | 0 | 5.00 |
| Pulina Tharanga | 2 | 0 | 11 | 0 | 5.50 |
| Sandun Weerakkody | 4 | 0 | 21 | 0 | 5.25 |
| Movin Subasingha | 3 | 0 | 3 | 0 | 1.00 |