Lakshika Sugandi and Ushan Thiwanka were crowned Best Athletes at this year's National Sports Festival, as the 3-day event concluded on the 27th in successful fashion.
Lakshika Sugandi, the multitalented heptathlon athlete, was placed first in the Women's 100m hurdles event after going down in the Long Jump to Anjani Pulwansa who was the favourite for the title at the start of the meet. Sugandi clocked in at 13.90sec which translates to 1,031 IAAF points to inch her way to her first ever Best Athlete title.
High flying Ushan Thiwanka won the Best Male Athlete award for his jump of 2.12m in the High jump event which got him 1,028 points according to IAAF rankings. Both Sugandi and Thiwanka walked away with two motor vehicles, presented by Sri Lanka Cricket.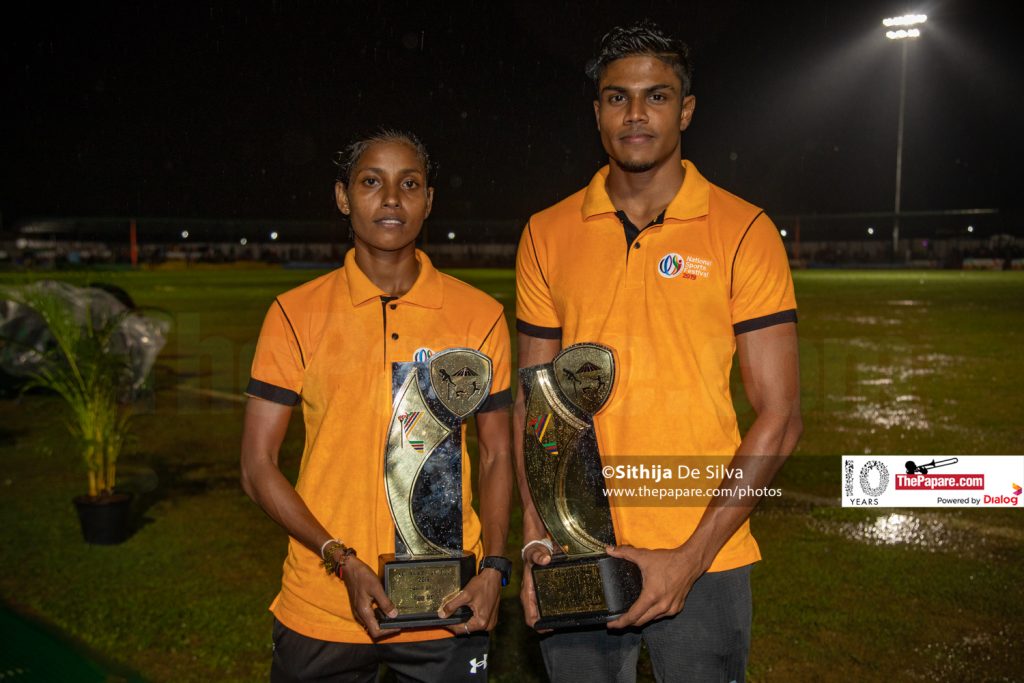 The 4x400m relays went to Western Province to end the day with Sugandi and Sumesh Wickramasinghe (100m,200m winner) taking charge of the quartets. North Western Province won the Women's event clocking 3:54.47min while with a timing of 3:19.96min the Western Province Men's team claimed Gold.
Day 2 Results: Samith strikes again; Relays go to Western and Sabaragamuwa
Sumesh Wickramasinghe and Amasha De Silva went on to win their second titles of the meet, adding the 100m Gold medals to compliment the 200m. Sumesh clocked in 10.85sec to beat out Chamod Yodasinghe by 6 milliseconds.
Despite the rough ground conditions on display, Amasha De Silva was the fastest woman to walk out of this year's meet, winning the 100m with a time of 12.13sec. Lakshika Sugandi (12.31sec) and Sadeepa Henderson (12.51sec) followed in at second and third place respectively.
Day 1 Photos: 45th National Sports Festival Day 1
National Champion, Dulanjalee Ranasinghe won the Women's High Jump event clearing a height of 1.67m while Muditha Madushani finished second with a jump of 1.58m.
Final Results Table of the National Sports Festival 2019
| | | |
| --- | --- | --- |
| Event | Mens | Womens |
| 100m | Sumesh Wickramasinghe (10.85sec) | Amasha De Silva (12.13sec) |
| 200m | Sumesh Wickramasinghe (21.89sec) | Amasha De Silva (25.00sec) |
| 400m | Lakmal Gunarathne (48.00sec) | Dilshi Kumarasinghe (55.61) |
| 800m | Rusiru Chathuranga (1:53.34min) | Dilshi Kumarasinghe (2:10.26min) |
| 1500m | Rusiru Chathuranga (3:57.88min) | Champika Dilrukshi (4:33.87min) |
| 5000m | Sagara Wickramasinghe (15:09.61min) | N M Nandasena (17:40.17min) |
| 10000m | R M S Pushpakumara (31:25.56min) | Nimesha Nandasena (36:21.09min) |
| 110m Hurdles | Roshan Ranathunga (14.45sec) | – |
| 100m Hurdles | – | Lakshika Sugandi (13.90sec) |
| 400m Hurdles | Asanka Rathnasena (54.05sec) | Shyama Dulani (01:02.02min) |
| 4x100m  | Sabaragamuwa Province (41.77sec) | Western Province (48.41sec) |
| 4x400m | Western Province (3:19.96min) | North Western Province (3:54.47min) |
| High Jump | Ushan Thiwanka (2.12m) | Dulanjalee Ranasinghe (1.67m) |
| Long Jump | H G Sampath (7.34m) | Anjani Pulwansa |
| Triple Jump | Safreen Ahamed (15.42m) | Hashini Balasooriya (12.62m) |
| Hammer Throw | Sisira Kumara (47.57m) | Manoji Amarasinghe (44.85sec) |
| Discuss Throw | Z T M Aasik (43.59m) | Ishara Madurangi (40.88m) |
| Javelin Throw | Sampath Ranasinghe (72.03m) | Dilhani Lekamge (46.65m) |
| Shot Putt | Samith Fernando (15.44m) | Nadeeka Muthunayake (12.91m) |
| Pole Vault | Eranga Janith (4.50m) | Anitha Jegatheeswaran (3.30m) |
>>Click here for more Athletics<<