The 44th National Cross-Country Championship, which will be the first event of the 44th National sports festival will be held on the 18th of February at the Nuwara Eliya Golf Club premises.
Organized by the Department of Sports Development, the cross-country championship is traditionally the first running event of the island's track and field calendar. Many of the country's mid and long-distance runners, who are currently training in the high-altitude conditions of Nuwara Eliya, give prominence to the competition as part of the finishing challenge of their off-season training regime and as the fore runner of the year's athletic calendar.
National Cross country 2017 – Photos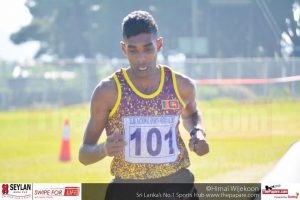 Last year one of the Island's leading long distance runners, D. L Samarajeewa of Central Province beat R.M.S Pushpakuara of Western Province by a commanding 16 seconds to clinch the National cross-country title. Samrajeewa clocked a time of 33:00 mins flat, on a race day which boarded around 13 Celsius mark.   T M E Tennakoon of Uva Province was placed third in the competition with a time of 33:32 mins.
43rd National Cross Country Championship concluded today at the Race course…
A heated battle was expected between the three-time National Cross-country champion from 2013 – 2015 ,Olympian Niluka Rajasekara and the 2016 champion Shaymali Anusha. However surprising many, it was Gayanthika Abeyrathne who went on to win the 2017 National Cross Country Championship, with a time of 38:33. Abeyrathne, who has now made the women's 800m her pet event, went onto achieve great feats during the year as she managed to renew the National record in the women's 800m and also won several medals in the Asian competitions alongside Nimali Liyanarachi and remains as one of the biggest medal hopes in both the Commonwealth and Asian Games competitions that will be held this year.
The 44th National Cross-Country Competition will also work as a qualification and a trial for the athletes as the Sri Lankan teams to represent the Asian Cross Country Championship which will be held on the 15th of March in China and the South Asian Cross Country Championship will be held on 25th March in Paro, Bhutan.