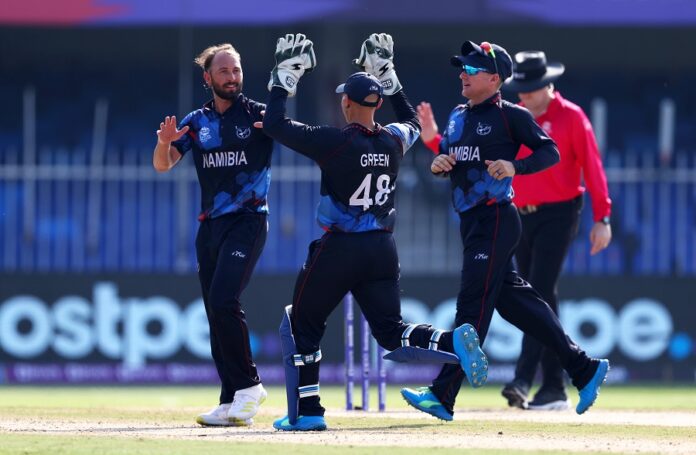 Namibia became the fourth and final team to qualify for the Super 12 stage from Round 1 of the ICC T20 World Cup with victory over Ireland in Sharjah.
Namibia beat Ireland by eight wickets in the winner-takes-all clash in Group A to seal a spot in the Super 12 stage at the ICC Men's T20 World Cup 2021.
Set 126 to win, the African nation took their time in the chase before upping the scoring rate dramatically late on thanks to another fast-paced knock from all-rounder David Wiese and a brilliant half-century from skipper Gerhard Erasmus.
Read More – Sri Lanka qualify for ICC T20 World Cup Super 12 stage
The win sees Namibia qualify ahead of Ireland from Group A, moving into Group 2 alongside India, Pakistan, New Zealand, Afghanistan and Scotland.
POWERPLAY FIREWORKS
Earlier Paul Stirling and Kevin O'Brien had got Ireland's innings off a stunning start, but the pair fell in quick succession to slow the rate as the Irish reached 71 after ten overs, with eight wickets in hand.
It was Stirling who led the charge early on, registering six boundaries inside the first six overs as Ireland managed the highest powerplay tally of the tournament so far, reaching 55 without loss during that early period.
But Stirling's big-hitting approach came to a disappointing end when he lofted a catch to Jan Nicol Loftie-Eaton in the deep off the bowling of Bernard Scholtz, falling for 38 off 23 balls.
And Jan Frylinck continued Namibia's recovery in the ninth over, tempting O'Brien into a risky shot, with Michael van Lingen taking the catch in the deep.
IRELAND FALTER
The early flurry of runs seemingly justified Ireland's decision to bat first after winning the toss in Sharjah. But the departure of the two openers proved the start of the unravelling for Ireland, with captain Andy Balbirnie the only other batter to register a score of note – a slow 21 off 28 balls.
It was Frylinck and Wiese who did the damage with the ball in Namibia's recovery, taking five wickets between them as they hauled Ireland's innings back under control, restricting them to 125 off the 20 overs.
In total Ireland managed just 70 runs in the 14 overs after the powerplay at a scoring rate of just five-an-over.
NAMIBIA'S RISKY APPROACH
Namibia's top order adopted a patient strategy in reply to Ireland's 125/8, with Zane Green and Erasmus helping Namibia to 49/1 after ten overs.
Read – David Wiese special gives Namibia first World Cup win
It was Curtis Campher who took the only wicket to fall, Craig Williams for 15, but much of the credit for the dismissal went to O'Brien in the field, who pulled off a blinding catch at mid-on.
Ireland's hopes of restricting Namibia were hit with a double blow after they mistakenly opted against an LBW review off Mark Adair's bowling, with replays showed it was plumb in-front. And Adair suffered a side strain in the same over and was forced to leave the field of play after sending down just ten deliveries, leaving Ireland short of bowling options.
A second terrific catch from O'Brien sent Green back to the hutch for 24(32) as the required rate was beginning to rise to dangerous levels.
FINISHED IN STYLE
But the dismissal of Green brought big-hitting Wiese to the crease, and his partnership with captain Erasmus saw Namibia across the line and record the most famous victory in Namibia's cricket history.
Wiese finished with 28 off just 14 deliveries, with Erasmus bagging an unbeaten half-century, ending on 53 off 49.
Victory for Namibia also seal a spot in the 2022 T20 World Cup in Australia, with all Super 12 teams from this tournament automatically qualifying for the next edition.


Batsmen
R
B
4s
6s
SR
Paul Stirling
c Bernard Scholtz b Jan Nicol Loftie-Eaton
38
24
5
1
158.33
Kevin O'Brien
c Zane Green b Jan Frylinck
25
24
2
0
104.17
Andy Balbirnie
lbw b Jan Frylinck
21
27
2
0
77.78
Gareth Delany
b David Wiese
9
18
0
0
50.00
Curtis Campher
b Jan Frylinck
4
5
0
0
80.00
Harry Tector
c Zane Green b David Wiese
8
6
1
0
133.33
Neil Rock
b JJ Smit
5
5
0
0
100.00
Mark Adair
run out ()
5
5
0
0
100.00
Simi Singh
not out
5
4
0
0
125.00
Craig Young
not out
1
1
0
0
100.00
| | |
| --- | --- |
| Extras | 4 (b 0 , lb 1 , nb 0, w 3, pen 0) |
| Total | 125/8 (20 Overs, RR: 6.25) |
| Fall of Wickets | 1-62 (7.2) Paul Stirling, 2-67 (8.4) Kevin O'Brien, 3-94 (14.2) Gareth Delany, 4-101 (16.1) Andy Balbirnie, 5-104 (16.6) Curtis Campher, 6-110 (17.4) Harry Tector, 7-116 (18.4) Neil Rock, 8-121 (19.4) Mark Adair, |
| Bowling | O | M | R | W | Econ |
| --- | --- | --- | --- | --- | --- |
| Ruben Trumpelmann | 3 | 0 | 18 | 0 | 6.00 |
| David Wiese | 4 | 0 | 22 | 2 | 5.50 |
| JJ Smit | 4 | 0 | 27 | 1 | 6.75 |
| Bernard Scholtz | 3 | 0 | 25 | 1 | 8.33 |
| Jan Frylinck | 4 | 0 | 21 | 3 | 5.25 |
| Pikky Ya France | 2 | 0 | 11 | 0 | 5.50 |


Batsmen
R
B
4s
6s
SR
Craig Williams
c Kevin O'Brien b Curtis Campher
15
16
3
0
93.75
Zane Green
c Kevin O'Brien b Curtis Campher
24
32
1
0
75.00
Gerhard Erasmus
not out
53
49
3
1
108.16
David Wiese
not out
28
14
1
2
200.00
| | |
| --- | --- |
| Extras | 6 (b 1 , lb 1 , nb 0, w 4, pen 0) |
| Total | 126/2 (18.3 Overs, RR: 6.81) |
| Fall of Wickets | 1-25 (5.1) Craig Williams, 2-73 (13.2) Zane Green, |
| Bowling | O | M | R | W | Econ |
| --- | --- | --- | --- | --- | --- |
| Josh Little | 4 | 0 | 22 | 0 | 5.50 |
| Craig Young | 3.3 | 0 | 33 | 0 | 10.00 |
| Mark Adair | 1.4 | 0 | 12 | 0 | 8.57 |
| Curtis Campher | 3 | 0 | 14 | 2 | 4.67 |
| Kevin O'Brien | 2.2 | 0 | 15 | 0 | 6.82 |
| Simi Singh | 4 | 0 | 28 | 0 | 7.00 |