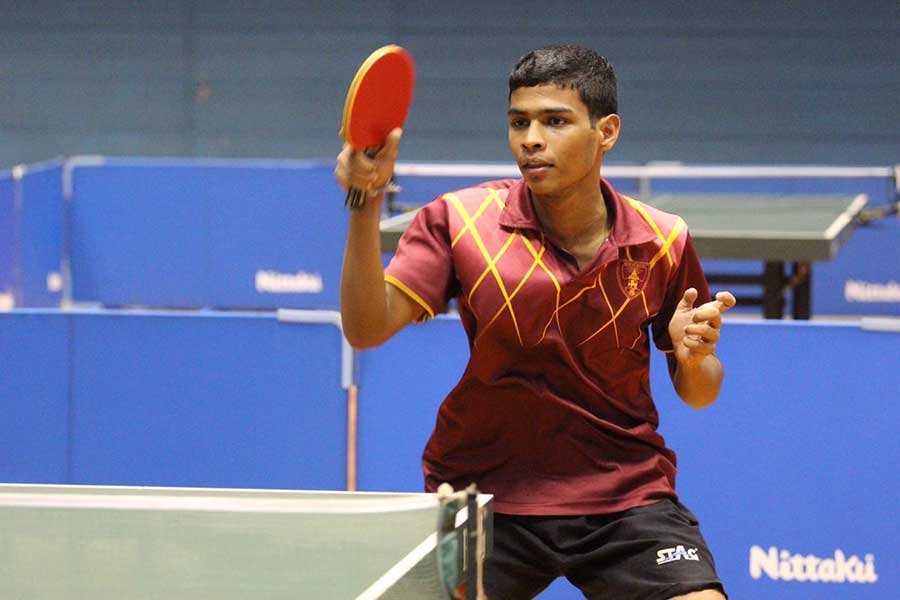 Two national paddlers of different universities ruled the Mora Smashes 2019. The tournament was conducted by the Table Tennis Team of the University of Moratuwa at the new gymnasium from 23rd to 24th February.
The tournament was played with over 80 players from 7 universities from around the island. Two national players Supuna Warusawithana (MOR) met Imantha Udanjaya (SJP) met at the Men's final encounter. This was the most thrilling match in the tournament.  Imantha Udanjaya (SJP) national ranking player was defeated by Supuna Warusawithana (MOR) another ranking player who is in the first year of Moratuwa University. Imantha was defeated for the first time in a university match in a men's single event. The first two sets were won by Imantha, but a fabulous comeback from another national player Supuna made the momentum while winning the next three sets.
Another national player Kasuni Pitigala  (sjp) won the straight match against her national mate Pavani Sirisena (Wayamba University)  in the womens single.
Supuna Warusawithana spoke to ThePapare.com and described his game.
Actually I just lost the first 2 sets easily. But from the 3rd set I started to give some pressure to the opposing player by using my experience. As a result of that I could win that set. And also because of the cheers of my colleagues of the university,  I didn't have any pressure and I played my normal game in the other 2 rounds and luckily I won the match. I must thank all of my friends in the university who cheered me throughout the game.
The other event finished as follows
Womens Team Event

Champion – University of Sri Jayawardenapura

Runner up – University of Moratuwa (MOR)
Mens Team Event

Champion – University of Moratuwa Team A

Runner up – University of Moratuwa Team B
Mens Double

Champion – Supuna Warusawithana / Mewan Abeywickrama (MOR)

Runner Up – Imantha Udanjaya / Waruna Akalanka (SJP)
Women's Doubles

Champion – Pavani Sirisena / Heshani Dunusinghe ( wayamba University )

Runner up – Umaya Tharaki / Nipunika Samarawickrama (SJP)
Mixed Doubles

Champion- Erandi Warusawithana / Imantha Udanjaya ( SJP)

Runner up – Kavindi Sahabandu / Supuna Warusawithana ( MOR)
The captain of the  University Of Moratuwa spoke about tournament to ThePapare.com
The iconic Mora Smashes 2019 Invitational University Championship was organized for the 9th consecutive year by the Table Tennis team of the  University of Moratuwa in collaboration with the physical education division of UOM. Table Tennis team of University of Moratuwa showed an immense dedication in organizing this event showing their skills in everyway. This was the best smashes event so far which was conducted in the highest standards.