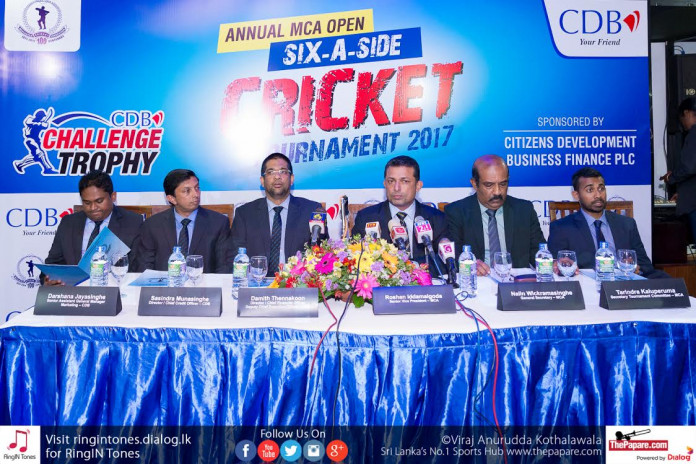 The Mercantile Cricket Association(MCA) "Sixes" is set to take place on the 05th and 06th of August with nearly 60 top mercantile teams participating.
This was revealed at a press conference held today(26) at the Mercantile Cricket Association Pavilion Lounge.
Award winning Non-Banking Financial Institution entity, Citizens Development Business Finance PLC (CDB) will partner the MCA this year, as sponsor of the extremely popular MCA Open Cricket "Sixes" 2017.
The tournament will be conducted in two segments – Tier "A" for the MCA Premier League, "B" & "C" division on turf and Tier "B" for divisions "D"-"G" on matting.
On the first day, the turf matches will be played at the P. Sara Oval and matting matches at the MCA, Thurstan, Wesley and Mattegoda simultaneously kicking off at 8.30 a.m. On day two, turf matches from quarter finals onwards will be played at the MCA and matting matches at Thurstan and Wesley ground commencing and 9 a.m.
Deputy Chief Executive Officer/Chief Financial Officer/Director of CDB Damith Thennakoon said " Being a financial entity that serves both the rural and urban communities through a network of 69 branches across the county, we have always believed that Sri Lankans have immense talent in every competency and it is only a matter of giving them the opportunity to unleash their full potentials."
Five special awards will be on offer during this tournament for the Best Batsman, Best Bowler, Most Number of Individual Sixes, Player of the Final and Player of the Tournament.
The presentation of the official sponsorship was held on the same day with Mr. Damith Thennakoon handing over the sponsorship package to the Senior Vice President of the MCA, Roshan Iddamalgoda.