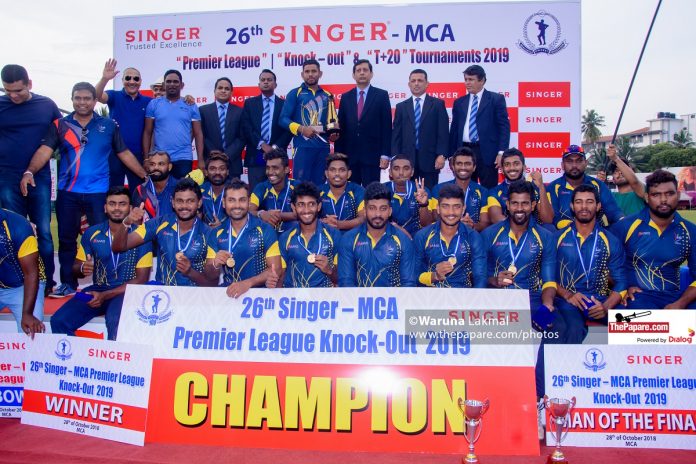 MAS Silueta beat Dimo to be crowned as the 26th Singer-MCA Premier Knock-Out Champions. The final was held at the MCA grounds in Colombo today.
New-comers to the top division, MAS Silueta were put in to bat after Dimo won the toss. Silueta, who won the 'B' Division title a year ago, had no problems easily compiling up 319 runs losing 9 wickets in their allotted 50 overs.
Not a single ball was bowled in the 2 nd semi final of the 26 th Singer-MCA..
All-rounders, left-hander Dananjaya Lakshan and right-hander Dushan Hemantha, scored identical scores of 82, top scoring in the Silueta inning. Charana Nanayakkara too contributed with a valuable 47 runs.
In bowling for Dimo, right-arm seamer Kavishka Anjula grabbed 3 wickets while Nisala Tharaka grabbed a couple.
Photo Album – 26th Singer-MCA Premier League – Knockout Finals – MAS Silueta vs Dimo
Nipun Karunanayake top scored with 42 runs for Dimo in their disastrous run-chase as left-arm spinner Avindu Theekshana ran through the Dimo batting line-up grabbing 7 wickets.
Dimo were bowled out for 151 runs in the 28th over handing Silueta an impressive and convincing 168-run win.
Batting all-rounder Dhananjaya Lakshan who bowls a very useful medium-pace and Avindu Theekshana, playing their first mercantile season after finishing an impressive school cricket career for Richmond College Galle just last year, impressed with their match-winning performances.
The T20 leg of the same tournament will commence on the 30th of October.
// var socket=io('http://localhost:8080'); var socket=io('http://202.124.184.250:8080');
jQuery( document ).ready(function() { console.log( "ready" ); var prev_bat_team = 0;
socket.on('message',function (message) { message = JSON.parse(message); console.log(message); if( message.data.cric.commentary){ jQuery('#cmt_wrap').prepend('
'+message.data.cric.commentary.event+'
'+message.data.cric.commentary.comment+'
'); } if(message.data.cric.match){ console.log(message.data.cric.match.teams_1_inn2_r[0]); function ove(balls) { var overs = 0; if(balls %6 == 0){ overs = balls/6; }else{ overs = parseInt(balls/6)+"."+(+balls - +parseInt(balls/6)*6); } console.log(overs); return overs; }
if(!message.data.cric.match.teams_1_inn2_r[0]){
jQuery('#score_1_'+message.data.cric.match.teams_1_r[0]['id']).html(message.data.cric.match.teams_1_r[0]['score'] + " / " + message.data.cric.match.teams_1_r[0]['wkts']); jQuery('#over_1_'+message.data.cric.match.teams_1_r[0]['id']).html("("+ove(message.data.cric.match.teams_1_r[0]['balls'])+" overs)"); }else { jQuery('#score_1_'+message.data.cric.match.teams_1_r[0]['id']).html(message.data.cric.match.teams_1_r[0]['score'] + " / " + message.data.cric.match.teams_1_r[0]['wkts']+" & "+message.data.cric.match.teams_1_inn2_r[0]['score']+" / "+message.data.cric.match.teams_1_inn2_r[0]['wkts']); jQuery('#over_1_'+message.data.cric.match.teams_1_r[0]['id']).html("("+ove(message.data.cric.match.teams_1_inn2_r[0]['balls'])+" overs)"); } if(!message.data.cric.match.teams_2_inn2_r[0]){
jQuery('#score_2_'+message.data.cric.match.teams_2_r[0]['id']).html(message.data.cric.match.teams_2_r[0]['score'] + " / " + message.data.cric.match.teams_2_r[0]['wkts']); jQuery('#over_2_'+message.data.cric.match.teams_2_r[0]['id']).html("("+ove(message.data.cric.match.teams_2_r[0]['balls'])+" overs)"); }else { jQuery('#score_2_'+message.data.cric.match.teams_2_r[0]['id']).html(message.data.cric.match.teams_2_r[0]['score'] + " / " + message.data.cric.match.teams_2_r[0]['wkts']+" & "+message.data.cric.match.teams_2_inn2_r[0]['score']+" / "+message.data.cric.match.teams_2_inn2_r[0]['wkts']); jQuery('#over_2_'+message.data.cric.match.teams_2_r[0]['id']).html("("+ove(message.data.cric.match.teams_2_inn2_r[0]['balls'])+" overs)"); }
if(message.data.cric.match.teams_1_r[0]['extras']!=null){ jQuery('#extras_1_r_'+message.data.cric.match.teams_1_r[0]['id']).html("("+ove(message.data.cric.match.teams_1_r[0]['extras'])); } if(message.data.cric.match.teams_2_r[0]['extras']!=null){ jQuery('#extras_2_r_'+message.data.cric.match.teams_1_r[0]['id']).html("("+ove(message.data.cric.match.teams_2_r[0]['extras'])); } if(message.data.cric.match.teams_1_inn2_r[0]['extras']!=null){ jQuery('#extras_1_r_2_'+message.data.cric.match.teams_1_inn2_r[0]['id']).html("("+ove(message.data.cric.match.teams_1_inn2_r[0]['extras'])); } if(message.data.cric.match.teams_2_inn2_r[0]['extras']!=null){ jQuery('#extras_1_r_2_'+message.data.cric.match.teams_2_inn2_r[0]['id']).html("("+ove(message.data.cric.match.teams_2_inn2_r[0]['extras'])); }
//extras_1_r_2_ // if(prev_bat_team != message.data.cric.team_id){ jQuery('#widget_wrapper').load(document.URL + ' #widget_wrapper'); // } // prev_bat_team = message.data.cric.team_id // }
}); });
MAS won by 168 runs
MAS Sileuta's Innings
Batting
R
B
D Lakshan
b R Mendis
82
85
S Fernando
b K Anjula
4
7
S Cooray
c P Tharanga b S Ashan
0
3
I Samarasooriya
lbw by K Anjula
30
33
A Emmanuel
c C Kumarasinghe b N Tharaka
16
19
D Rajakaruna
c & b P Tharanga
23
46
N Subasinghe
c R Mendis b M Perera
10
13
D Hemantha
c DNM b N Tharaka
82
85
C Nanayakkara
c DNM b K Anjula
47
32
B Sanjeewa
not out
1
2
| Bowling | O | M | R | W | E |
| --- | --- | --- | --- | --- | --- |
| N Tharaka | 10 | 0 | 74 | 2 | 7.40 |
| K Anjula | 10 | 0 | 71 | 3 | 7.10 |
| S Ashan | 6 | 0 | 48 | 1 | 8.00 |
| T de Silva | 7 | 0 | 35 | 0 | 5.00 |
| R Mendis | 3 | 0 | 17 | 1 | 5.67 |
| M Perera | 10 | 0 | 47 | 1 | 4.70 |
| H Ramanayake | 2 | 0 | 12 | 0 | 6.00 |
| P Tharanga | 2 | 0 | 10 | 1 | 5.00 |
Dimo's Innings
Batting
R
B
N Karunanayake
lbw by A Theekshana
42
56
C Kumarasinghe
c & b A Emmanuel
35
26
L Abeyrathne
c DNM b A Emmanuel
5
9
T de Silva
c D Hemantha b A Theekshana
4
8
S Ashan
b A Theekshana
0
1
H Ramanayake
c DNM b D Hemantha
14
21
N Tharaka
c DNM b A Theekshana
10
21
R Mendis
st D Rajakaruna b A Theekshana
7
6
K Anjula
lbw by A Theekshana
0
1
M Perera
c DNM b A Theekshana
24
9
P Tharanga
not out
4
7
Total
151/10 (27.2 overs)
| Bowling | O | M | R | W | E |
| --- | --- | --- | --- | --- | --- |
| B Sanjeewa | 3 | 0 | 6 | 0 | 2.00 |
| D Lakshan | 4 | 0 | 40 | 0 | 10.00 |
| N Subasinghe | 2 | 0 | 14 | 0 | 7.00 |
| A Theekshana | 9.2 | 1 | 42 | 7 | 4.57 |
| A Emmanuel | 4 | 0 | 10 | 2 | 2.50 |
| D Hemantha | 5 | 0 | 38 | 1 | 7.60 |