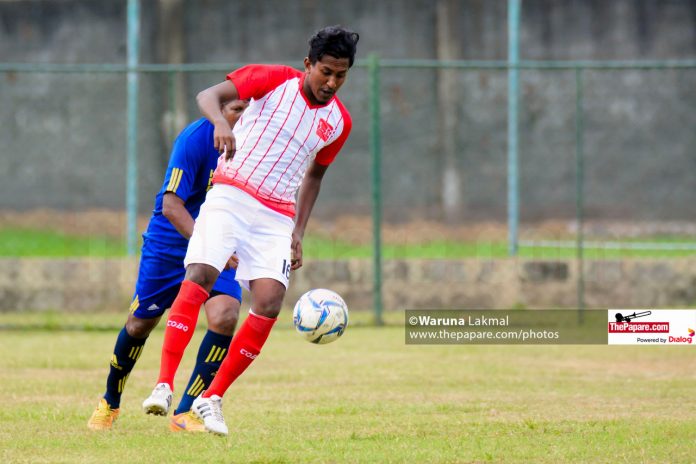 A 2nd half goal gave LB Finance a 1-0 win over HNB to be crowned A Division Mercantile Football Knockout Champions 2018, at the City Football Complex.
LB Finance defeated John Keells Holdings (JKH) 4-1 to win the Cup Championship …
HNB kicked off the first half, but it was LB Finance who dominated possession in the early going.
However, an opportunity arose for HNB when an over the top through-ball was struck towards the LB Finance box with their forward racing towards it but the LB Finance skipper and goalkeeper Sathish Kumar bravely rushed towards the edge of the box and leapt to head the ball away to safety.
LB Finance did most of the attacking in the first half with HNB's major chance coming in the form of a free-kick which was struck wide of the target.
Half Time – LB Finance 0 – 0 Hatton National Bank
LB Finance had the first chance of the second half when Mohamed Rahuman headed the ball towards goal from a cross, but it was comfortably saved by HNB keeper Thilakerathne.
Photos: HNB v LB Finance – A Division Final – Mercantile Knockout Tournament 2018
LB Finance again cam very close to getting the breakthrough when Mohamed Abdullah crossed the ball into the box from the edge of the box and Thilakerathne missed the ball completely but LB Finance's Janaka Chaminda could not get to the ball in time for the tap in.
Thilakerathne was kept extremely busy as LB finance kept having attack after attack whilst Sathish Kumar looked on from the opposite end like a spectator.
Then, Chaminda baring down into the box looked to head in a goal from a cross but Thilakerathne came to the rescue yet again as he got the slightest of touches to the ball, enough to direct it out of the oncoming forwards path.
Tensions were high and it showed when following a hard tackle there was a clash between players, but the referee surprisingly did not book any of the players involved.
HNB's defense was performing poorly when they failed to defend a corner, allowing Mohamed Rizkhan a shot from the edge of the 15-yard box, which was blasted well over the crossbar.
Amana Bank eased past Sampath Bank in a 4-0 victory to clinch the Mercantile Knockout B Division …
HNB's poor defending finally came back to haunt them when in the 60th minute. HNB's Sasindu took a horrendous goal kick giving the ball straight to the opposition.
This allowed LB Finance's Murugan Yogaraja, the man who had only come on a short while earlier, to take a shot and despite taking a slight deflection, it managed to trickle into the back of the net.
The horrendous errors continued for HNB as Thilakerathne gave the ball straight to LB Finance's Chaminda but he took a heavy first touch which gave the HNB keeper the chance to recover.
Full Time – LB Finance 1 – 0 Hatton National Bank
ThePapare.com Player of the Match – Janaka Chaminda (LB Finance)
Goal Scorers

LB Finance – Murugan Yogaraja 60'

Bookings

Yellow Cards

LB Finance – Suntharaj Niresh 29'

HNB – T.P. Agalawatta 53'
>>For more Club Football click here<<