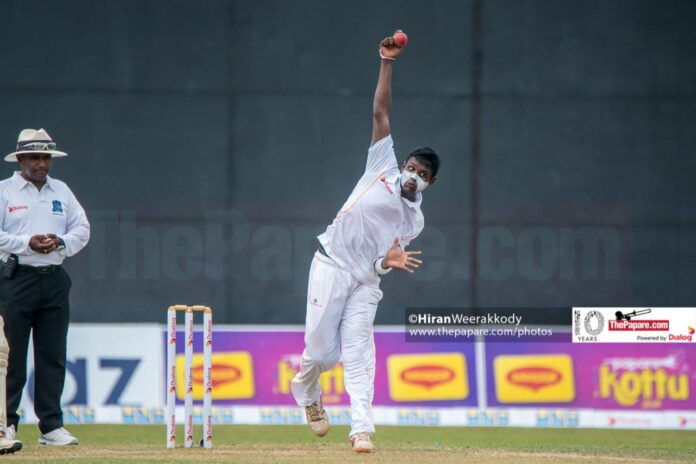 The 3rd and final day of 8 matches played as part of the SLC Major Emerging 3-Day Tournament 2022 happened today (27th March) concluding the 6th week of the tournament. Five games produced results today making the total results of the week as 6 (out of 9 games) while the remaining 3 ended in draws.
Colts CC became the 3rd team after Negombo CC and Tamil Union C & AC to secure a spot in the Semifinals today as they fought back hard to clinch a thrilling win over Army SC after a dismal batting performance in the 2nd innings. Chasing 215 for victory and to keep their semifinal hopes alive, Army were wrecked by Ruvin Seneviratne's off-spin as they lost 9 wickets for just 142 runs, out of which 5 were victims of Seneviratne. A spirited half-century stand for the last wicket between Pathum Botheju and Kaumal Nanayakkara did give glimpses of hope for Army but eventually fell short of a strong Colts outfit. This result gives Colts an unassailable lead over the rest of the teams in the group with 1 more round of games to go.
In 2 more Group D games which concluded today, Galle CC secured a win over Ace Capital CC while Kalutara Town Club took major honour in their draw against Kandy Customs CC. An unbeaten half-century by number 9 batter Thimira Malshan made sure that Kandy Customs held on to a draw after Themal Bandara's 6-wicket haul for KTC almost won the game for his team.
The wide-open Group A will remain the same and will be decided only after next week's games as all 3 potential semifinalists kept their chances alive by recording wins this week. Playing their last game of the group stage, current table-toppers Moors SC beat SSC comfortably by 286 runs as spinner Ayana Siriwardhana led their attack picking up 5 wickets in the 2nd innings to go with his 4 wickets in the 1st innings.
Sebastianites C & AC, currently sitting at 2nd place with a game left, managed to beat Lankan CC despite Risith Upamal's fighting 4th innings ton. Their star performer Tharindu Ratnayake continued to impress completing his 3rd consecutive 10-wicket haul in a match. Sebastianites will play Navy SC next week. Air Force SC who beat Navy today will also fancy their chances for a surprise when they meet Lankan CC next week.
The final games of Group B & Group C ended in draws as the semifinalists Negombo CC and Tamil Union C & AC claimed first innings wins to extend their leads at the top. Saracens SC's Kavika Dilshan and Kavindu Vithanage bowed out of the tournament in style with a 6-wicket haul and 146 respectively. Nugegoda S & WC's Kevin Perera too finished with a ton.
The remaining 6 games in Group A & Group D will commence on the 1st of April, Friday.
GROUP A
Moors SC vs SSC at Moors Grounds, Colombo
Moors SC – 292 (64.5) Adeesha Thilanchana 128, Dinuka Dilshan 99, Kavindu Nadeeshan 5/75 & 258/4d (48) Dinuka Dilshan 111, Pasindu Sooriyabandara 50*, Kavindu Ranasinghe 37, Kavishka Senadeera 3/66

SSC – 175 (43.5) Shevon Daniel 58, Kavindu Nadeeshan 38*, Kalana Perera 22, Omesh Mendis 20, Ayana Siriwardhana 4/60 & 89 (25.1) (Target 376) Kalana Perera 31, Ayana Siriwardhana 5/54, Theesan Vithusan 4/28

Moors won by 286 runs
Sebastianites C & AC vs Lankan CC at De Zoysa Stadium, Moratuwa
Sebastianites C & AC – 228 (58.4) Vishal Silva 87, Manelker De Silva 38, Sandun Fernando 33, Vimud Sapnaka 29*, Vinuda Liyanage 3/39, S Sankalpa 3/47 & 301 (76) Vishal Silva 68, Tharusha Fernando 45, Menelker De Silva 43, Vimud Sapnaka 38*, Yohan Perera 31, Vinuda Liyanage 3/35

Lankan CC – 179 (55.5) Methsith Jayamanna 56, D Kasturiarachchi 30, Lahiru Dilshan 20, Tharindu Ratnayake 5/95, Tharusha Fernando 4/47 & 297 (66.4) (Target 351) Risith Upamal 101, Ravindu Rathnayake 46, S Sankalpa 38, D Kasturiarachchi 31, Tharindu Ratnayake 5/113, Sandun Fernando 3/39

Sebastianites won by 53 runs
Navy SC vs Air Force SC at Navy Grounds, Welisara
Navy SC – 189 (70.2) Sahan Kosala 61, Pushpitha Dilshan 36, Jamith Dilshan 29, Movin Subasinghe 5/46 & 121 (67) Supun Nayanajith 51, Movin Subasingha 4/50

Air Force SC – 153 (45.2) Kalindu Siriwardana 54, Kemira Wijenayake 40, Sudara Dakshina 7/59, Sulekshana Sri Eshan 3/48 & 159/5 (34.2) (Target 158) Udayawansha Parakrama 71, Movin Subasingha 31*, Kalana Wijesiri 21, Sudara Dakshina 4/47

Air Force won by 5 wickets
GROUP B
Saracens SC vs Negombo CC at Bloomfield Grounds, Colombo
Saracens SC – 353 (88.4) Thaveesha Abhishek 107, Sandun Mendis 60, Sasanka Nirmal 45, Omal Palihapitiya 35, Kavika Dilshan 35, Pasindu Ushetti 6/154, Rashmika Mevan 3/61 & 262/5 (64.3) Navindu Vithanage 146, Sandun Mendis 55, Pasindu Ushetti 3/97

Negombo CC – 357 (102.2) Sandaruwan Chinthaka 84, Pasindu Lakshanka 75, Umesh Lakshan 71, Sudheera Weeraratne 64, Kavika Dilshan 6/137

Match Drawn
GROUP C
Tamil Union C & AC vs Nugegoda S & WC at P. Sara Oval, Colombo
Tamil Union C & AC – 527/9d (122.1) Supun Kavinda 173, Ranmith Jayasena 129, Damith Perera 47, Kamesh Nirmal 41, Yohan Mendis 32, Madushika Sandaruwa 3/92 & 201/5 (32) Sithara Hapuhinna 90, Kamesh Nirmal 51, Damith Perera 27*, Rahul Gunasekara 3/51

Nugegoda S & WC – 369 (117) Kevin Perera 101, Naveen Fernando 47, Kalana Madushanka 41, Bhagya Dissanayake 36, Abhisheak Liyanaarachchi 31, Miranga Wickramage 3/72, Vijayakanth Viyaskanth 3/74

Match Drawn
GROUP D
Colts CC vs Army SC at Army Grounds, Panagoda
Colts CC – 331 (76.5) Harsha Rajapaksha 85, Sheran Fonseka 80, Jehan Daniel 55, Ravindu Rashantha 32, Kaumal Nanayakkara 7/111 & 104 (46.3) Avishka Perera 21, Muditha Lakshan 20, Shehada Zoysa 7/43, Kaumal Nanayakkara 3/37

Army SC – 221 (44.5) Himasha Liyanage 58, Ashan Dilhara 53*, Mahesh Kumara 20, Rohan Sanjaya 3/47, Jehan Daniel 3/57 & 196 (48.1) (Target 215) Bishan Mendis 64, Pathum Botheju 38, Himasha Liyanage 34, Ruvin Seneviratne 5/89, Rohan Sanjaya 3/25

Colts won by 18 runs
Ace Capital CC vs Galle CC at Thurstan College Grounds, Colombo
Ace Capital CC – 204 (47) Lasith Croospulle 64, Amitha Dabare 42, Pramud Hettiwatte 42, Subhanu Rajapaksa 7/57 & 145 (41.1) Lasith Croospulle 51, Sawan Kankanamge 28, Sandun Madushanka 6/46

Galle CC – 204 (52.4) Hareen Buddila 46*, Prabath De Zoysa 36, Kavindu Dilhara 30, Dilshan Kanchana 25, Shalaka Bandara 3/40 & 146/1 (24.5) (Target 146) Tharindu Amarasinghe 79, Dilshan Kanchana 35*

Galle won by 9 wickets
Kalutara Town Club vs Kandy Customs CC at Panadura Esplanade
KTC – 283 (87.5) Kawshan Kulasooriya 88, Romesh Nallaperuma 32, Amartya Kaul 31, Pasan Pethangoda 3/62, Ayesh Harshana 3/94 & 227/9d (48.5) Thevindu Senaratne 50*, Tithira Weerasinghe 43, Romesh Nallaperuma 32, Inshaka Siriwardena 30, Pasan Pethangoda 3/46, Ayesh Harshana 3/94

Kandy Customs CC – 300 (86.4) Kavindu Lakshan 77, Rashmika Madushanka 57, Sasith Manuranga 48, Sajith De Silva 36*, Kanishka Maduwantha 4/58 & 132/8d (48) (Target 211) Thimira Malshan 58*, Salindu Pathirana 29, Themal Bandara 6/30

Match Drawn