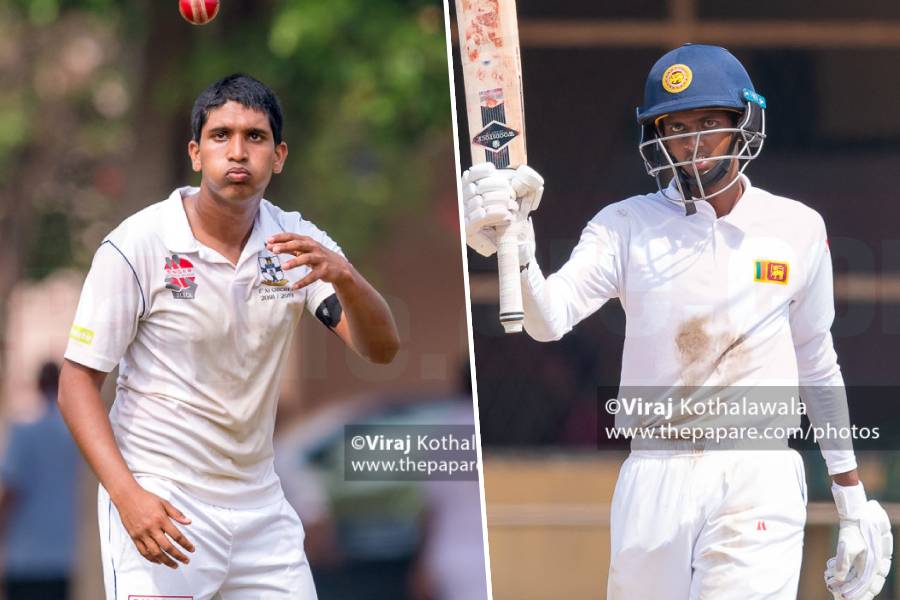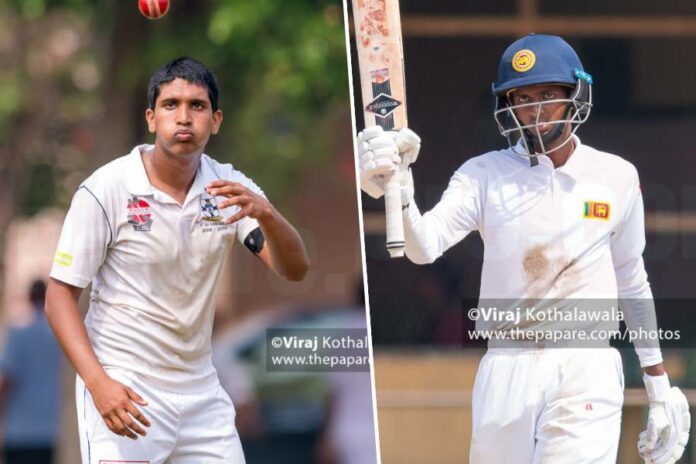 Janishka Perera strokes a brilliant century as Moors SC beat Navy SC in Major Club Emerging 3 Day Tournament 2022 worked off today (20th February) at Colombo.
Perera's century (150) and Theesan Vithushan's match bag of 11 wickets pilot Moors SC to a massive 235-run win over Navy SC.
SSC suffered a shocking defeat at the hands of Sebastianites C & AC today at SSC Grounds, Colombo. The centuries made by Manilka De Silva, Sandun Fernando and a 10-wicket haul taken by Tehan Schaffter pilot Sebastianites to the victory.
Colts CC registered a comprehensive innings win over Kalutara Town Club today at Panagoda. The batters Avishka Perera and Ravindu Rashantha who set a massive 395-run partnership yesterday (19th February) set up the victory for Colts CC. Kavindu Amantha & Rohan Sanjaya shared 8 wickets in the second innings helping Colts register the comprehensive win.
Shehan Fernando (100) and Lakshan Gamage (8/79) starred with bat and ball as Army SC recorded a 9-wicket win over Kandy Customs SC.
Brief Scores
Sebastianites Cricket and Athletic Club 221 (53) Manilka De Silva 103, Thrusha Fernando 43, Vihan Gunsekara 40, Madushan Ravichandrakumar 21, Lakshitha Manasinghe 4/64, Imesh Ramanayaka 3/58, Traveen Mathew 2/24 & 287 (86.5) Sandun Fernando 122, Vishal Silva 36, Tharusha Fernando 26, Manelker De Silva 26, Himesh Ramanayake 3/58, Treveen Mathew 2/32, Lakshitha Manasinghe 2/56, Kavindu Nadeeshan 2/77

Sinhalese Sports Club 208 (59.2) Sadeesha Rajapaksha 64, Keshan Wijerathne 38*, Dineth Siriwardene 25, Tehan Schaffter 4/31, Madushan Ravichandrakumar 3/50, Shehan Silva 2/24 & 217 (45.1) Lakshitha Manasinghe 99, Kavindu Nadeeshan 41, Omesh Mendis 23, Tehan Schaffter 6/35, Madushan Ravichandrakumar 3/69

Result – Sebastianites C & AC won by 83 runs
Moors Sports Club 263 (72.5) Dinuka Dilshan 111, Pasindu Sooriyabandara 37, Rohan De Soysa 30, Adeesha Thilanchana 25, Janitha Himsara 23, Hesara Nuwantha 2/21, Avishka Lakshan 2/30, Dileeesh Arunodya 2/32 & 229/9d (56.4) Janishka Perera 150, Pasindu Sooriyabandara 27, Sudara Dakshina 5/87, Dileesh Arunodya 3/32

Navy Sports Club 143 (51.1) Sulekshana Srieshan 24, Sudara Dakshina 21, Theesan Vithushan 6/34, Upendra Warnakulasooriya 2/21, Tharusha Rathnayake 2/37 & 114 (38.3) Bhagya Ediriweera 48*, Keshara Nuwantha 20, Milan Rathnayake 3/19, Theesan Vithushan 5/55, Milan Rathnayake 3/19

Result – Moors SC won by 235 runs
Kalutara Town Club 125 (49.2) Insaka Siriwarda 34, Harshana Wikramasinghe 4/49, Rohan Sanjaya 3/39 & 179 (70) Amartya Kaul 46, Isuru Sandamal 30, Romesh Nallaperuma 26, Kanishka Maduwantha 23, Kavindu Amantha 5/43, Rohan Sanjaya 4/63

Colombo Colts Cricket Club 445/2d (84) Ravindu Rashantha 224* Avishka Perera 172, Saleen Dimel 21

Result – Colts CC won by an innings & 141 runs
Army Cricket Club 291 (79.3) Shehan Fernando 100, Pathum Botheju 61, Sehanda Soysa 41, Ashan Dilsara 32, Thimira Malshan 3/59, Mervin Abilash 2/64, Anuka Jayasinghe 2/74 & 10/1 (3.3)

Kandy Customs Sports Club 72 (26.5) Lakshan Gamage 5/23, Kaumal Nanayakkara 3/14, Malinda Abhishek 2/24 & 228 (63.5) Sajith De Silva 59, Avishka Hasarinda 29, Sasith Manuranga 26, Ruveen Fonseka 25, Ashan Dilhara 4/47, Lakshan Gamage 3/56, Shehada Zoysa 2/51

Result – Army CC won by 9 wickets
Burgher Recreation Club 191 (58.5) Chamod Sandaru 46, Vinura Dulsara 39, Savindu Uthsara 37*, Subhanu Rajapaksa 3/34, Hareen Buddila 3/38, Kavindu Dilhara 2/46 & 362 (85.4) Hirantha Jayasinghe 90, Kavindu Ediriweera 47, Savindu Uthsara 46, Dushan Hemantha 44, Vinura Dulsara 34, Imitias Slaza 31, Chamod Sandaru 23, Shalith Fernando 23, Hareen Buddila 5/106, Chamath Dilsara 2/60, Subhanu Rajapaksa 2/83

Galle Cricket Club 367 (81.4) Kavindu Dilhara 96, Hareen Buddila 83, Chamath Dilsara 51, Dulash Udayanga 42, Dilshan Kanchana 29, Subhanu Rajapaksa 20, Savindu Uthsara 3/85, Kavindu Ediriweera 2/44, Usman Ishak 2/48, Dushan Hemantha 2/65

Result – Match Drawn
Badureliya Cricket Club 249 (60.2) Malindu Maduranga 81, Ashen Gunawardene 57, Umayanga Suwaris 48, Ravishka Wijesiri 27, Sasanka Nirmal 4/76, Akila Shenesh 2/52 & 319 (78.5) Malindu Maduranga 103, Ravishka Wijesiri 69, Umayanga Suwaris 50, N Kasun 20*, Sasanka Nirmal 4/79, Induwara De Alwis 3/105, Harsha Madushanka 2/48

Panadura Sports Club 460/9d (123.2) Kosala Ravindu 156, Dunith Jayatunga 91, Sasanka Nirmal 90, Vinuka Rubasinghe 39, Heshan Welgama 34, Yomesh Ranasinghe 20, Thamindu Wickramaarachchi 5/120, Ravishka Wijesiri 2/108

Result – Match Drawn
Air Force Sports Club 129 (53.4) Kalana Wijesiri 21, Devindu Kakirideniya 3/18, Sugath Mendis 3/34, Chamindu Wijesinghe 2/27 & 301/8 (115) Dhanuja Induwara 89, Kalindu Siriwardana 69, Hashan Vimukthi 53, Movin Subasingha 50*, Kalana Wijesiri 22, Pawantha Weerasinghe 4/56, Duvindu Ranatunga 2/38

Colombo Cricket Club 369 (98.3) Pawantha Weerasinghe 200*, Chamindu Wijesinghe 49, Ron Chandraguptha 39, Anjala Bandara 24, Kemira Wijenayake 3/49, Movin Subasingha 3/97, Hansaa Hirany 2/75

Result – Match Drawn
Nondescripts Cricket Club 418/9d (105) Dineth Jayakodi 104*, Johan De Silva 100, Hasitha Boyagoda 91, Ahan Wickramasinghe 38, Rajendran Arvinth 5/94

Bloomfield Cricket & Athletic Club 154 (72) Kavian Naress 52, Ashan Fernando 48, Yugeesha Dishan 6/48, Kavinda Ishwara 3/30 & 228/7 (104) Chanul Athukorala 62, Kavian Naress 51, Sanoj Darshika 38, Chihan Kalindu 34, Dhakshitha Fernando 21*, Yugeesha Dishan 3/75

Result – Match Drawn
Kurunegala Youth Cricket Club 180 (77.1) Dilaj Ranatunge 70, Sanjeewan Priyadarshana 38, Vibawith Ahalepola 28, Raveen Yasas 3/33, Maleesha Deshan 2/24, Dasun Senevirathne 2/42 & 322/8 (105) Rishi Adishtan 86, Matheesha Weerasinghe 86, Shehan Bandara 46, Sanjeewan Priyadharshana 36, Dulaj Ranatunga 24, Sheshan Silva 3/41, Raveen Yasas 3/84

Chilaw Marians Cricket Club 334/6d (85) Sukitha Manoj 110, Harindu Jayasekara 85, Dasun Senevirathna 59, Raveen Yasas 52, Praveen Ramaiah 2/36, Gihan Anjana 2/67

Result – Match Drawn