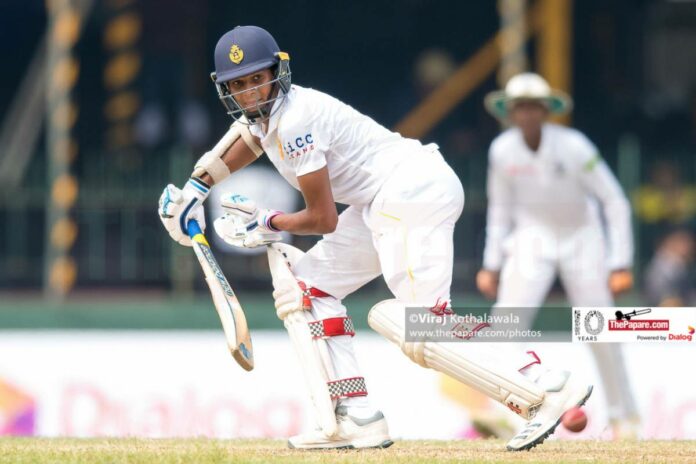 The 5th week of the SLC Major Club Emerging 3-Day Tournament 2022 kick-started today (18th March), with 12 matches being played at different venues across Sri Lanka.
The face-off between the table toppers of Group C, Tamil Union C & AC (3 wins in 3 games) and Ragama CC (2 wins in 3 games) saw a match-defining century by former Royalist fast-bowling all-rounder Kavindu Pathiratne today, on the opening day of the encounter at the P. Sara Oval. Pathiratne batting at number 8 put on 146 runs for the 9th wicket together with number 10 batter Dilum Sudeera, who supported with a patient 59. Pathiratne's heroics (111 off 181) saw the home team ending the day on a high after an early onslaught by the Ragama opening seamers Hareen Rathnamudali and Eshan Malinga. Rathnamudali eventually ended the innings with his second 5-wicket haul of the tournament.
Negombo CC steamrolled Kurunegala Youth CC for a mere 65 in Katunayake before they ended the day with a handy 1st innings lead of 116, extending their dominance in Group C. Opening quick Sheshan Fernando lead the way for Negombo with the ball picking 6 wickets, while opening batter Rashmika Mevan top-scored with 71.
Navy SC's left-arm spinner Sudara Dakshina also picked up 6 wickets in their game against Lankan CC at Welisara despite a late act of resistance from the Lankan number 8 (Yasiru) and number 9 (Vinuda) batters putting up 98 for the 8th wicket. The 2 left-arm seamers, Thomian Yasiru Rodrigo and Peterite Vinuda Liyanage, scored 67 and 55 respectively for the visitors.
Saracens SC restricting Bloomfield C & AC for 174 in their own backyard with the help of left-arm spinner Kavika Dilshan's 6-wicket haul, his second 5-fer in the tournament, went in vain as the home team's bowling attack led by in-form spinners Rajendran Aravinth and Dileepa Jayalath bundled them out for 138 to claim a 36-run 1st innings lead at the end of the day.
Galle CC seamer Kavindu Dilhara too went on to claim his second 5-wicket haul of the tournament against BRC at Galle, despite a fighting partnership down the order between the number 7 batter Pathum Botheju and the number 9 batter Ashan Dilhara. The duo added 103 for the 8th wicket, with Dilhara scoring 61 before the visitors ended the day on a high, picking up 6 wickets and giving away just 53 runs.
The game between Ace Capital CC and Kandy Customs CC at Thurstan College Grounds also saw a couple of brilliant individual performances in Ayesh Harshana's 5-wicket haul and Sawan Kankanamge's 93 for Kandy Customs and Ace Capital respectively. Air Force SC's opener Udayawansha Parakrama also put on a brilliant batting show against Group A table-toppers Moors SC with an unbeaten 97.
All 12 games will continue tomorrow (12th March) for the 2nd day.
GROUP A
Lankan CC vs Navy SC at Navy Grounds, Welisara
Toss: Navy
Lankan CC – 235 (82) Yasiru Rodrigo 67*, Vinuda Liyanage 55, Sudara Dakshina 6/72

Navy SC – 13/0 (16)

Stumps Day 1 – Navy trail by 222 runs
Air Force SC vs Moors SC at Air Force Grounds, Katunayake
Toss: Air Force
Moors SC – 150 (46.5) Dinuka Dilshan 57, Mohammed Shamaaz 27, Movin Subasingha 4/26, Nadeera Ishan 3/39

Air Force SC – 154/3 (39) Udayawansha Parakrama 97*, Kalana Wijesiri 35

Stumps Day 1 – Air Force lead by 4 runs
CCC vs Sebastianites C & AC at CCC Grounds, Colombo
Toss: CCC
CCC – 137 (52.4) Malinga Amarasinghe 53, Anjala Bandara 45*, Tharindu Ratnayake 4/75

Sebastianites C & AC – 110/2 (37) Sandun Fernando 63*

Stumps Day 1 – Sebastianites trail by 27 runs
GROUP B
Negombo CC vs Kurunegala Youth CC at Marians Cricket Ground, Katunayake
Toss: Negombo
Kurunegala Youth CC – 65 (30.3) Kavindu Ekanayake 18, Sanjeewan Priyadharshana 15, Sheshan Fernando 6/26, Nishan Peiris 3/13

Negombo CC – 181/5 (57) Rashmika Mevan 71, Pasindu Lakshanka 25*, Asitha Wanninayake 2/30, Sanjeewan Priyadharshana 2/31

Stumps Day 1 – Negombo lead by 116 runs
Bloomfield C & AC vs Saracens SC at Bloomfield Grounds, Colombo
Toss: Bloomfield
Bloomfield C & AC – 174 (46.3) Dhakshitha Fernando 43, Nipun Haggala 31, Kavika Dilshan 6/63, Pramod Maduwantha 4/60

Saracens SC – 138 (40.3) Sandun Mendis 38, Pramod Maduwantha 22, Dileepa Jayalath 4/32, Rajendran Aravinth 3/61

Stumps Day 1 – Bloomfield lead by 36 runs
NCC vs Chilaw Marians CC at NCC Grounds, Colombo
Toss: NCC
NCC – 222 (82.3) Johanne De Zilva 64, Thiwanka Kekuluwala 43, Yugeesha Dishan 32, Irushika Thimira 4/60, Sheshan Silva 3/32, Dilesh Shenol 3/47

Chilaw Marians CC – 25/0 (5)

Stumps Day 1 – Chilaw Marians trail by 197 runs
GROUP C
Tamil Union C & AC vs Ragama CC at P, Sara Oval, Colombo
Toss: Ragama
Tamil Union C & AC – 313 (85.4) Kavindu Pathiratne 111, Dilum Sudeera 59, Kamesh Nirmal 39, Sithara Hapuhinna 34, Hareen Rathnamudali 5/66, Eshan Malinga 3/51

Ragama CC – 8/0 (2)

Stumps Day 1 – Ragama trail by 305 runs
Panadura SC vs Nugegoda S & WC at Panadura Esplanade
Toss: Nugegoda
Nugegoda S & WC – 187 (51.2) Bhagya Dissanayake 60, Dilan Jayalath 29, Maneendra Jayathilaka 27, Woshitha Amarasinghe 2/17, Eran Hansamal 2/19, Vishwa Kumara 2/38, Malinda Jayod 2/68

Panadura SC – 177/4 (32) Malinda Jayod 54*, Kosala Ravindu 42, Duminda Damishka 35, Dunith Jayatunga 34, Madushika Sandaruwan 3/66

Stumps Day 1 – Panadura trail by 10 runs
Badureliya CC vs Police SC at Surrey Village Grounds, Maggona
Toss: Police
Badureliya CC – 212/9 (92) Malindu Maduranga 52, Ravishka Wijesiri 39, Ranesh Silva 31, Asel Sigera 4/43

Stumps Day 1
GROUP D
Galle CC vs Army SC at Galle International Cricket Stadium
Toss: Galle 
Army SC – 205 (54.2) Ashan Dilhara 61, Pathum Botheju 48, Samitha Dilshan 28, Lakshan Gamage 28, Kavindu Dilhara 5/27, Sandun Madushanka 4/38

Galle CC – 53/6 (33) Prabath De Zoysa 20, Kaumal Nanayakkara 3/23, Shehada Zoysa 2/15

Stumps Day 1 – Galle trail by 152 runs
Ace Capital CC vs Kandy Customs CC at Thurstan College Grounds, Colombo
Toss: Ace Capital
Ace Capital CC – 170 (50.2) Sawan Kankanamge 93, Amitha Dabare 20, Ayesh Harshana 5/58, Pasan Pethangoda 3/23

Kandy Customs CC – 121/3 (37) Nimna Fernando 48*, Kavindu Lakshan 35*, Methushan Thilina 2/40

Stumps Day 1 – Kandy Customs trail by 49 runs
BRC vs Kalutara Town Club at BRC Grounds, Colombo
Toss: KTC
KTC – 222 (81.5) Kanishka Maduwantha 47, Kawshan Kulasooriya 40, Isuru Sandamal 40, Thevindu Senaratne 31, Imtiyaz Slaza 3/54

BRC – 6/0 (6)

Stumps Day 1 – BRC trail by 216 runs