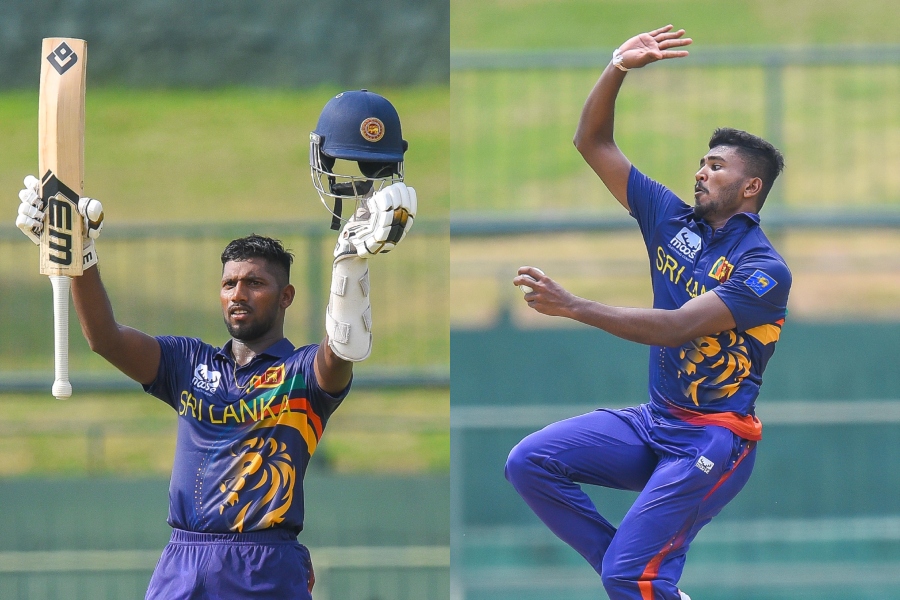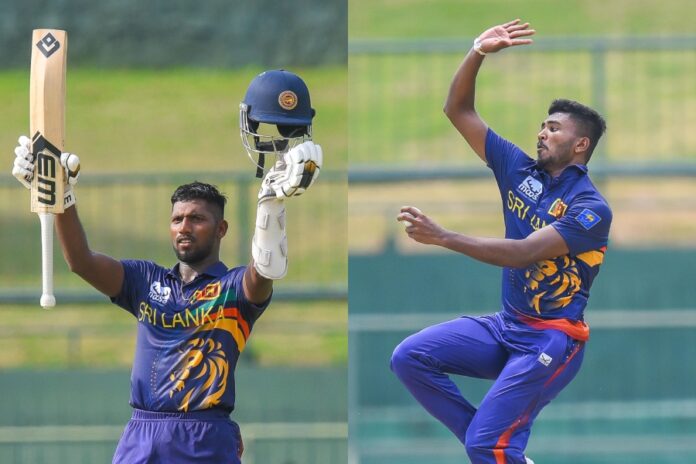 Sri Lanka 'A' registered a convincing win over South Africa 'A' in the 2nd One Dayer played between the sides to level the 3-match series, 1-1.
South African Skipper Tony de Zorzi won the toss and opted to bat first but the decision turned out to be disastrous as the visitors lost 7 wickets for 42 runs in quick time.
The left-arm quick Dilshan Madushanka delivered a devastating spell up front with the new ball, scalping 4 wickets. The seamers Pramod Madushan and Janith Liyanage also supported him well, sharing 3 wickets between them to put the visitors onto the backfoot.
However, South Africa national capped Cricketer Tristan Stubbs and Gerald Coetzee rescued the Proteas innings, building a 111-run partnership for the 8th wicket. Stubbs stroked 59 runs off 88 balls with a four and 3 sixes before being stumped of the bowling off Sahan Arachchige.
Photos – South Africa 'A' tour to Sri Lanka 2023 – 2nd Unofficial ODI
Coetzee went on to score 77 runs off 89 balls with 6 fours and 2 sixes, becoming the top scorer of the innings for South Africa, while the visitors were bowled out for 175 runs in 43.2 overs.
Madushanka was the star performer with the ball for Sri Lanka as he claimed 4 wickets for 33 runs in his 9-over spell. Liyanage and Arachchige also impressed with the ball, picking up 2 wickets each.
In reply, Sri Lanka got off to a shaky start, losing 3 top order wickets for 74 runs, but the opening batter Nishan Madushka and No. 5 batter Arachchige revived the hosts' innings, building a match winning 104-run stand for the 4th wicket.
Madushka stroked a magnificent century (107 off 85 balls), while Arachchige contributed with a useful half-century to put Sri Lanka over the line in the 29th over.


Batsmen
R
B
4s
6s
SR
Jordan Hermann
lbw b Dilshan Madushanka
1
4
0
0
25.00
Matthew Breetzke
b Dilshan Madushanka
14
26
2
0
53.85
Zubayr Hamza
c Dunith Wellalage b Dilshan Madushanka
2
13
0
0
15.38
Kyle Verreynne
c Nishan Madushka b Dilshan Madushanka
0
3
0
0
0.00
Tony de Zorzi
c Nuwanidu Fernando b Sahan Arachchige
4
12
0
0
33.33
Tristan Stubbs
st Nishan Madushka b Sahan Arachchige
59
88
1
3
67.05
Dewald Brevis
b Janith Liyanage 
2
5
0
0
40.00
Beyers Swanepoel
b Pramod Madushan
7
11
1
0
63.64
Gerald Coetzee
b Dunith Wellalage
77
89
6
2
86.52
Lizaad Williams
c & b Sahan Arachchige
1
5
0
0
20.00
Tshepo Moreki
not out
1
5
0
0
20.00
| | |
| --- | --- |
| Extras | 7 (b 0 , lb 3 , nb 1, w 3, pen 0) |
| Total | 175/10 (43.2 Overs, RR: 4.04) |
| Fall of Wickets | 1-3 (1.2) Jordan Hermann, 2-15 (5.3) Zubayr Hamza, 3-16 (5.6) Kyle Verreynne, 4-20 (9.2) Matthew Breetzke, 5-23 (10.1) Tony de Zorzi, 6-29 (12.4) Dewald Brevis, 7-42 (15.6) Beyers Swanepoel, 8-153 (38.5) Tristan Stubbs, 9-157 (40.2) Lizaad Williams, 10-175 (43.2) Gerald Coetzee, |
| Bowling | O | M | R | W | Econ |
| --- | --- | --- | --- | --- | --- |
| Pramod Madushan | 8 | 2 | 13 | 1 | 1.62 |
| Dilshan Madushanka | 9 | 1 | 33 | 4 | 3.67 |
| Janith Liyanage  | 8 | 1 | 32 | 2 | 4.00 |
| Dunith Wellalage | 9.2 | 1 | 33 | 1 | 3.59 |
| Lakshan Sandakan | 6 | 0 | 43 | 0 | 7.17 |
| Sahan Arachchige | 3 | 0 | 18 | 2 | 6.00 |


Batsmen
R
B
4s
6s
SR
Nishan Madushka
not out
107
85
13
2
125.88
Lasith Croospulle
b Lizaad Williams
4
6
0
0
66.67
Nuwanidu Fernando
c Kyle Verreynne b Beyers Swanepoel
0
6
0
0
0.00
Nipun Dhananjaya
c Beyers Swanepoel b Tshepo Moreki
8
22
1
0
36.36
Sahan Arachchige
not out
50
55
6
0
90.91
| | |
| --- | --- |
| Extras | 9 (b 0 , lb 1 , nb 0, w 3, pen 5) |
| Total | 178/3 (29 Overs, RR: 6.14) |
| Fall of Wickets | 1-34 (3.1) Lasith Croospulle, 2-37 (4.3) Nuwanidu Fernando, 3-74 (12.1) Nipun Dhananjaya, |
| Bowling | O | M | R | W | Econ |
| --- | --- | --- | --- | --- | --- |
| Beyers Swanepoel | 5 | 0 | 29 | 1 | 5.80 |
| Lizaad Williams | 5 | 1 | 25 | 1 | 5.00 |
| Tshepo Moreki | 4 | 0 | 25 | 1 | 6.25 |
| Dewald Brevis | 9 | 0 | 49 | 0 | 5.44 |
| Gerald Coetzee | 5 | 0 | 34 | 0 | 6.80 |
| Tony de Zorzi | 1 | 0 | 10 | 0 | 10.00 |