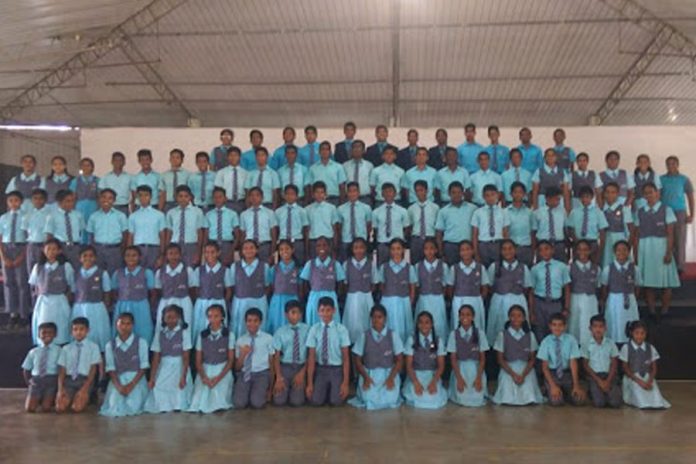 Lyceum International, Nugegoda Athletic team for the 19th edition of International Schools' Athletic Championship (ISAC), will consist of 112 athletes who will compete in all 5 age categories. They will be one of the largest teams in the competition.

ISAC will be held from the 15th to 17th at the Sugathadasa stadium and will be fiercely contested by over 1500 students representing 22 International schools of the country.
The team will be captained by Ravindhi Lisara.  
Lyceum International, Nugegoda team for ISAC 2019
Under 12

Kushal Suludagoda, Shewan Abeysinghe, Akindu Peiris, Luchith Peiris, Hussain Patel, Dineth Jayasooriya, Mohamed Sajaad, Kaveesh Haputhanthri, Nisini Samarasekara, Nelini Samarasekara, Viradha Gomis, Nethmi Ranasinge, Amaya Peiris, Sithuki Perera, Dinali Galappaththy

Under 14

Geesara Wijethunga, Stephan Jacob, Sandith Rathnayake, Minul Anmitha, Methika Wickramasekera, Thevan Thalagalage, Praveen Ratheesha, Nadun Vithanage, Dewin Samaranayake, Navithma Bulathsinhala, Bethiniseja Liyanage, Sumayyah Nasoorden, Natashi Wijesuriya, Minuli Panduwawala, Neli Ariyachandra, Bethani Perera, Tharupa Punchihewa, Thakeesha Manamperi, Oneli Singaraja, Kinoja Kamarasamy

Under 16

Ryan Nonis, Ranith Wijewardena, Abilash Pathirathna, Shaheer Shifan, Chelaka Wijesekara, Sithil Abeygunasekara, Janithu Dilvan, Ravindu Gamage, Charuka Kehelwatta, Bometh Samarasinghe, Vikum Dabare, Pulathisi Kahavita, Anuhas Perera, Mohamed Rasheed, Lochana Hettiarachchi, Dulyana Suludagoda, Saneli De Silva, Piumi Liyanage, Miyuni De Almeida, Chamathka Kirtisinghe, Kavini Samaranayake, Rebidha Fernando, Daveena Waththuhewa, Thehansa Rathnayake, Vaishali Thunuwaga, Rankini Seneviratne, Ruhini Katuwanage, Vilara Ranasinghe, Hiruhimni Wijetunge, Danidi Ranaweera, Tashya Perera

Under 18

Samith Lakshitha, Dimithu Dissanayaka, Rakindu Perera, Shenuk Perera, Dilin Mangith, Danal Senevirathna, Lashawn De Mel, Yasiru De Silva, Nithika Dias, Sasindu Gonsal, Imadh Hussain, Ometh Senadeera, Sanuga Arambewela, Atheek Azaath, Methin Weerasinghe, Gavindu Athaoda, Movidu Gunawardena, Hansani Jayasuriya, Ranindhi Lisara, Rashmi Goonewardane, Rashmi Sudasinghe, Leena Yogarajah, Sinali Gamage, Komudi Pinnedoowe, Hesandi Pananwala, Fatima Riyard, Gumasha Kaluarachchi, Chenuli Gallage, Sauni Malavige, Akshi Suppiah

Under 20

Kavindu Bandara, Kavindu Lakshan, Nilan Balakumar, Usman Masthan, Stephan Ramasamy, Roshan Mohanraj, Lakindu Sri Rajapaksha, Krisanthan Loganadhan, Mahendran Yadushan, Mohamed Hilmy, Gehansa Jayasundara, Dinuvi Kumarathunge, Saduni Wickramasinghe, Gethmi Gamage, Swetha Siriwardena, Imandi Aluthge