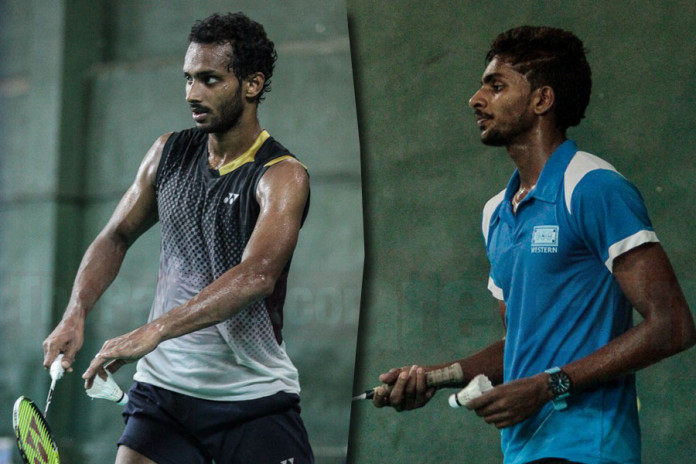 It was a day for the Sri Lankan badminton players who took flight to China on the 25th of this month with none of the seven being able to progress beyond the first round of the main draw.
Read more: Seven shuttlers off to China for Asia Championships 2017
The seven shuttlers who wore the national colours in China; Niluka Karunaratne, Sachin Dias, Buwenaka Goonethileke, Thilini Hendahewa, Lekha Shehani and Samanthika participated in four events but could not progress beyond the first round.
Sri Lanka's national champion and top 100 seeded player Niluka Karunaratne made it to the main draw via the qualifiers with ease but had to confront the #6 ranked player in his first round. Taipei's Chou Tien Chen was Niluka's opponent and he was successful in securing a 21-19, 21-16 win against Karunaratne.
Read more: Badminton Asia Championships: Sri Lankans progress to main draw
It was a close contest in the first set and Karunaratne displayed true grit but could not get through to defeat the top seeded player. The game lasted 67 minutes in total.
The men's doubles duo from Sri Lanka, Sachin Dias and Buwenaka Goonethileke earlier defeated the Malaysian pair Pui Ngai Che & Pan Fong Pui but couldn't win in the first round.
The Lankan duo faced another Malaysian doubles pair in the first round and were unable to match up. The final scores read 21-12, 21-13.
It was a similar tale in the Women's Doubles where the Sri Lankan team that comprised of Achini Ratnasiri and Samanthika Weerasinghe got themselves through to the main draw of the competition but lost the first two sets in the first round by a massive margin to Singapore's Poon Lok Yan & Tse Ying Suet. The final scores were 21-11, 21-13.
Sachin Dias later paired up with women's singles national champion Thilini Hendahewa for the Mixed Doubles but was yet another disappointing performance in the main draw. The Sachin-Thilini combination after getting the qualifier ticket lost to Yang Lee & Hsu Ya Ching of Taiwan without a contest.
In the Women's Singles, Lekha Shehani could not make it to the main draw as she had to bow out of the competition losing both her matches in the qualifiers.
With Sri Lanka Badminton concluding a disappointing international series, it was only Niluka Karunaratne who had somewhat of an impressive performance in the series. Confronting a world #6 will no doubt be a huge challenge and the 32-year-old gave a close fight to Chou Tien Chen in the first set to lose by just two points.
Results Main Draw:
Men's Singles
Chou Tien Chen beat Niluka Karunaratne – 21-19, 21-16

Men's Doubles
Yew Sin Ong & Ee Yi Teo (Malaysia) beat Sachin Dias & Buwenaka Goonethileka – 21-12, 21-13

Women's Doubles
Poon Lok Yan & Tse Ying Suet (Hong Kong) beat Achini Ratnasiri & Samanthika Weerasinghe – 21-11, 21-13

Mixed Doubles
Yang Lee & Hsu Ya Ching (Taiwan) beate Thilini Hendahewa & Sachin Dias – 21-12, 21-9