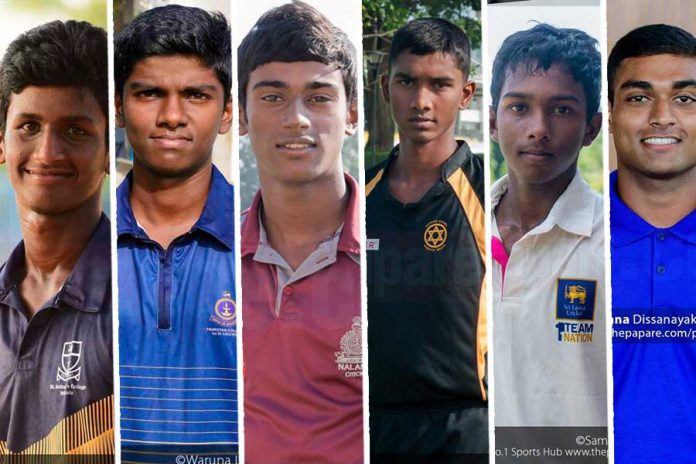 With the schoolboy cricketers making it to the headlines and the 1st XI cricket season starting to hit the road, there's no better time than this to read about your schools cricket captains. Here is part 3 of our series Know your Schools Cricket Captains.
Pubudu Bandara – Trinity College, Kandy
Having played just one season for Trinity College, Kandy, Pubudu Bandara, is already a Trinity Lion, has been a part of the 1000-run club, captained Central Province and was picked in the Sri Lanka U19 squad. This sensational talent from Kandy is one of a kind. Bandara averaged a fantastic 45.11 runs in last year's tournament, hitting 6 fifties and a century. He also had a fabulous provincial tournament this year, mainitaining an average of almost 60. The left-hander is also an impressive left-arm seamer which makes him all the more valuable to have in the side.
Vinura Dulsara – Mahinda College, Galle
Though the lad has been playing under-19 cricket since 2014, it was in the last season that he found some stability in the cricket arena. With 2 centuries and a fifty he scored over 600 runs last season. The youngster is in sublime form this season with a 150-plus and 2 fifties in his 4 innings. Dulsara has also featured in U19 provincial tournaments for the past two years.
Sandaru Dias – Thurstan College, Colombo
The left-arm spinner is one of the finest of the kind for Thurstan College, Colombo. Playing his fourth year for Thurstan College, he will lead the team with a lot of experience from his last season. Sandaru took 49 wickets last season and his match-winning 8 wickets in an innings against St. Thomas' College, Matara was a stand-out. The young man is a skiddy spinner who is also capable of turning the ball sharply. His flat trajectory plays a big part in his success.
With the Schools 1st XI cricket for the 2018/19 season underway..
Avishka Tharindhu – St. Anthony's College, Wattala
The 17-year-old is a genuine all-rounder who's got a good say over the new ball and the ability to construct match-winning knocks with the bat. His old-school technique in batting, catches the eye right away. Avishka is currently representing the Sri Lanka under-19s in the Bangladesh under-19's tour of Sri Lanka. He captained the U17 team to a quarter-final earlier in this year and was also a part of the provincial U19 team.
Gimhana Ashirwada – St. Aloysius College, Galle
5th year player Ashirwada will lead St. Aloysius' College this year. Ashirwada has been playing for St. Aloysius since the 2014/15 season and is one of the senior-most players in the squad. He is a right-handed batsman and a right-arm medium fast bowler. Even though the opener's numbers don't say much, he has been a very promising prospect for St. Aloysius' College over the years.
Suwath Mendis – Prince of Wales College, Moratuwa
4th-year coloursman, Suwath Mendis is a wonderful top-order batsman. The left-hander is a consistent customer who would usually be among the thirties at least. He had a superb provincial tournament this year with an average close to 40 runs per match. He is also a very useful leg spinner who is capable of providing valuable spells when necessary.
With the 1st XI season gaining moment with every passing day..
Imesh Fernando – St. Benedict's College, Colombo
The 3rd-year player has led St. Benedict's in the under-13, under-15 and under-17 levels previously. Imesh opens the bowling for St. Benedict's and had a good season last year, bagging 22 wickets. This will be the first season in which Imesh will probably play all the games, which should give him the opportunity to improve his numbers.
Nadun Dilshan – De Mazenod College, Kandana
Nadun is a stylish left-hander who likes to go after the bowlers. Solid in his technique, he has the natural instinct to be aggressive with the bat. He is playing his 5th year for De Mazenod College, Kandana and has been playing since he was just 14. Nadun is yet again another cricketer whose numbers don't necessary live up to his talent.
Lakshitha Manasinghe – Nalanda College, Colombo
Manasinghe is a terrific all-rounder and an absolute match-winner for Nalanda College. His swashbuckling century in the big match will remain a highlight of his career. A man who can be trusted with responsibilities and a batsman who has perfected the skill of batting under pressure. Though Manasinghe's batting has earned him a lot of praising in schools cricket, he was considered a bowling all-rounder when he represented the Sri Lanka under-19s. He was equally impressive there as well, as he bowled some vital spells for Sri Lanka, keeping it tight and delivering important breakthroughs.
Kaveen Bandara – Maliyadeva College, Kurunegala
Right-handed batsman, Kaveen Bandara is a promising talent who came up the ranks at Maliyadeva College, Kurunegala. The 5th-year coloursman has vast experience having played provincial cricket in under-15, under-19 and also under-23 levels and even the under-23 premier tournament. The all-rounder has a lot of expectations on him and had lived up to it in the past two seasons.
Sachintha Senanayake – Dharmaraja College, Kandy
The 3rd-year player is a wonderful left-hander who usually opens the batting for Dharmaraja College. Although Senanayake is a wicket-keeper batsman, he has given up his gloves this year to focus solely on batting and leading the team to glory. Senanayake has been a very impressive prospect for Dharmaraja over the years. He represented the province in U15 cricket and has been a regular name in the team for Dharmaraja College since then.
Gajitha Kotuwegoda – St. Mary's College, Kegalle
Another famous name in the Schools cricket circuit, Gajitha Kotuwegoda was one of those players who was instrumental in the rise of St. Mary's College to division one cricket in 2016/17 season. Kotuwegoda had a splendid season that year scoring over 800 runs at 37.05, hitting 3 centuries and 3 fifties. Kotuwegoda already has 6 centuries in just the 2 seasons and is leading his school for the second time.