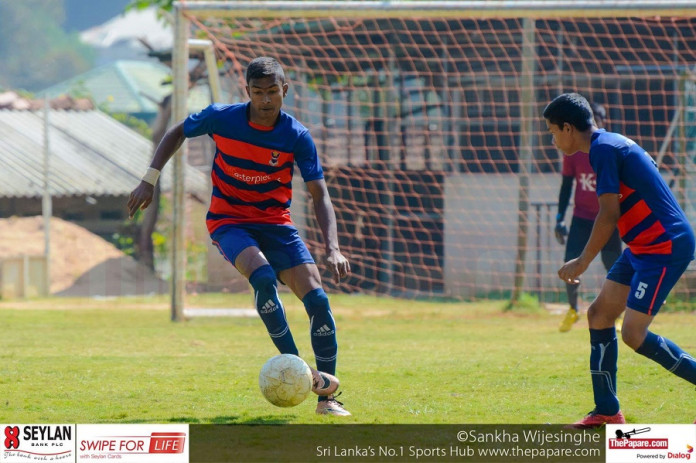 Kingswood College beat St. Benedict's College 3-2 in their group stage game after being down 2-1 at half time in the U19 Division I Championship at Kingswood College grounds.
This match was a home match for St.Benedict's as per the schedules but Kingswood College had made arrangements to play this match at their home grounds.
St. Benedict's College was leading 2-1 when the 1st half ended but the Randles Hill boys managed to score another 2 in the second half and marked their first win in their home grounds.
There was some slow play in the midfield by both teams.  The attackers hadn't a chance to reach the opposing goal post because the team defenders played their roles well.
Kingswood right winger Ahmed Zahidh scored the opener in the 15th minute by placing the ball to the far post from a free kick taken by the skipper Buddhika Nishantha. After that Kingswood strikers missed some easy goal scoring chances due to their bad finishing.  
The visitors' forwards Kelum Chathuranga and Sheron Fernando scored back to back goals in the 32nd and 33rd minutes and turned tables in favour of St. Benedict's.
Half time – Kingswood College 1 – 2 St. Benedict's College
It was an entertaining 2nd half in which both teams showed off some classy football to the spectators.
In the 44th minute Kingswood received a corner kick. Sanka Jayamina gave a quick pass to Gayan Madushanka who chipped it to the visitors' penalty box and N.B.Rathnaweera placed it to the nets with a strong header and levelled the game.
The visitors tried to reach the Kingswood goal post but the Kingswood defence didn't give them any chance to achieve it.
In the 60th minute Kingswood scored their winning goal from a counter attack. Gayan gave a long pass over the visitors defence line which centre forward Lahiru Kanishka received and placed it to the nets over the Bens goalkeeper from outside of the box.
With this win Kingswood has a fair chance of ending the season as 3rd in the group A.
Full time – Kingswood College 3 – 2 St. Benedict's College
ThePapare.com Player of the Match-  Lahiru Kanishka (Kingswood College)
Goal Scorers –

Kingswood College- Ahmed Zahidh 15', N.B.Rathnaweera 44', Lahiru Kanishka 60''

St. Benedict's College- Kelum Chathuranga 32', Sheron Fernando 33'