Chamara Kapugedera dispatched a six to seal a last-ball win during the 2010 World T20, sending the Indians out of the tournament.
India got the first lease of the crease and posted a formidable total of 163 runs.
Sri Lanka needed to win to secure a spot in the semis but crossing the 144-run mark would mean knocking the Indians out of the competition.
The Lions had quite a faulty start as both their openers departed within the first two overs and the third wicket fell on 49 runs in the 8th over. Nevertheless, the Lankans did recover quite well from the situation.
Kumar Sangakkara and Angelo Mathews scored 46 runs each to pull Sri Lanka out of the pit. Just as Sri Lanka was gearing up to fire, Sanga departed after being castled by Vinay Kumar.
Read – Why you can't write about Sanga
Angelo Mathews took over and almost managed to take Sri Lanka over the line too but ran himself out with just one ball to go in the innings.
Meanwhile, Chamara Kapugedera was playing a gem of a knock in silence. He had scored a crucial 31 runs off 15 deliveries with 2 sixes and 2 fours in it.
Sri Lanka were now at 161 for 5. They had done so well to get there and would be gutted if they lost this game.
Kapugedera was on strike and Ashish Nehra started his run up. 3 runs needed off the last delivery.
Read More – A dream death-over spell
Kapu had pre-planned his shot and charged down the track, Nehra saw this split seconds before releasing the ball and he tried pulling back his length out of habit. It ended up being a half-tracker.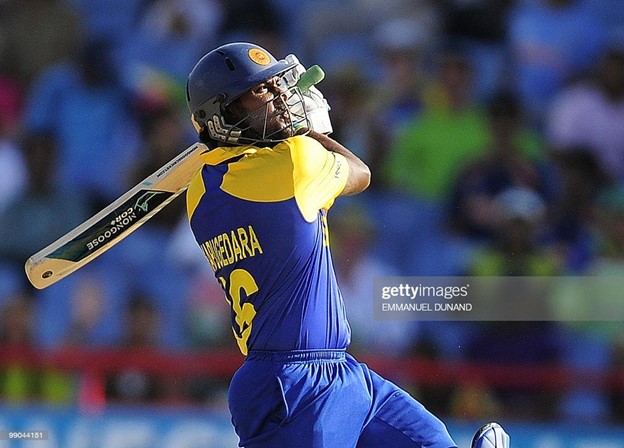 Kapugedera, who was already on the move, danced down the track and swung his bat with every ounce of energy he had in him. He was so determined that he made a good connection with the ball. It wasn't a wild swing, yes preplanned, but he kept his eyes on the ball and muscled it over sweeper-cover for a spectacular six.
Sri Lanka recorded a dramatic win over the Indians and sent them crashing out of the tournament.