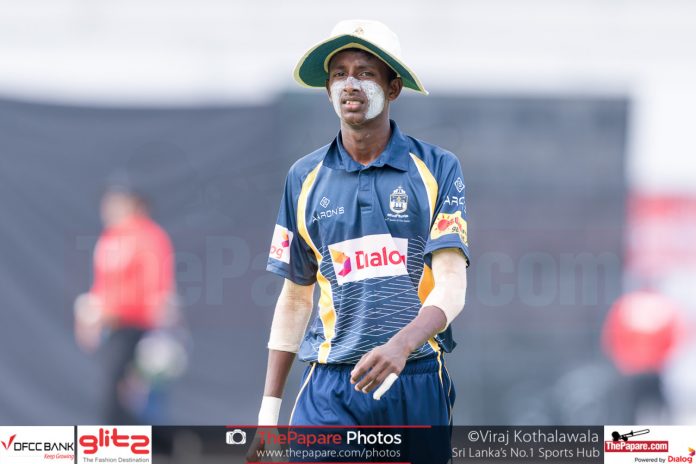 St. Peter's College, Colombo advanced to the final of the Singer Under 19 limited overs tournament 2017/18 defeating Mahinda College by 9 runs in the first semi-final worked out on Sunday at S. Thomas' College grounds, in a thrilling encounter which concluded today.

On a hot and humid day, Mahinda College skipper Reshan Kavinda won the toss and elected to field.
As per the plan, the boys from down south ran through the Peterite top order with ease. Sri Lanka U19 cap, Nipun Malinga caused damage early picking up the first three wickets for just 23 runs.
Watch the Replay of the St. Peter's vs Mahinda clash
Experienced campaigners, Sulakshana Fernando and Ranmith Jayasena then put on a fifty run partnership for the 4th wicket before the former fell for just 37 runs.
The Mahinda spinners led by left-arm spinner Navod Paranavithana and mystery spinner Kevin Koththigoda then sent the Bamba boys in to disarray as they found themselves tottering at 109 for 8 after 31 overs.
But, the tail enders of St. Peter's wagged and guided their total to 170 as Kanishka Maduwantha top scored with a fine knock of 38 runs which included five fours.
Read the semi-finals Preview: Four balanced teams vie for final glory
Chasing a modest total of 171, Mahinda College openers, Ravindu Hansika Welihinda and Navod Paranavithana built a solid stand putting on 58 runs for the first wicket but the Peterites held their nerve to take out the top order.
Despite St. Peter's spinners tightening the run flow, Mahinda College was still cruising at 126 for 3 in 36 overs but left-arm orthodox spinner Maduwantha rattled their middle order as the Galle boys crumbled under pressure.
Mahinda College's last four wickets fell within four runs as they were bundled out for just 161 runs in the 47th over.
The architect of the Peterite victory, Maduwantha ended up with magical figures of 4 for 23 in 8.5 overs.
"My target was to take the team to a reasonable score, around 160-170 by scoring singles. Some strokes, I never thought will give me boundaries even. While I was bowling, there wasn't any pressure, I just wanted to bowl good deliveries. So happy that we won the match, looking forward for the final." Maduwantha said to ThePapare.com after the match.
The second semi-final will be played between Richmond College, Galle and S. Thomas' College, Mount Lavinia on 24th April at St. Peter's College Grounds.
Watch the second semi-final LIVE: S. Thomas' College vs Richmond College – Singer U19 Limited Overs Tournament – 2nd Semi Final
// var socket=io('http://localhost:8080'); var socket=io('http://202.124.184.250:8080');
jQuery( document ).ready(function() { console.log( "ready" ); var prev_bat_team = 0;
socket.on('message',function (message) { message = JSON.parse(message); console.log(message); if( message.data.cric.commentary){ jQuery('#cmt_wrap').prepend('
'+message.data.cric.commentary.event+'
'+message.data.cric.commentary.comment+'
'); } if(message.data.cric.match){ console.log(message.data.cric.match.teams_1_inn2_r[0]); function ove(balls) { var overs = 0; if(balls %6 == 0){ overs = balls/6; }else{ overs = parseInt(balls/6)+"."+(+balls - +parseInt(balls/6)*6); } console.log(overs); return overs; }
if(!message.data.cric.match.teams_1_inn2_r[0]){
jQuery('#score_1_'+message.data.cric.match.teams_1_r[0]['id']).html(message.data.cric.match.teams_1_r[0]['score'] + " / " + message.data.cric.match.teams_1_r[0]['wkts']); jQuery('#over_1_'+message.data.cric.match.teams_1_r[0]['id']).html("("+ove(message.data.cric.match.teams_1_r[0]['balls'])+" overs)"); }else { jQuery('#score_1_'+message.data.cric.match.teams_1_r[0]['id']).html(message.data.cric.match.teams_1_r[0]['score'] + " / " + message.data.cric.match.teams_1_r[0]['wkts']+" & "+message.data.cric.match.teams_1_inn2_r[0]['score']+" / "+message.data.cric.match.teams_1_inn2_r[0]['wkts']); jQuery('#over_1_'+message.data.cric.match.teams_1_r[0]['id']).html("("+ove(message.data.cric.match.teams_1_inn2_r[0]['balls'])+" overs)"); } if(!message.data.cric.match.teams_2_inn2_r[0]){
jQuery('#score_2_'+message.data.cric.match.teams_2_r[0]['id']).html(message.data.cric.match.teams_2_r[0]['score'] + " / " + message.data.cric.match.teams_2_r[0]['wkts']); jQuery('#over_2_'+message.data.cric.match.teams_2_r[0]['id']).html("("+ove(message.data.cric.match.teams_2_r[0]['balls'])+" overs)"); }else { jQuery('#score_2_'+message.data.cric.match.teams_2_r[0]['id']).html(message.data.cric.match.teams_2_r[0]['score'] + " / " + message.data.cric.match.teams_2_r[0]['wkts']+" & "+message.data.cric.match.teams_2_inn2_r[0]['score']+" / "+message.data.cric.match.teams_2_inn2_r[0]['wkts']); jQuery('#over_2_'+message.data.cric.match.teams_2_r[0]['id']).html("("+ove(message.data.cric.match.teams_2_inn2_r[0]['balls'])+" overs)"); }
if(message.data.cric.match.teams_1_r[0]['extras']!=null){ jQuery('#extras_1_r_'+message.data.cric.match.teams_1_r[0]['id']).html("("+ove(message.data.cric.match.teams_1_r[0]['extras'])); } if(message.data.cric.match.teams_2_r[0]['extras']!=null){ jQuery('#extras_2_r_'+message.data.cric.match.teams_1_r[0]['id']).html("("+ove(message.data.cric.match.teams_2_r[0]['extras'])); } if(message.data.cric.match.teams_1_inn2_r[0]['extras']!=null){ jQuery('#extras_1_r_2_'+message.data.cric.match.teams_1_inn2_r[0]['id']).html("("+ove(message.data.cric.match.teams_1_inn2_r[0]['extras'])); } if(message.data.cric.match.teams_2_inn2_r[0]['extras']!=null){ jQuery('#extras_1_r_2_'+message.data.cric.match.teams_2_inn2_r[0]['id']).html("("+ove(message.data.cric.match.teams_2_inn2_r[0]['extras'])); }
//extras_1_r_2_ // if(prev_bat_team != message.data.cric.team_id){ jQuery('#widget_wrapper').load(document.URL + ' #widget_wrapper'); // } // prev_bat_team = message.data.cric.team_id // }
}); });
SPC WON BY 9 RUNS
Mahinda College's Innings
Batting
R
B
Navod Paranavithana
c Shanon Fernando b Miflal Ameen
23
51
Hansika Welihinda
c & b Ranmith Jayasena
44
98
Vinura Dulsara
b Ruvin Senavirathne
8
17
Kevin Kotthigoda
st Shalith Fernando b Kanishka Maduwantha
34
36
Ashen Kandambi
b Kanishka Maduwantha
10
16
Reshan Kavinda
c Miflal Ameen b Kanishka Maduwantha
5
7
Kavindu Ediriweera
c Shalith Fernando b Kanishka Maduwantha
13
30
Nipun Malinga
lbw by Ruvin Senavirathne
13
14
Pasan Pethangoda
not out
1
8
Prameeth Thevarapper
c Shalith Fernando b Ruvin Senavirathne
2
3
Subanu Rajapaksha
(runout) Shalith Fernando
1
1
Total
161/10 (46.4 overs)
Fall of Wickets:
1-58 , 2-75 , 3-96 , 4-126 , 5-127 , 6-134 , 7-157 , 8-157 , 9-159 , 10-161
| Bowling | O | M | R | W | E |
| --- | --- | --- | --- | --- | --- |
| S.Gunathilake | 4 | 0 | 17 | 0 | 4.25 |
| Kavindu Herath | 4 | 1 | 20 | 0 | 5.00 |
| S.Silva | 10 | 1 | 28 | 0 | 2.80 |
| M.Ameen | 9 | 3 | 30 | 1 | 3.33 |
| R.Senavirathna | 8 | 0 | 34 | 3 | 4.25 |
| K.Maduwantha | 8.5 | 0 | 23 | 4 | 2.71 |
| R.Jayasena | 3 | 0 | 9 | 1 | 3.00 |
St.Peter's College's Innings
Batting
R
B
S.Gunathilake
c Ashen Kandambi b Nipun Malinga
4
4
S.Fernando
c Reshan Kavinda b Kevin Kotthigoda
37
44
M.Ameen
b Nipun Malinga
1
10
S.Fernando
c Hansika Welihinda b Nipun Malinga
2
11
R.Jayasena
lbw by Subanu Rajapaksha
37
56
Shalith.F
b Pasan Pethangoda
5
17
D.Anjula
c Prameeth Thevarapperuma b Navod Paranavithana
26
53
Kavindu Herath
c & b Kevin Kotthigoda
6
19
S.Silva
lbw by Navod Paranavithana
0
3
K.Maduwantha
not out
38
56
R.Senavirathna
c Kevin Kotthigoda b Kavindu Ediriweera
4
19
Total
170/10 (48.3 overs)
Fall of Wickets:
1-5 , 2-10 , 3-23 , 4-73 , 5-86 , 6-97 , 7-108 , 8-109 , 9-150 , 10-170
| Bowling | O | M | R | W | E |
| --- | --- | --- | --- | --- | --- |
| Nipun Malinga | 6 | 0 | 27 | 3 | 4.50 |
| Prameeth Thevarapper | 4 | 0 | 21 | 0 | 5.25 |
| Subanu Rajapaksha | 10 | 0 | 42 | 1 | 4.20 |
| Kevin Kotthigoda | 10 | 2 | 24 | 2 | 2.40 |
| Kavindu Ediriweera | 5.3 | 0 | 20 | 1 | 3.77 |
| Pasan Pethangoda | 3 | 0 | 7 | 1 | 2.33 |