A penalty-kick from Thilina Wijesinghe in extra time saw Kandy coming back from the death against Navy as the defending champions of the Dialog Rugby League conclude their 2018/19 1st round unbeaten at Welisara.

Read More: The clock saves CH from near defeat!
With two minutes to go for the full-time whistle, the Sailors' led 20-19.
The final week of 1st round action of the Dialog Rugby League saw Kandy travelling to Welisara for an all-important game against Navy. According to form, the game was set to be a walk in the park for Kandy, but Navy had other plans.
Thilina Weerasinghe drew first blood for the Sailors' with a three-pointer but Vishwamithra's individual brilliance of a stolen line-out saw Kandy taking a 7-3 lead.
The visitors extended the lead with Shehan Pathirana running around the hinges in the 22nd minute to score their second converted score.
Just when Kandy was trying to dominate play, Navy's ever-reliable prop forward Charith Silva brought the hosts' their first try covering at least 25 meters himself to cut the deficit to just 6 points.
Half time: Kandy 14 – Navy 8
The 1st half was more of a passive 40 minutes with both teams committing continuous foul play but the turning point of the game came with Mohammed Absal's intercepted try.
Read More: Havies march past the Airmen after a tight tussle
The Navy first five-eighth who was playing wing today intercepted a Nigel Ratwatte pass to score beside the goalposts sending his side to the lead in the 41st minute. (15-14)
Traces of that 2016 win at Welisara still remained fresh in the players as the game soon shifted gears as Navy found a new lease of life with them with a chance to take home a victory.
Photos: Navy SC vs Kandy SC | DIALOG RUGBY LEAGUE – 2018 / 2019
It looked like Navy had not solved their lineout crisis even after 7 weeks of action and Amith Gurusinghe's failure in the throws cost them the lead at that time and later the game.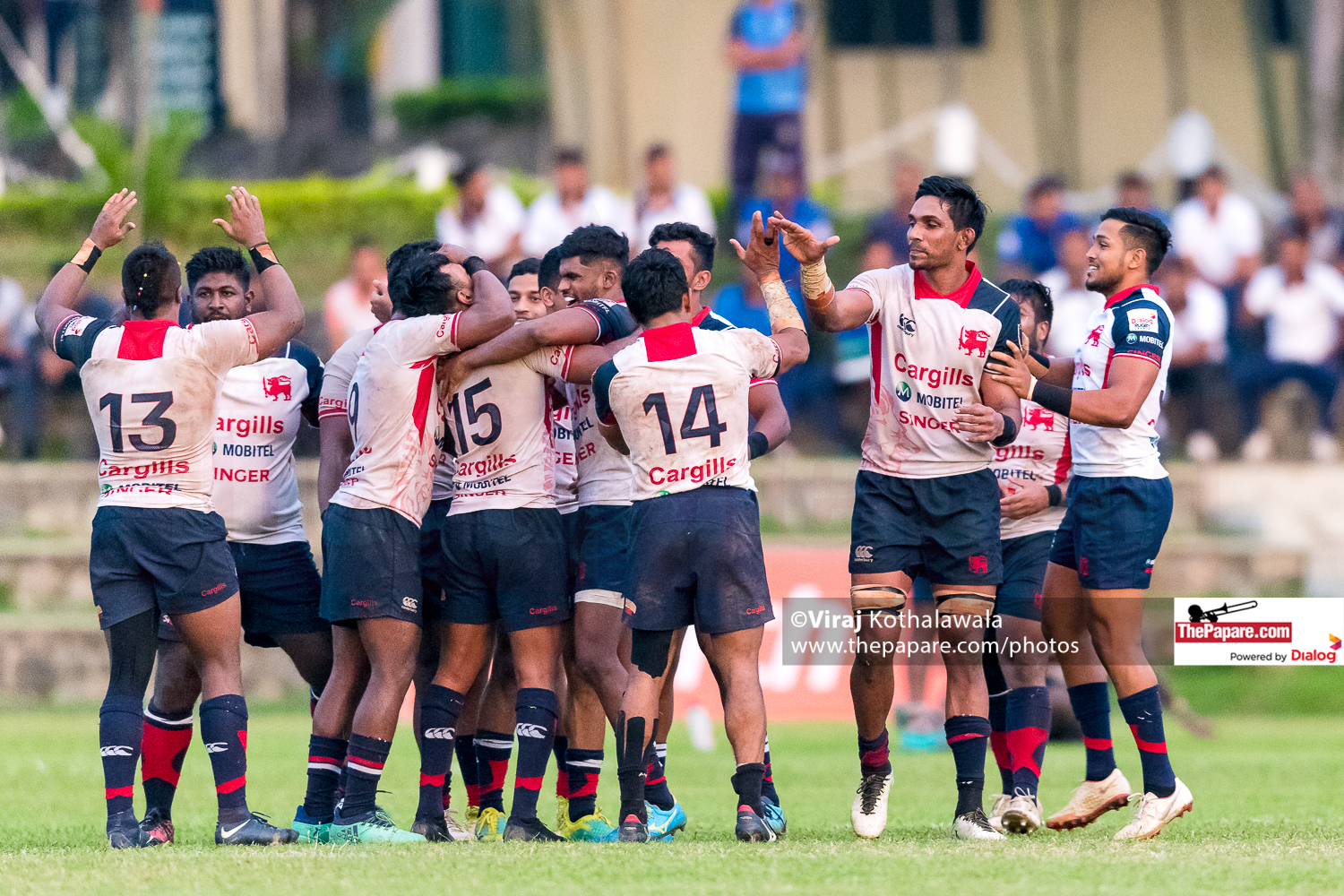 A 10-meter lineout in Navy's half saw Shehan Pathirana making one grasp on to the ball and the next on the whitewash to score.  
For the next 20 minutes, Navy's continuous efforts to capitalize on territory failed due to their own wrongdoing. Navy failed to hold on to possession gifting unnecessary possession to their opponents.
Photos: Navy SC vs Kandy SC | DIALOG RUGBY LEAGUE – 2018 / 2019
However, the opportunity opened up for them when Chathura Seneviratne's penalty kick into their 22m gave them one last go at the try line. With Kandy reduced to 14-men, Navy finally got their target accomplished when Dinesh Lakmal scored from the forwards' effort. (20-19)
With less than a minute to go, a mismatch in judgement gave Kandy possession and later a penalty which Thiina Wijesinghe kicked in extra-time to win it for Kandy.
Navy will have only themselves to blame as they gift Kandy an early Christmas gift at Welisara. A game that had a blatant start, later saw a thrilling finish. Kandy wasn't the best side on paper on the day sans Buwaneka Udangamuwa and Danushka Ranjan but surely picked their battles and played it with their experience.
The Sailors missed 75% of their own lineout throws and skipper Thilina Weerasinghe's rough patch continues this season with two important chances at goal missed.
Kandy should not be content with their performance but will happily take the result home as they finish the 2nd round unbeaten.
Full time score: Kandy 22 (3T 2C 1P) to Navy 20 (3T 1C 1P)
Breakdown

Kandy – Shehan Pathirana (2T), Vishwamithra Jayasinghe (1T), Thilina Wijesinghe (2T & 1P)
Navy – Charith Silva (1T), Mohammed Absal (1T), Dinesh Lakmal(1T), Chathura Seneviratne (1C & 1P)

Cautions and dismissals: Muhshin Faleel (Yellow) from Navy, Ashan Darling (Yellow) from Kandy