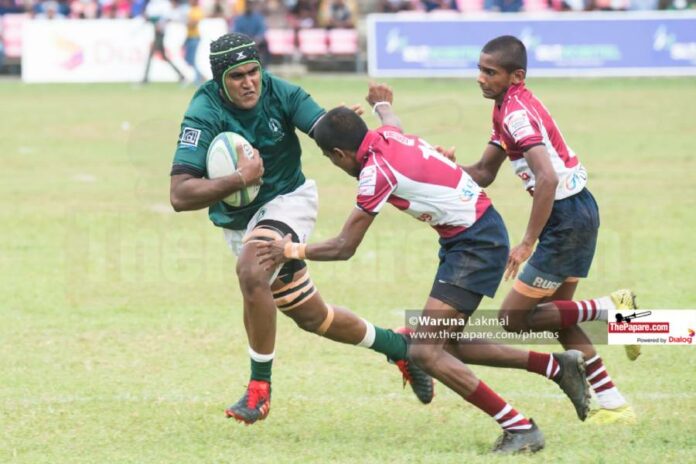 After a close tussle, Isipathana College secured a win by 19 points 8 against Science College at Havelock Park in Week 1 of the Dialog Schools Rugby League.
Isipathana College came to the game as favorites but it was a hard-fought game from both sides. From the kick-off, Isipathana College dominated the first quarter of the game. They opened the score sheet with a brilliant try from their full-back, Malith Mihisara. The hard work was put in by the forwards who pushed the rolling maul from the halfway line and then skipper Dahan Nithina barged through a few tackles and sent the ball out wide to Mihisara.
Science College managed to cut back the deficit with a penalty but Isipathana managed to restore the 5-point lead within minutes thanks to a successful penalty by Mihisara. Between the 15th and 25th minutes, both teams failed to maintain possession for long enough to put any real pressure on the opposition. In the meantime, Science fly-half NAN Kaveesha added another penalty to bring the deficit back down to two points.
Read – Six-star St. Joseph's hand Kingswood walloping in season opener
Isipathana found their rhythm once again in the last ten minutes of the half, but Science was up to the task with brilliant rearguard defense. Isipathana prevailed however, when they touched down minutes before halftime through their hooker Venura Sangeeth. After continuous offside infringements from the Science boys, Kaveesha was given the marching orders. Another penalty followed, and this time Sangeeth took a quick tap and pierced through the traffic to score.
Half time: Isipathana College 13 (2T, 1P) – Science College 6 (2P)
Science College started the second half with a man down but they got the first points on board in the half through a three-pointer. The first ten minutes of the second half belonged to the boys from Mount Lavinia who came ever so close to the try line twice but failed to finish off with points.
Photos – Isipathana College Vs Science College – Dialog Schools Rugby League 2022
The game was on a knives edge when it reached the last ten minutes. Isipathana College once again came up with the goods when it mattered and dominated the last few minutes of the game. The pressure ultimately got to Science whose defense was defeated for the second time through Isipathana forwards. This time it was the replacements who came to the party. From the line out, Isipathana carried the ball closer to the try line through a rolling maul and a few phases later, Chamath Iroshan managed to creep through the defense to score the third and winning try for Isipathana.
Despite having a comfortable lead of 9 points with few minutes remaining on the clock, Isipathana went down to 14 when try-scorer Iroshan was sin-binned. However, they managed to hold on for the remaining minutes and secure a close win to kick their season off.
Full time: Isipathana College 18 (3T, 1P) – Science College 9 (3P)
NDB Player of the Match: Venura Sangeeth (Isipathana College)