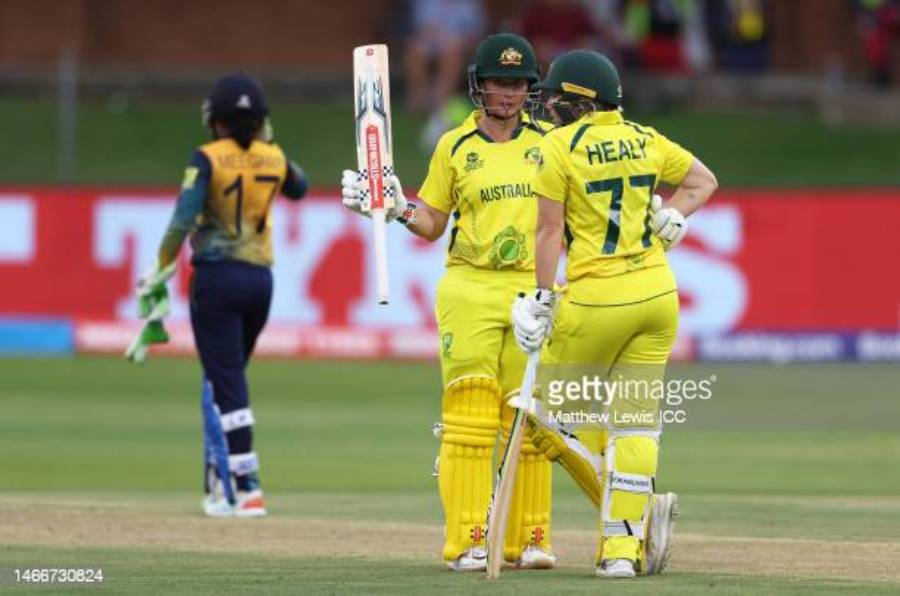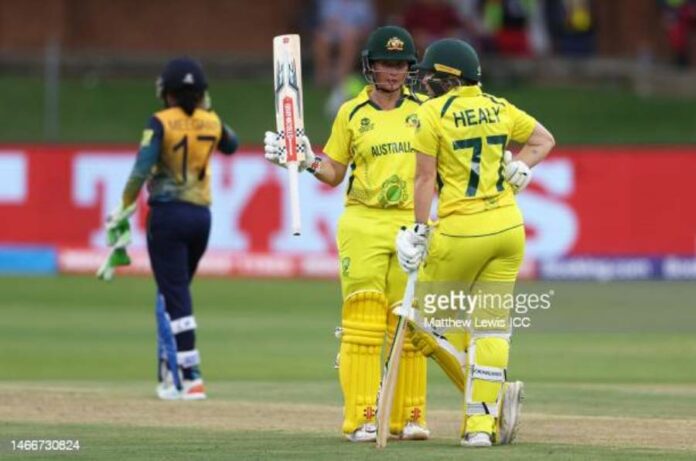 Alyssa Healy and Beth Mooney put on an unbeaten stand of 113 as Australia cruised to a 10-wicket win against Sri Lanka at St George's Park in Gqeberha.
Both teams came into the game unbeaten but the defending World Champs showed their class in what turned out to be their biggest win of the tournament so far.
Both Healy and Mooney looked completely at ease against Sri Lanka's barrage of spin, on a track that had looked tricky when Sri Lanka were at the crease. There were some questions on Mooney's form but the left hander put the queries to rest, finding some fluency in her innings after a slow start.
Earlier in the day, Sri Lanka were put into bat and looked to be heading for a competitive total with Chamari Athapaththu and Harshitha Samarawickrama managing to get going in the powerplay.
As they so often do, Australia managed to create an opportunity with some brilliance with Grace Harris taking a stunning catch at mid on to send Athapaththu back. The Sri Lankan skipper looked in an ominous mood, perhaps spurred on by the snub at the Women's Premier League auction, taking runs off Ash Gardner and Darcie Brown early on.
Samarawickrama looked in good touch but young Vishmi Gunaratne struggled with the pace of the wicket as the Australian spinners tightened the screws. Harris picked up Samarawickrama and Oshadi Ranasinghe in 14th over and it was all downhill from there with wickets falling regularly.
From a promising 50/1 in 7 overs, Sri Lanka just could not put together any partnerships of consequence, ending with 112, well below par when up against a side like Australia.
With the win, the defending champs are more or less assured a spot in the semis, while Sri Lanka will need to beat New Zealand and hope that the hosts South Africa drop points to
either Bangladesh or Australia in their last 2 games if they are to have any hope of going through to the semifinals for the first time.


Batsmen
R
B
4s
6s
SR
Harshitha Samarawickrama
st Alyssa Healy b Grace Harris
34
40
3
0
85.00
Chamari Athapaththu
c Grace Harris b Ellyse Perry
16
16
2
1
100.00
Vishmi Gunaratne
c Ellyse Perry b Megan Schutt
24
33
1
0
72.73
Oshadi Ranasinghe
c Tahlia McGrath b Grace Harris
0
4
0
0
0.00
Anushka Sanjeewani
b Georgia Wareham
8
9
1
0
88.89
Nilakshika Silva
not out
15
7
2
0
214.29
Ama Kanchana
c Beth Mooney b Megan Schutt
4
7
0
0
57.14
Malsha Shehani
st Alyssa Healy b Megan Schutt
0
1
0
0
0.00
Sugandika Kumari
st Alyssa Healy b Megan Schutt
4
3
1
0
133.33
| | |
| --- | --- |
| Extras | 7 (b 0 , lb 3 , nb 0, w 4, pen 0) |
| Total | 112/8 (20 Overs, RR: 5.6) |
| Bowling | O | M | R | W | Econ |
| --- | --- | --- | --- | --- | --- |
| Ashleigh Gardner | 2 | 0 | 14 | 0 | 7.00 |
| Darcie Brown | 1 | 0 | 8 | 0 | 8.00 |
| Megan Schutt | 4 | 0 | 24 | 4 | 6.00 |
| Ellyse Perry | 2 | 0 | 14 | 1 | 7.00 |
| Georgia Wareham | 4 | 0 | 20 | 1 | 5.00 |
| Grace Harris | 3 | 0 | 7 | 2 | 2.33 |
| Alana King | 4 | 0 | 22 | 0 | 5.50 |


Batsmen
R
B
4s
6s
SR
Alyssa Healy
b
54
43
6
1
125.58
Beth Mooney
b
56
53
7
1
105.66
| | |
| --- | --- |
| Extras | 3 (b 0 , lb 0 , nb 1, w 2, pen 0) |
| Total | 113/0 (15.5 Overs, RR: 7.14) |
| Bowling | O | M | R | W | Econ |
| --- | --- | --- | --- | --- | --- |
| Sugandika Kumari | 2 | 1 | 10 | 0 | 5.00 |
| Oshadi Ranasinghe | 3.5 | 0 | 28 | 0 | 8.00 |
| Malsha Shehani | 3 | 0 | 15 | 0 | 5.00 |
| Achini Kulasuriya | 2 | 0 | 22 | 0 | 11.00 |
| Inoka Ranaweera | 3 | 0 | 26 | 0 | 8.67 |
| Chamari Athapaththu | 2 | 0 | 12 | 0 | 6.00 |