A 65-run defeat at the hands of New Zealand has meant that Sri Lanka no longer have complete control of their chances of making it through to the semi-finals of the ICC Men's T20 World Cup 2022.
Sri Lanka currently sit in 5th position on the Group 1 table, above only Afghanistan, who are yet to win a game in the competition. With just 2 points in 3 games and two heavy defeats, Sri Lanka now have a mountain to climb if they are to go through as one of the top two teams of the group.
Points Table with all 6 teams having completed 3 games each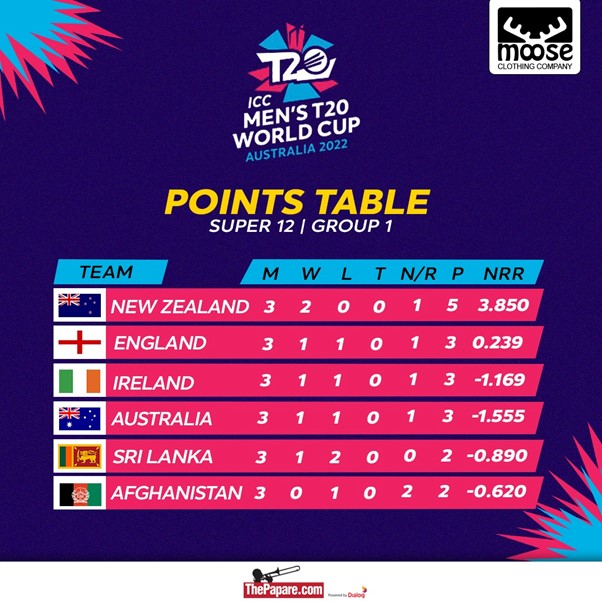 Of the 6 teams in the group, New Zealand seem the most secure with 2 wins and a no-result in their three games and are expected to qualify for the semis at the top of the group. They have a maximum possibility of 9 points.
Two wins in their remaining fixtures versus Afghanistan and England will take Sri Lanka to 6 points, the maximum they can gain at the end of this round.
The Sri Lankans will have their eyes on Australia, England and Ireland, who they will be most likely competing against for that 2nd and final spot through to the semis. Australia seem to have the best chance of going through if weather does not intervene, with games against Ireland and Afghanistan to come and a maximum of 7 points to finish with.
England will have a tougher challenge but could still go through if they win their last two games, against New Zealand and Sri Lanka. They too can get to a maximum of 7 points, however, they do currently have a much superior net run-rate to Australia, meaning if the two teams finish in 2nd place with equal points, they would go through ahead of the hosts.
Ireland are the other team that do, mathematically, have a chance of going through having one win, one loss and one no result under their belts. However, they would need wins against New Zealand and Australia to make that possibility a reality.
Group 1 qualification probability (after NZ best SL)

🇳🇿 84% (+23%)
🇦🇺 41% (-2%)
🏴󠁧󠁢󠁥󠁮󠁧󠁿 38% (+1%)
🇱🇰 13% (-21%)
🍀 12% (-%)
🇦🇫 11% (-3%)#T20WorldCup

— Freddie Wilde (@fwildecricket) October 29, 2022
While these three teams all have control of their own fates, Sri Lanka will have to win both their remaining games (vs AFG and ENG) and hope that Australia and Ireland drop points against one of their opponents, if they are to finish in the top two.
New Zealand could theoretically still miss out too, if they lose to both Ireland and England and finish with 5 points and two of Australia, England, Sri Lanka, Ireland win both their remaining games.
Remaining fixtures for each team
Australia – Ireland, Afghanistan
Ireland – Australia, New Zealand
Afghanistan – Sri Lanka, Australia
Sri Lanka – Afghanistan, England
England – New Zealand, Sri Lanka
New Zealand – Ireland, England
>>ICC Men's T20 World Cup 2022<<