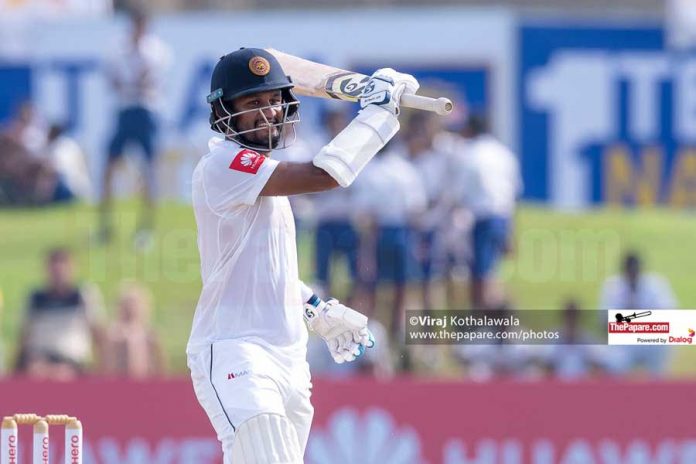 Sri Lanka's Test opener Dimuth Karunaratna has expressed his gratitude toward his concerned fans while letting them know that he is safe and sound after the scary incident whappehich ned at Manuka Oval, Canberra today.
To all my fans in Sri Lanka and Worldwide
I guess in life it's always NO PAIN NO GAIN!!! 
If you held your breath thinking of me and what this afternoon, rest assured I'm alive and kicking. In fact, I was famished and just enjoyed a good rice and curry meal
Sri Lanka's Test vice-captain further added in a Facebook post that he is looking forward for tomorrow to face the challenge against the Australian team.
Dimuth Karunaratne, Sri Lanka's opening batsman, was stretchered off the field after being hit on the back of his neck……
"Now all I can think of is hitting the sack for tonight and getting ready to go back tomorrow and continue by battle against the Aussie boys"
Karunaratne was hit by a brutal bouncer from Aussie fast bowler Pat Cummins at a fiery 142.5 kmph, in the 31st over of Sri Lanka's first innings. Immediately, he crumpled to the ground and fell on his back before medical staff from both teams rushed on to the middle to take precautionary action. After a 15-minute halt, the 30-year-old was stretchered off from the field, straight to the hospital.
After the confirmation that all the test results were normal, he has been discharged from the Canberra hospital, but will have to undergo a concussion test tomorrow morning to decide on his availability for the ongoing Test match.
Dimuth Karunaratne was struck on the back of the neck by a delivery from Pat Cummins and had to retire hurt after an……
Sri Lanka were in trouble on 123/3 at stumps on day 2 chasing Australia's 534/5 in the first innings.
>> More Sri Lanka Team News <<