The first match of Group A in the All Island U19 Girls A Division of the ThePapare Basketball Championship was played today at Holy Family Convent basketball court. Hosts crossed the white line comfortably as the final scorecard read 46-25.   
Even though HFC had the better of the traditional jump ball start, Dilumi Goonewardene`s field goal attempt was rejected by the hoop. Visitors got the party started as Dilakshi Nawodhya swished the nets at ease with a layup. It was no doubt that HFC were the favorites of the game with their height advantage plus home advantage.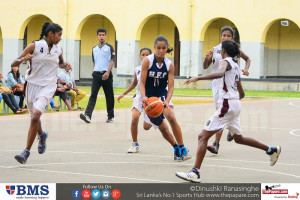 It was a tough ask for the opponents on both offense and defense to keep up constant momentum as many of their plays were dismantled due to the disadvantage in height. Manthila opened up the HFC account by connecting two out of two free throws while Dilumi added another six points to the quarter. Manthila scored another field goal and Sandrene David added another couple.
First Quarter: Holy Family Convent – 12 Presbyterian Girls School – 05
It was zero-zero run for more than three minutes at the start of the second quarter until Manthila connected. It was a mediocre performance by HFC as they could have outsmarted the visitors in every rebound with the height advantage. Yet,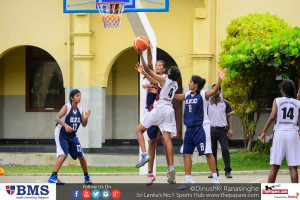 Manthila was boxed out-in, in most of the offensive possessions as the visitors got the better of collecting the dirt ball.
PGS changing defensive strategies opted a full court trap which halted one possession and earned them a couple of desperate points. Coach Randima's strategic time out broke off the momentum and the visitors had to drop the defense down. HFC scored ten points just before lemons while the visitors only managed to score four points.
Half Time: Holy Family Convent – 22 Presbyterian Girls School – 09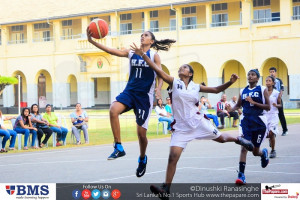 The revitalized visitors came up with a far better performance in the third quarter with a tighter defense and effective rebounding. HFC continued the same momentum but had to settle down for an even score of ten all in the quarter. Dilakshi Nawodhya scored six points for the visitors while the other four were added by Ashanee and Nipuni. For the home team,
Manthila added two points while Dilumi, Melloney, and Sandrene added the rest.
Third Quarter: Holy Family Convent – 32 Presbyterian Girls School – 19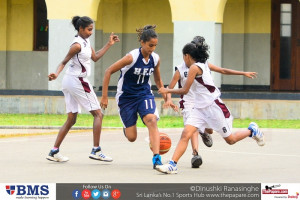 Sandrene commenced the final six hundred seconds with a shot from downtown. PGS once again losing the plot in the game made a considerable amount of silly mistakes which took the game away from them. If they had decided to stick with the basics and continue the boost from the third quarter, the scoreline would have been different.
HFC scored fourteen points in the final quarter in reply to the six points of the visitors.
Full Time: Holy Family Convent – 46 Presbyterian Girls School – 25 
Top Point Scorers of the Match –
1. Manthila Gallassage – 12 Points (Holy Family Convent – Colombo 04)
2. Dilakshi Nawodhya – 12 Points (Presbyterian Girls School – Dehiwala)
ThePapare.com player of the match – Dilumi Goonewardhene ((Holy Family Convent – Colombo 04)