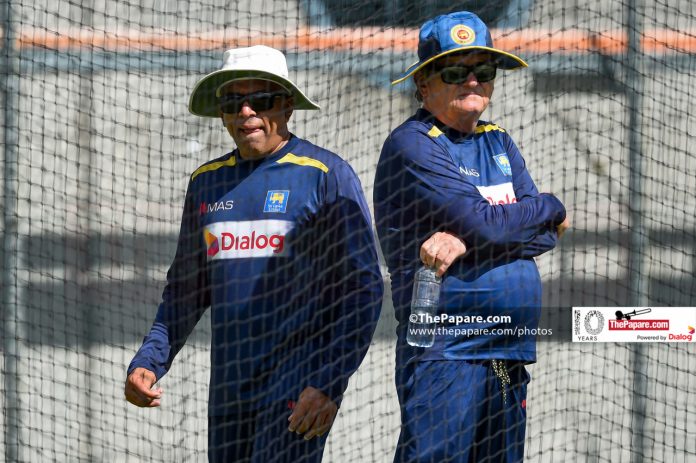 Sri Lanka head coach Chandika Hathurusingha, currently with the national squad for the two-match Test series against Australia, has been removed as a national selector with immediate effect.
Recently appointed Sports Minister Harin Fernando has issued a directive to the selection committee headed by Asantha De Mel, that the final playing XI should now be selected by a committee made up of the captain, manager, and selectors, while the team is on tour.
The man of the moment, the beacon of our hope, the messiah; a red carpet has been laid from Point Pedro to the tip of Dondra……
A highly placed source had told the Daily Mirror that "This new arrangement has come with immediate effect and the copy of this letter is already sent to the team management in Australia. Therefore, the final XI for the 2nd Test match commencing in Canberra from February 1, will be selected by this newly formed management and the coach will have to be involved in the process". 
According to a communique released by Sri Lanka Cricket, the majority decision within this committee will prevail on any selection from here on, starting from the 2nd Test in Canberra.
Interestingly, according to SLC, "This decision was taken under the instructions of the Ministry of Sports in consideration of the need to form an effective and transparent selection mechanism".
Sri Lanka were completely outplayed in the 1st Test against Australia at the Gabba, in a game that ended in just 2 and a half days, however, the criticism of selection policies have been floating around for a few months now, with Sri Lanka's terrible run of form of late.
Read – Need for consistency in selection policies
Brendon Kuruppu, Hemantha Wickramaratne and Chaminda Mendis are the other members of the selection committee. Wickramaratne is currently with the national team as selector-on-tour, while Kuruppu will join the team for the South African leg.
It would not be a surprise if Hathurusingha tenders his resignation anytime soon, with most other national coaches having a say in selecting the final playing XI of their respective teams.