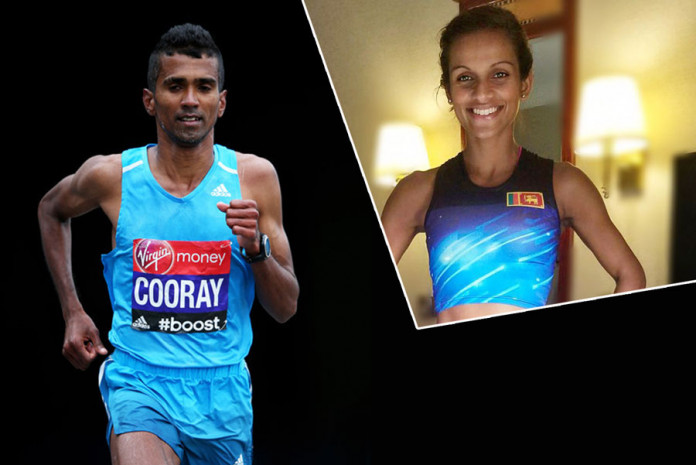 Sri Lankan marathoners, Hiruni Wijerathne and Indrajith Cooray who competed in the Women's and Men's Marathon respectively at the World Athletic Championship in London yesterday (06th August) unfortunately could not finish their races owing to difficulties they faced during the competition.
Hiruni Wijeyrathne, the US based Sri Lankan marathoner turned up to represent Sri Lanka for the very first time in an international meet at the World championships and was very well prepared for the biggest race of her career. However she had to battle with terrible cramps on both her legs that hindered her progress and had to give up the race shorty after completing 10K mark. Dejected by the turn of event Wijerathne had shared the following message on her social media account.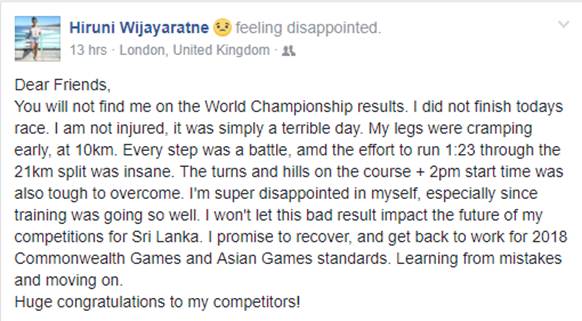 Sri Lanka's most experienced track athlete 39 year old Anuradha Indrajith Cooray who competed in his third World Athletic championship alongside the three Olympic appearances for the country had withdrawn from the race at the 12km mark due to a ligament injury that he has suffered in the Wycherley half marathon that he won. Despite having rested the injury, it is reported that the pain had returned after the 10km mark and Cooray had to give up the race at the 12km mark as it was unbearable and could not continue further.
Kenyan Geoffrey Kipror Kirui won gold in the Men's Marathon clocking a time of 2 hours 8mins and 27 secs while Kenyan born Rose Chelimo who competed under the Baharanian flag won Gold in the Women's race with a time of 2 hours 27mins and 11secs.