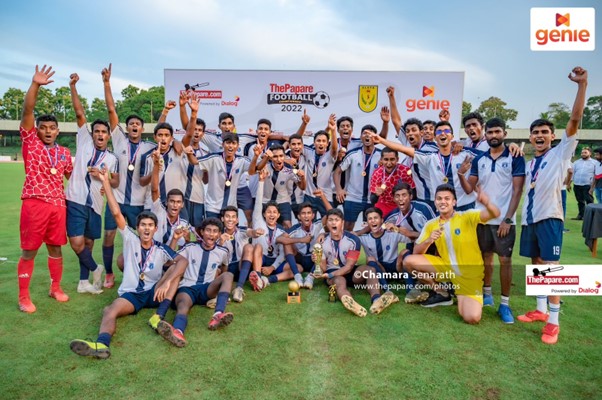 Doubles from Pathum Gimhana and Mark Andrew helped St. Joseph's College secure ThePapare Football Championship, defeating Jaffna Central College 5-2 (2-1) in the grand finale played out at the Sugathadasa Stadium on the 13th of December 2022.
Travelling down from the North, Jaffna Central College got off to a dream start scoring within 5-minutes.
It was Sebastyarul who opened the scoring, as he calved open the Josephian defence, rounding off past the goal keeper to finish in style to help them get off to the best possible start.
It was one way traffic for the first 40-minutes of the game as Jaffna Central controlled proceedings, commanding the game and putting the lads from Maradana under pressure.
A brace within a matter of 4 minutes turned the tie on its head as Pathum Gimhana sparked the Josephians to life.
First a glancing header opened the scores for the Blue and Whites before a sublime finish saw Gimhana help break the deadlock, drastically changing the complexion of the game.
Half time: St. Joseph's College 2 – 1 Jaffna Central College
With plenty left to play for, the Jaffna Central lads came out with force, displaying their heart and fight, to get under Josephian skin, levelling things minutes into the second half. Nishanth was the beneficiary of a sublime run from Harish. The winger glided past the right back to cut back, finding Nishanth at the end of the delivery.
The game heated up going past the hour mark and heading into the final quarter. 70 minutes turned into 80 as the game was tied with nothing to separate the two sides.
It took a moment of brilliance from Mark Andrew as the youngster, chipped the goalkeeper to score and give the Jospehians the lead with time fast running out.
The Josephian lead was extended by Aiden Perera in the dying embers to put the game to bed. The replacement, stepped up, beating on rushing defenders to drive the ball past the goalkeeper.
Mark Andrew scored the fifth for the Josephians as he headed home from close range to put the cherry on top of the cake, handing the Josphians ThePapare Football Championship 2022.
Full time: St. Joseph's College 5 – 2 Jaffna Central College