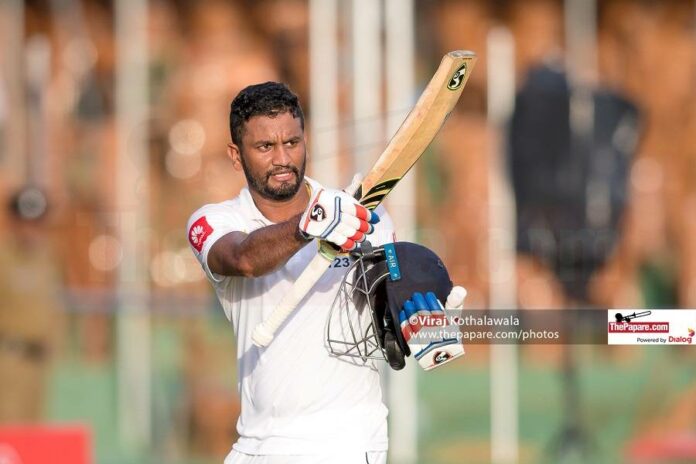 There is something common about Dr. Churchill Gunasekara and Dimuth Karunaratne. The former was the first Sri Lankan to play County Cricket more than a century ago in 1919 while Dimuth will become the latest having signed a deal with Yorkshire.
Both men represented SSC in cricket and captained their country. There's something unique about them as well.
Churchill Gunasekara captained Royal College in 1912 and spent several months in the ship to get to the UK. He was in England to study medicine and missed out on a Cambridge Blue due to the outbreak of World War I. He joined Middlesex in the year 1919 and was part of the Championship winning teams in 1920 and 1921. At a time when sub-continent players were a rarity in County Cricket, the Sri Lankan doctor was a trend setter. That was way before Sri Lanka had gained Test status.
Dimuth Karunaratne goes to Yorkshire as the captain of the Test team after being recognized as one of Test cricket's best batsman and rated sixth in the world. Unlike, Dr. Churchill, he will not catch the ship. Instead, Dimuth will play his last First Class game in Chelmsford on the 11th of May, catch a plane from Gatwick and lead his team in a Test match in Bangladesh four days later.
While Dimuth will be plying his trade in the north of England, in East Midlands, another former Sri Lanka captain will be showcasing his skills. Dimuth's time in Yorkshire is limited due to his international commitments but Suranga Lakmal will be available for the full season across all formats.
No Sri Lankan has had the impact that Kumar Sangakkara had in County Cricket. His first season was in 2007 when he played for Warwickshire. Then in 2014, he made a brief appearance for Durham. Legend has it that his numbers were so pathetic in England that he wanted to fix that before his last Test tour of UK as Sri Lanka were set to play two Tests in the summer. That County stint was a godsend as Sanga walked off from Test cricket with his head held high as he scored a Test hundred at Lord's.
Sanga's best time in County Cricket was the three years he spent at Surrey (2015-2017). Signed by Graham Ford to help Surrey gain promotion to Division One, Sanga helped them to achieve this and in the next year hit 1000 runs. In his last season in 2017, he hit a purple patch. Sanga scored five consecutive hundreds setting up a new record and finished the season as the highest run getter. His numbers that year were truly Bradmansque. He had scored 1491 runs in 16 innings at an average of 106 with eight hundreds.
The same year, the national team was in UK for the Champions Trophy and a few Sri Lankan fans were making fun asking stewards for directions to the K.S. Sangakkara Stand.
Despite his brilliance, Sanga never won a County Championship. That leaves us with an interesting question. Was there any other Sri Lankan who was part of a Championship winning team other than Dr. Churchill Gunasekara. There was one other and it was Farveez Maharoof with Lancashire in 2011.
Aravinda de Silva was the first Sri Lankan to play County Cricket after the nation had gained Test status. He went to Kent in 1995 and had a stellar season finishing with 1781 runs in 16 games at an average of 59. That included seven hundreds including two double hundreds.
After Aravinda's spectacular season, County Cricket opened its doors for other Sri Lankans. Muttiah Muralitharan had two seasons at Lancashire and there were others like Sanath Jayasuriya in Somerset, Upul Chandana at Gloucestershire, Malinga Bandara at Kent, Tilan Samaraweera at Worcestershire just to name a few.
Chaminda Vaas was the most colourful Sri Lankan in County Cricket having represented four different counties. He spent multiple seasons at Worcester and played for Middlesex and Hampshire before finishing off at Northampton where he spent three years.
More than for batters, the challenges of County Cricket are demanding on bowlers. There is non stop cricket for six months and the professional he is, Vaas played a decade in England without ever breaking down. It will be interesting to see how Suranga Lakmal fares having signed a two year deal with Derbyshire.
In the pre-Test era, there were many Sri Lankans who excelled in County Cricket like Stanley Jayasinghe (Leicestershire), Laddie Outschorn (Worcestershire), Clive Inman (Leicestershire), Gamini Goonasena (Nottinghamshire) and Dan Piachaud (Hampshire).
Given the glamour, money and exposure, the IPL may have emerged as the leading domestic competition in the world. But County Cricket has its own charm and helps a player develop his game.
It remains to be seen whether Dimuth turns a new leaf in his career after his Yorkshire stint.