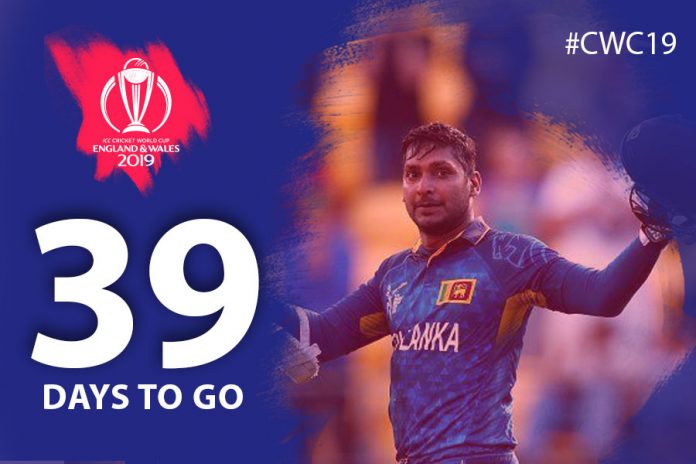 Star batsman Kumar Sangakkara made rapid strides in his batting once he established himself in the national side. His game had many flaws at the start. His wicketkeeping was untidy while his batting was imperfect.
>> Pick your Lions for the 2019 Cricket World Cup
At a time when selectors were looking at young talent after the disaster in the 1999 World Cup campaign, Sanga got the selectors' nod. What helped him stay in the set up was the support of captain Sanath Jayasuriya and Head Coach Dav Whatmore, who were convinced that they were seeing someone with the temperament to make it big in international cricket.
Sanga honestly was not living on borrowed time unlike most other youngsters once he got settled. He was adapting quickly and 18 months after his debut, posted a double hundred away from home against Waqar Younis, Shoaib Akthar and Mohammad Sami.
Sanga was more prolific in Tests than ODIs. But towards the backend of his career was learning some valuable lessons. He picked up on the need to improvise to taste success in white ball cricket. So he would go with Graeme Ford to the bowling machine and spend hours playing the ramp shot, paddle sweep and even the scoop, strokes that were not part of his repertoire. The results were stunning.
In his last year of ODI cricket, Sanga averaged 86 as he owned up to several Sri Lankan batting records. The only one that he couldn't break was the record for most ODI hundreds. Jayasuriya's 28 hundreds remain the record ahead of Sanga's 25.
His prolific World Cup started with the game against Bangladesh at MCG where he posted 105 not out. An unbeaten 117 against England followed in the next game in Wellington, followed by 104 against Australia. He then produced 124 against Scotland in Hobart to become the talk of the town having achieved what no other batsman had before him.  Sanga owns the World Record for the most consecutive hundreds.
Read – Mathews credits Sangakkara's advice for Wellington ton
He finished the 2015 World Cup with 541 runs, just six runs behind Martin Guptill. But the New Zealander had played two more games than Sanga, who finished with an average of 105 and a strike rate of 102.
His 541 is the highest aggregate a Sri Lankan batsman has ever produced in a World Cup campaign. Sangakkara played in four World Cups and was captain in 2011 when Sri Lanka finished runners-up to India. He is the third highest run getter in the history of the World Cup with over 1500 runs to his name at an average of 56. Only Sachin Tendulkar (2278 runs) across six World Cups and Ricky Ponting (1743 runs) across five World Cups have scored more runs than him.  
Sanga also has the record for most dismissals in World Cups. He contributed to 54 dismissals (41 catches and 13 stumpings), two more than Adam Gilchrist (45 catches and seven stumpings).
Watch – "Our schools' cricket stood our cricket in the greatest of stead" – Kumar Sangakkara
An attribute that stood out about Sanga was his quest for training. Day in and day out, he would be the first to arrive at practice and last to leave. He would also seize on opportunities to talk to former greats to pick their minds on the game. Ian Healy was one of his favourites to pick up wicket keeping tips.  All in all, Sanga's work ethic is something never seen by another Sri Lankan cricketer, before or after.
His form was too good to be ignored and the national selection panel requested him to delay his retirement. Thereby he extended his Test career by six more months and quit after the Test series against India in August 2015. On the day he retired, President Maithripala Sirisena offered him Sri Lanka's High Commissioner's post to United Kingdom, an offer he politely declined.
Sangakkara will be involved in the upcoming World Cup having signed up as a commentator for Star Sports.
>>ICC Cricket World Cup 2019<<