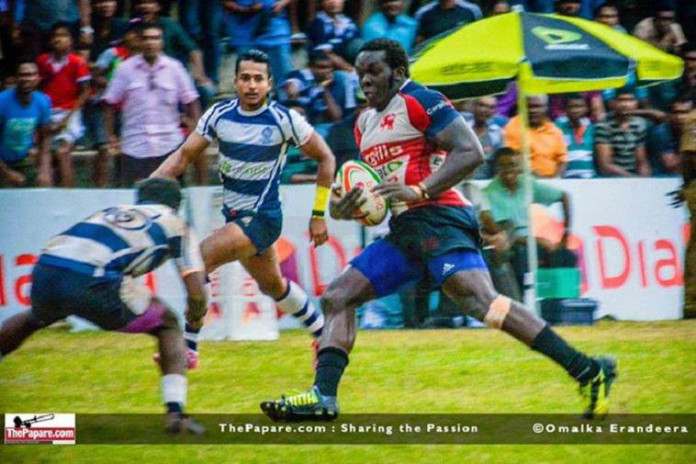 Kenyan Rugby Union announced a squad of 21 players contracted for the 2016/17 HSBC sevens series.  Oscar Ouma, the Kenyan winger who was a member of the victorious Kandy outfit, most recently in the 2014/15 season has been named in the final squad.
Having also represented Kenya in the Summer Olympics, Ouma has been retained in the national fold for the World Rugby HSBC Sevens Series 2016/17.  
Kenya Sevens squad

Andrew Amonde (KCB, Captain), Martin Owila, Darwin Mukidza* (KCB), Dan Sikuta, Brian Tanga*, Aluda Beda (Kabras Sugar)*, Cyprian Kuto, Alvin Otieno, Oscar Ayodi, Bush Mwale, Leonard Mugaisi, Augustine Lugonzo (Menengai Cream Homeboyz),Sammy Oliech, Derek Mayar* (Resolution Impala Saracens), Oscar Ouma, Nelson Oyoo (Top Fry Nakuru), Frank Wanyama, Eden Agero, William Ambaka (Kenya Harlequin), Billy Odhiambo, Collins Injera (Mwamba)
World Sevens Series
The World Rugby Sevens Series will consist of 10 rounds held in 10 exotic cities around the globe and spans over 05 months. This year the series will kick start on the 2nd of December with the infamous Dubai 7s and will conclude with London 7s in May 2017. The top 15 teams of the world compete in this competition which dishes out unbelievable skills and is fiercely conteste.
Sri Lanka 7s in World Sevens series qualifiers
With the encouraging showing by the Sri Lankan National 7s team finishing 2nd in the Asian7s series, the Tuskers now get an opportunity to play in the World Rugby Sevens Series Qualifiers from the 7th – 9th April 2017 at Hong Kong Stadium; a tournament held alongside the famous Hong Kong 7s which is part of the World Rugby 7s Series.
With the Dialog Club Rugby league kicking off today it will\be interesting to see what Sri Lanka Rugby's strategy will be to secure the services of the top national players. All of the national 7s players feature in the league which will conclude in February and the Knock out final is scheduled for the 11th of March. This will leave just over two weeks for these players to make the transition from XVs to 7s and train as a team. A nearly impossible task looks even grimmer, when you have to consider the possible injury woes that will affect the players in question during the league.
A notion by Sri Lanka Rugby to shorten the second round of the league to leave ample time for the national 7s squad was shelved after clubs protested.
ThePapare.com will be closely following the next move from the SLR as National duty comes first and Sri Lanka rugby has been handed the chance to play in the World Sevens series qualifier for the first time in the history.