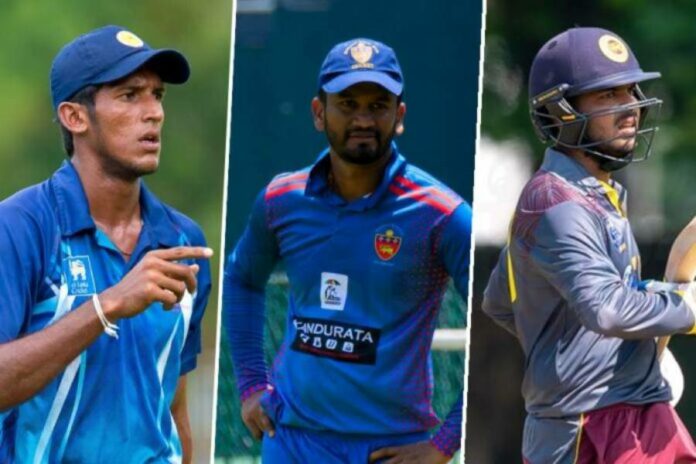 Sri Lanka Cricket (SLC) have announced the fixtures for the upcoming SLC Major Club 50 Over Tournament which will commence on 27th October.
Read More : The new Sri Lanka Domestic Cricket structure explained
26 First class teams set to play in the upcoming limited over tournament under two different groups namely Group A and Group B.
The tournament will be played as per the new structure proposed by SLC Cricket Committee which has planned to scrap the existing 'Tier A' & 'Tier B' competitions for the clubs. Currently, there are 14 teams in 'Tier A' and 12 teams in 'Tier B'. Up until now, three-day matches were played separately, while the limited-overs formats were played together.
In the new structure, all 26 teams currently with first-class status will be divided into two groups of 13 teams and will play three-day cricket in the Major Clubs League Tournament and 50-over cricket in the Major Clubs Limited Overs Tournament.
Major Clubs Limited Overs Tournament will kick off on 27th October while the final will be played on 28th November.
Read : Sri Lanka Cricket domestic season to begin in October
Major Club 50 Over Tournament 2021/22
Group A
Group B
NCC
Ragama CC
Army SC
Badureliya CC
Moors SC
Tamil Union C & AC
Navy SC
SSC
Kurunegala YCC
Bloomfield C & AC
CCC
Colts CC
Negombo CC
Saracens SC
Nugegoda S & WC
Chilaw Marians CC
BRC
Galle CC
Kandy Customs SC
Panadura SC
Kalutara TC
Police SC
Lankan CC
Sebastianites Club
Air Force SC
Ace Capital Cricket Club
Fixtures of SLC Major Club 50 Over Tournament
Date
Host
Opponent
Venue
27-Oct
Army SC
Air Force SC
Army – Dombagoda
Badureliya CC
Ace Capital Cricket Club
Surrey
Moors SC
Lankan CC
Moors
Tamil Union C & AC
Sebastianites Club
P Sara
Navy SC
Kalutara TC
Navy – Welisara
SSC
Police SC
NCC
Kurunegala YCC
Kandy Customs SC
Welagedara
Bloomfield C & AC
Panadura SC
Bloomfield
CCC
BRC
CCC
Colts CC
Galle CC
Colts
Saracens SC
Chilaw Marians CC
MCG – Katunayake
28-Oct
Negombo CC
Nugegoda S & WC
MCG – Katunayake
Date
Host
Opponent
Venue
28-Oct
Police SC
Badureliya CC
Police – Colombo
29-Oct
Nugegoda S & WC
Kurunegala YCC
Moratuwa
29-Oct
Negombo CC
CCC
MCG – Katunayake
30-Oct
Air Force SC
NCC
Air Force – Katunayake
Ace Capital Cricket Club
Ragama CC
Army – Dombagoda
Kalutara TC
Army SC
Surrey
Kandy Customs SC
Moors SC
Moors
Panadura SC
Tamil Union C & AC
Panadura
BRC
Navy SC
BRC
Galle CC
SSC
Galle
Chilaw Marians CC
Bloomfield C & AC
MCG – Katunayake
Saracens SC
Colts CC
Moratuwa
Date
Host
Opponent
Venue
31-Oct
NCC
Lankan CC
NCC
Ragama CC
Sebastianites Club
Thurstan – Colombo
Air Force SC
Kalutara TC
Air Force – Katunayake
Ace Capital Cricket Club
Police SC
P Sara
Army SC
BRC
Army – Dombagoda
Badureliya CC
Galle CC
Surrey
Nugegoda S & WC
Moors SC
Moors
Chilaw Marians CC
Tamil Union C & AC
MCG – Katunayake
Navy SC
Negombo CC
Navy – Welisara
Kurunegala YCC
CCC
Welagedara
Bloomfield C & AC
Colts CC
Bloomfield
01-Nov
SSC
Saracens SC
SSC
Date
Host
Opponent
Venue
03-Nov
Kalutara TC
NCC
NCC
Police SC
Ragama CC
Police – Colombo
Kandy Customs SC
Lankan CC
Thurstan – Colombo
Panadura SC
Sebastianites Club
Panadura
BRC
Air Force SC
BRC
Galle CC
Ace Capital Cricket Club
Galle
Negombo CC
Army SC
MCG – Katunayake
Saracens SC
Badureliya CC
Surrey
CCC
Moors SC
CCC
Colts CC
Tamil Union C & AC
Colts
Navy SC
Kurunegala YCC
Navy – Welisara
SSC
Bloomfield C & AC
SSC
Date
Host
Opponent
Venue
05-Nov
Sebastianites Club
Chilaw Marians CC
MCG – Katunayake
06-Nov
NCC
Kandy Customs SC
NCC
Ragama CC
Panadura SC
Thurstan – Colombo
Kalutara TC
BRC
BRC
Police SC
Galle CC
Police – Colombo
Lankan CC
Nugegoda S & WC
Army – Panagoda
Air Force SC
Negombo CC
Air Force – Katunayake
Ace Capital Cricket Club
Saracens SC
MCG – Katunayake
Army SC
Kurunegala YCC
Army – Dombagoda
Badureliya CC
Bloomfield C & AC
Surrey
Moors SC
Navy SC
Moors
Tamil Union C & AC
SSC
P Sara
Date
Host
Opponent
Venue
07-Nov
BRC
NCC
BRC
Galle CC
Ragama CC
Galle
Nugegoda S & WC
Kandy Customs SC
Moratuwa
Chilaw Marians CC
Panadura SC
MCG – Katunayake
Saracens SC
Police SC
Police – Colombo
CCC
Lankan CC
CCC
Colts CC
Sebastinites Club
Colts
Bloomfield C & AC
Ace Capital Cricket Club
Bloomfield
Moors SC
Army SC
Moors
Tamil Union C & AC
Badureliya CC
P Sara
08-Nov
Negombo CC
Kalutara TC
MCG – Katunayake
08-Nov
Kurunegala YCC
Air Force SC
Welagedara
Date
Host
Opponent
Venue
10-Nov
NCC
Nugegoda S & WC
NCC
Ragama CC
Chilaw Marians CC
Thurstan – Colombo
BRC
Negombo CC
BRC
Galle CC
Saracens SC
Galle
Kandy Customs SC
CCC
CCC
Panadura SC
Colts CC
Panadura
Kalutara TC
Kurunegala YCC
Surrey
Police SC
Bloomfield C & AC
Police – Colombo
Lankan CC
Navy SC
Navy – Welisara
Sebastianites Club
SSC
Moratuwa
Air Force SC
Moors SC
Air Force – Katunayake
Ace Capital Cricket Club
Tamil Union C & AC
Army – Dombagoda
Date
Host
Opponent
Venue
12-Nov
Kurunegala YCC
BRC
Welagedara
12-Nov
SSC
Panadura SC
SSC
12-Nov
Badureliya CC
Sebastianites Club
Surrey
13-Nov
Negombo CC
NCC
MCG – Katunayake
Saracens SC
Ragama CC
Surrey
CCC
Nugegoda S & WC
CCC
Colts CC
Chilaw Marians CC
Colts
Bloomfield C & AC
Galle CC
Bloomfield
Navy SC
Kandy Customs SC
Navy – Welisara
Moors SC
Kalutara TC
Moors
Police SC
Tamil Union C & AC
Police – Colombo
Army SC
Lankan CC
Army – Dombagoda
Date
Host
Opponent
Venue
14-Nov
CCC
NCC
CCC
Ragama CC
Colts CC
Thurstan – Colombo
Bloomfield C & AC
Saracens SC
Bloomfield
Chilaw Marians CC
SSC
MCG – Katunayake
BRC
Moors SC
BRC
Galle CC
Tamil Union C & AC
Galle
Kandy Customs SC
Army SC
Moors
Panadura SC
Badureliya CC
Panadura
Lankan CC
Air Force SC
Air Force – Katunayake
Sebastianites Club
Ace Capital Cricket Club
Moratuwa
15-Nov
Kurunegala YCC
Negombo CC
Welagedara
15-Nov
Nugegoda S & WC
Navy SC
Moratuwa
Date
Host
Opponent
Venue
17-Nov
Kurunegala YCC
NCC
Welagedara
Bloomfield C & AC
Ragama CC
Bloomfield
Navy SC
CCC
Navy – Welisara
SSC
Colts CC
Colts
Moors SC
Negombo CC
Moors
Tamil Union C & AC
Saracens SC
P Sara
Army SC
Nugegoda S & WC
Army – Dombagoda
Badureliya CC
Chilaw Marians CC
Surrey
Air Force SC
Kandy Customs SC
Air Force – Katunayake
Ace Capital Cricket Club
Panadura SC
MCG – Katunayake
Lankan CC
Kalutara TC
Army – Panagoda
Sebastianites Club
Police SC
Moratuwa
Date
Host
Opponent
Venue
18-Nov
Kandy Customs SC
Kalutara TC
Panadura
20-Nov
NCC
Navy SC
NCC
Ragama CC
SSC
Thurstan – Colombo
Moors SC
Kurunegala YCC
Moors
Tamil Union C & AC
Bloomfield C & AC
P Sara
CCC
Army SC
CCC
Colts CC
Badureliya CC
Colts
Nugegoda S & WC
Air Force SC
Moratuwa
Chilaw Marians CC
Ace Capital Cricket Club
MCG – Katunayake
BRC
Lankan CC
BRC
Galle CC
Sebastianites Club
Galle
Panadura SC
Police SC
Panadura
Date
Host
Opponent
Venue
21-Nov
NCC
Moors SC
NCC
Tamil Union C & AC
Ragama CC
P Sara
Air Force SC
CCC
Air Force – Katunayake
Ace Capital Cricket Club
Colts CC
MCG – Katunayake
Lankan CC
Negombo CC
Army – Panagoda
Sebastianites Club
Saracens SC
Moratuwa
Kalutara TC
Nugegoda S & WC
Surrey
Police SC
Chilaw Marians CC
Police – Colombo
Kandy Customs SC
BRC
BRC
Panadura SC
Galle CC
Panadura
Army SC
Navy SC
Army – Dombagoda
22-Nov
Badureliya CC
SSC
Surrey
Date
Host
Opponent
Venue
23-Nov
Negombo CC
Kandy Customs SC
MCG – Katunayake
24-Nov
NCC
Army SC
NCC
Ragama CC
Badureliya CC
Thurstan – Colombo
Navy SC
Air Force SC
Navy – Welisara
SSC
Ace Capital Cricket Club
SSC
Lankan CC
Kurunegala YCC
Army – Panagoda
Sebastianites Club
Bloomfield C & AC
Moratuwa
Kalutara TC
CCC
CCC
Colts CC
Police SC
Colts
Saracens SC
Panadura SC
Surrey
Nugegoda S & WC
BRC
BRC
Chilaw Marians CC
Galle CC
MCG – Katunayake
26-Nov
Semi Finals
Venue
SF1
Winner A1 –
Winner B2 –
SF2
Winner B1 –
Winner A2 –
28-Nov
Final
Venue
 
Winner SF1 –
Winner SF2 –