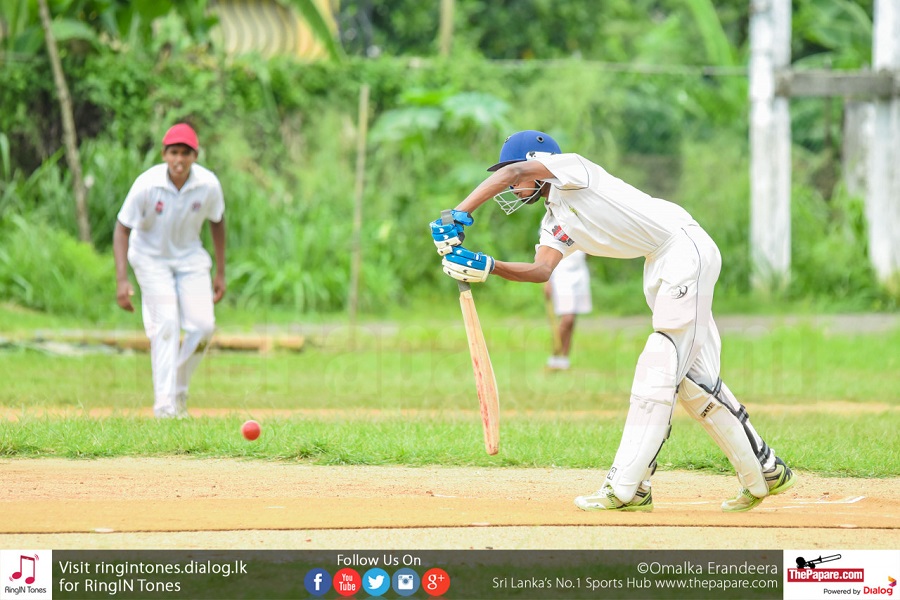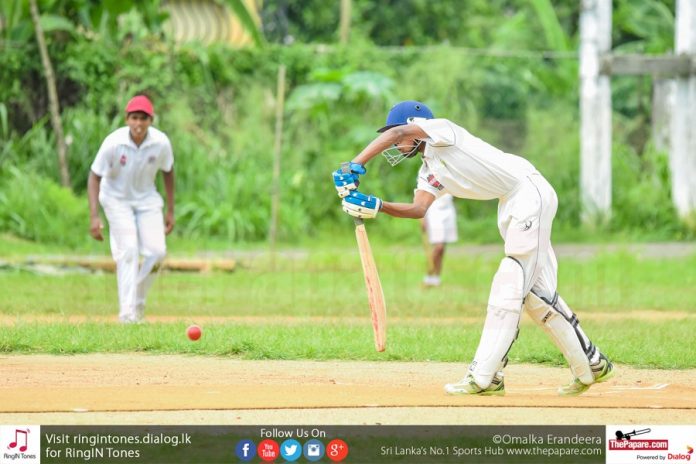 The Singer U13 Division 1 Cricket Tournament 2018 is up and running around the island. Here are the results from some of the group stage games worked out on 2nd October.
St. Peter's College, Bambalapitiya vs Wesley College, Borella
Juniors from Bambalapitiya played against the Borella juniors in their Singer Schools U13 Division 1 group D match at St. Peter's grounds. Winning the toss the home team invited the visitors to bat first and bowled them out for 92 runs, completing 53 overs.
Leenal Subasinghe was the top scorer for Wesley, scoring 28 runs, while Vishen Halambage grabbed 4 wickets for 20 runs and Lasmika Perera took 3 wickets for just 9 runs.
The final of Singer Under '15 Division 1′ School Cricket tournament was scheduled to be played today at Thurstan…….
Junior Peterites scored 138 runs for the loss of 3 wickets in 41 overs for the first inning when the umpires called it a day. Lasmika Perera showed his all-round performance by scoring an unbeaten 59 runs and a solid partnership with Salith Gallage who scored 31 runs not out. Leenal Subasinghe took 2 wickets for 25 runs.
A four inning match ended up a draw, with first inning points to St. Peter's.
SINGER U13 DIVISION I TOURNAMENT 2018 – FIRST ROUND – GROUP D
Wesley College, Colombo 92 (53) – Leenal Subasinghe 28, Lasmika Perera 3/09, Vishen Halambage 4/20

St. Peter's College, Colombo 138/3 (41) – Lashmika Perera 59*, Salith Gallage 31*, Leenal Subasinghe 2/25

MATCH DRAWN (ST. PETER'S WON FIRST INNINGS POINTS)
---
Ananda College, Colombo vs Harischandra College, Negombo
A tremendous batting performance was produced by the Ananda College juniors today, when they took on Harischandra National College in the Singer Schools U13 Division 01 match played at Ananda College grounds, Maradana.
Juniors from Negombo, after winning the toss, invited Ananda to bat first. Having the home ground advantage, they took the maximum out of it by trashing the bowlers all over the park. Isuru Dilshan scored a top class century by scoring a massive 180 runs while Yeshan Wijesinghe was unbeaten on 56 runs when Ananda College decided to declare their first innings after scoring 264 runs for the loss of just 2 wickets in 38 overs.
Royal College, Colombo and St. Sebastian's College, Moratuwa managed to cement their places in the final of the Singer Schools……
It wasn't a good day for the Harischandra boys when they were bowled out for just 56 runs for their first innings in 21.4 overs. Ayesh Shashimal was the pick of the bowlers by taking 6 wickets for just 04 runs. Looking for an outright win Ananda asked the juniors from Negombo to follow on their batting for the second inning as well.
The visiting boys managed to end the match in a draw by scoring 60 runs for the loss of 4 wickets. Shakila Ashen scored 25 runs and Milash Karunarathne took 2 wickets for 11 runs.
The match was drawn and Ananda won first innings points.
SINGER U13 DIVISION I TOURNAMENT 2018 – FIRST ROUND
Ananda College (A), Colombo 264/2d (38) – Iruth Dilshan 180, Yeshan Wijesinghe 56* , 

Harischandra National College, Negombo 

First Innings 56 (21.4) – Ayesh Shashimal 6/04, Ruvishan Perera 2/16

Second Innings Follow On 60/4 (23.4) – Shakila Ashen 25, Milash Karunarathne 2/11

MATCH DRAWN (ANANDA WON FIRST INNINGS POINTS)
---
Tissa Central College, Kaluthara vs Sri Sumangala College, Panadura
Another match ended up draw today at Sumangala grounds Panadura, where Tissa Central played against Sumangala in the Singer Schools U13 Division 01 tournament.
Sri Sumanagala boys won the toss and opted to field first and bowled the visitors out for a decent score of 145 runs completing 49.1 overs. Nadun De Silva was the top scorer for Tissa Central by scoring 40 runs while Kavindu Sathsara scored 20 runs. Vidusha Pieris chipped half of the batting line by taking 5 wickets for 36 runs and Janith Soyza took 2 wickets for 07 runs.
Here are the results of the end of an exciting week of Singer Schools U17 Division 01 second round matches. St. Josephs…….
Batting their first inning the home team boys managed to score 148 runs for the loss of 9 wickets when the umpires called it off for the day. All round performance by Vidusha Pieris of Sumanagala scoring 57 runs and Krishan Eranga scoring  24 runs. Kavindu Sathsara took 02 wickets for 30 runs.
The match ended up a draw and Sri Sumanagala College, Panadura won first inning points.
SINGER U13 DIVISION I TOURNAMENT 2018 – FIRST ROUND
Tissa Central College, Kalutara 145 (49.1) – Nadun de Silva 40, Kavindu Sathsara 20,Vidusha Pieris 5/36, Janithu Soyza 2/07

Sri Sumangala College, Panadura 148/9d (32.5) – Vidusha Pieris 57, Krishan Eranga 24, Paramith Perera 2, Kavindu Sathsara 2/30

MATCH DRAWN (SRI SUMANGALA WON FIRST INNINGS POINTS)